Using Mental Strength To Achieve Goals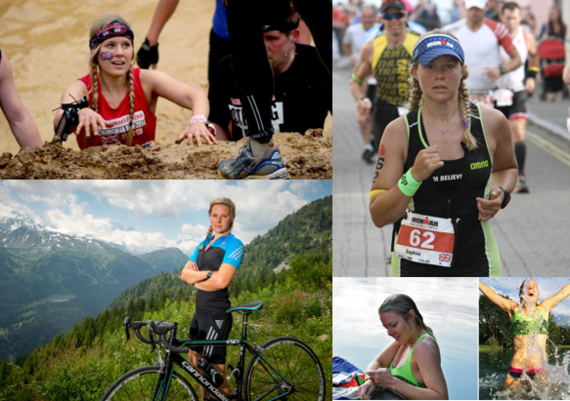 I make it no secret that I've always been ambitious and am driven to be a high achiever in both in my career and personal life. Whilst working my way up the corporate ladder, I embarked on many sporting challenges to further fuel my ambition and taste for adventure. However, during this time I also dreamed of embarking on a big sporting adventure, something that was just not possible when working full-time. Then, in 2013 when I was coming up against blockades in my career, I decided to quit my job and follow my dreams.
This wasn't just an instant decision; this was something that took years to build up to. All the while I was embarking on small sporting challenges I was gaining confidence in myself. This confidence I built from sport is what finally gave me the courage I needed to quit my job.
In January 2014 after quitting my job, I took part in my first Iron Man challenge which was gruelling in itself, but this led to taking part in the Alpine Coast to Coast which was one of the biggest adventures I could imagine at the time. As ever, preparation was key, however what perhaps isn't talked about enough is the mental preparation.
One of my theories that helped me train and achieve is 'Confidence Training'. I don't believe people should always put themselves under pressure to perform within constraints during training; such as running or cycling for certain amount of time or for a certain number of miles. For both people getting back into sport and those performing at a high-level, one of the most important aspects of is to have confidence in your performances. During training, I just run, ride and cycle in the mountains and get to a place where I feel happy and confident with my performance. Once you feel strong and happy you can achieve anything.
This confidence training also plays a big role in motivation during adventures. I set myself the Alpine Coast to Coast challenge in 32 days, as I knew this would take me to the limit. I find the magic in physical adventures and training is pushing yourself to the limit; when you feel absolutely broken, ill, tired...like you can't push yourself any further, but somehow you do and then you achieve something you didn't think you could and this is all possible because of the mental training.
I have been working with Movelat, pain relief cream and gel to create videos telling you about my journey and how everyone can achieve their own goals.
If you want to start challenging yourself, just go for it. Remember, it's all about baby steps, several years ago I was afraid to cycle from one end of London to the next but now have achieved so much. However, I still only take my adventures one step at a time. Also, take time to rest, recover and get to know why you love the sport. If you're injured, remember to rest and treat your injury.
If you ever have any set-backs, it's OK to take time off, relax, recover and fall back in love with the sport. For me, with cycling, if I have a set-back or take time off, I would never go straight back into a gruelling training routine, I would start by going for a Sunday ride with friends or family, stop for tea and cake and just re-connect with the sport.
There are so many opportunities for anyone to get into adventure sports, and I would definitely recommend some of the following adventures to anyone looking to start somewhere:
Just make sure you embrace adventure challenges on a 360-degree level. Yes, it's about your physical strength, but it's also about your mind and looking after yourself both physically and mentally with the best nutrition, hydration, sleep, knowing what to have in your kit and having enough confidence in yourself.
Related