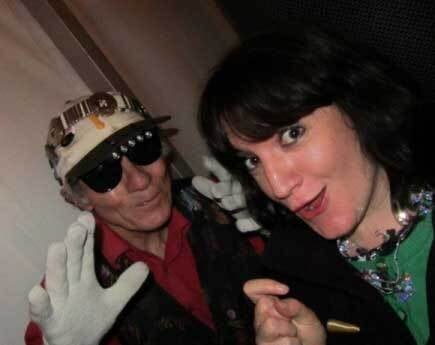 George Bernard Shaw said: 'We don't stop playing because we grow old, we grow old because we stop playing'. But what exactly is it that makes us stop playing? Unfortunately, subtle social signalling often drives us to conform to certain 'age-appropriate' behaviours against our instinct.
In our culture, live music and dancing is often perceived to be the domain of youth. It is common amongst people in their 30s to use their increasing age as a reason to opt out of music festivals and clubbing; they will often blame the volume of music or overcrowding but the excuse that really worries me is - 'it makes me feel old'. Surely music has always been a subjective pursuit; an individual's relationship to music should only get richer with the passing of time. Why should anyone be self-conscious about dancing just because there are other people in the room who have lived shorter lives than them?
Which brings me to the main inspiration for this article, to an elder who has flouted convention and made many people smile with his obvious passion for music and dancing. Often dubbed the 'UK's oldest raver', Brighton's own legend, Disco Pete, is 80 years old this year and has literally danced his way through his retirement. He has a rather large following, with over 10,000 fans of the Facebook page his daughter set up.
Visitors to Brighton and Hove music events and gigs may recall watching a sprightly elderly fellow in a fiery shirt, baseball cap and sunglasses dancing at the front, facing the crowd. His unique dance moves almost look as if he is conducting the audience, he swipes and pats the air with his white gloves, grinning all the while. Disco Pete will dance to anything - hip hop, reggae, Irish jig, electronic, acoustic, swing, brass band, classical - you name it. Pete has been regularly making an appearance at annual events around Sussex for the past ten years. He stays for the entire duration and he doesn't touch a drop of booze, it isn't false highs that keep him going, it is pure beats.
I went to Disco Pete's gaff to chat about his remarkable energy - it's a veritable treasure trove of talents. He makes art out of driftwood, he collects records, he writes poetry, he sketches and he sponsors children in need. He loves the beach, it shapes a lot of the art he creates.
Pete has always loved dancing, he never saw a reason to stop. He says: "Age is immaterial, if you have a talent or hobby, use it - make the most of it, try and inspire others. I love it when little lads copy all my moves. When I'm dancing I'm in a world of my own. Dancing takes you away from life, it's great for overcoming physical or mental problems. It has excellent health values."
The novelty of seeing an older person dancing without inhibition obviously strikes a collective chord. Last month a video of a little old lady in a pink coat spontaneously losing her shit to a street busker's version of 'Let's Twist Again' went viral globally, with people exclaiming in delight over the happy Grandma's abandon. I dare you to watch it without grinning like a goon. In the video it looks like she's been transported back to the 1960s, when the song first came out. And that's the beauty of music, it's like time travel, your favourite song can take you back to the very moment you fell in love with it.
You could argue that the older generation actually have more form than us millennials - Foxtrot, Charleston, Tap, Waltz, Swing, Jitterbug, Mashed Potato - such moves take serious agility and muscle memory and probably aren't even possible after five pints.
Sadly, Disco Pete might not be out much this summer; his body, not his spirit, has finally let him down - he's very poorly and can't leave the house unassisted. It doesn't mean that we're going to forget him though.
We should celebrate everything that Disco Pete raves for. In fact, we should throw an event in his honour. An intergenerational dance event. Why should older people stand in the wings and watch as the young ones have all the fun?
Let's bridge this ridiculous age gap and dance together, let's honour Disco Pete's legacy: "I get a lot of respect from the young. I very rarely see older people dancing, I suppose they feel embarrassed - I don't know why. Music is not concerned with age, I'd like to see a lot more people dancing."
If you want to get involved, get in touch.