Millions of football fans will be descending on Brazil for the 2014 World Cup.
Which, out of the reported 3.7 million football fans are aware of expressed kidnapping? The scenario is you have been kidnapped, what do you do? Not only have you been a victim of this crime, you are in a foreign country away from your familiar surroundings. This is the stark warning from MASC Executive Joint Director Matt Arundel who runs courses to reduce the risk of being a victim of kidnap through the application of the appropriate principles and procedures to a given pattern of life.
England fans are on their way to Brazil for the World Cup might not be aware of the risk factor of expressed kidnapping. These occur in Brazil and is a criminal activity which sees the victim kidnapped, the kidnapper demand the pin number of the victim, the victim is then taken to a cash point and they are forced to withdraw money, the daily limit, every day until the victim's bank account is empty.
Ahead of the World Cup in Brazil, there have been reports of expressed kidnapping in and around the area.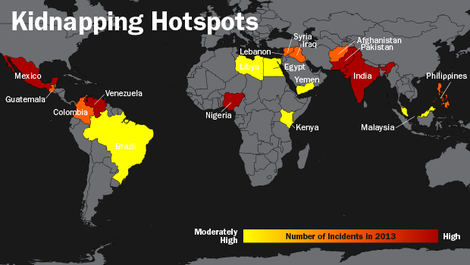 Kidnapping Hotspots (c) www.vocativ.com
When travelling have you ever said 'it won't happen to me?'
Near to Brazil is Venezuela where, in July 2012 a Portuguese man was taken from a highway service station and held captive for nearly a year. His kidnappers demanded a $6.5 million ransom, which fortunately they did not receive as the victim was rescued in June 2013.
More than 1,000 kidnap for ransom incidents occurred in Venezuela last year. The reason for this was police in the poorest areas were unable to maintain order.
According to InSight Crime article Kidnappings Double in Rio de Janeiro, 13 people were reported kidnapped in the Brazilian state between January and October 2012 compared to seven in the same period the previous year. The article states the rise in kidnaps is alarming and is due to the expansion of a scheme to install Police Pacification Units (UPPs) in favelas (a shantytown in Brazil) formerly controlled by militias or drug gangs.
Over the last decade crime levels throughout Brazil have increased. These levels are fuelled by a rise of inequality, significantly more young men in the population, increased drug use and greater availability of firearms.
Risk Map report 2014 published on Control Risks website states Colombia (next to Brazil) is a high risk part area where kidnap to ransom occurs. In the same report Venezuela was too a high risk for kidnapping.
In 2011 Brazil officially recorded 319 kidnapping cases. However expressed kidnaps --the most common type of extortion scheme in Brazil--are not included in official kidnapping stats. Analysis suggests that well over 6,000 kidnappings take place each year.
What if you or any member of your family or friends were heading to the World Cup which is been held in a country that express kidnapping occurs? How would you know what to do? Joint Director of MASC Executive Matt Arundel is fully aware of the dangers in foreign countries having served in the Royal Marine Commando and Intelligence in HM Armed Forces. Together with fellow Joint Director Steve Cottam they have prepared a course for those wishing to be more vigilant in another country. The security awareness course is designed to prepare fans to protect against crime.
Would you know what to do if you were a victim of express kidnapping? Matt Arundel advised victims to go into the bank instead of a cash machine. "You will be seen on camera in the bank, which is evidence of the crime taking place." He also explains the scenario some people could find themselves in "A victim is held against his or her will whilst the daily limit is withdrawn from their bank account near to the point of withdrawal. Or worse, a victim will be held in a vehicle by gang members whilst another member of the gang will go away and withdraw your daily limit. That's why only carry what you need, if you carry four cards they will extract money from all four accounts."
According to The Daily Mirror, Brazil cops have given warning to England fans ahead of the World Cup , telling them "don't scream if you're robbed."
Close Protection Officer who wishes to remain anonymous for his own safety, describes the moment he witnessed a victim being pick-pocketed and said "looking from my hotel balcony I was able to witness street crime as it occurred. A gang of youths targeting a traveller as he crossed the road. By the time he reached the other side, his personal effects were already some 50m away having changed hands twice."
Matt Arundel offers 9 pieces of advice on how to stay safe:
1) If attacked DO NOT RESIST it is your possessions that are at risk not you! Violent crime against foreign nationals has risen over the years and things could turn nasty very quickly.
2) Dress down, buy yourself a cheap watch and by no means wear expensive jewellery or high value designer clothes. Do not flash expensive looking electrical items such as iPads and iPhones. The more you look to have the more appealing you become for a potential attacker.
3) Only carry what you need that day, leave your passport, official documents and bank cards in your room hotel safe. It may be worth carrying a large bundle of low value notes in a pocket to hand over to an attacker. A would-be thief knows that a foreign national will be carrying an amount of cash.
4) Use ATM's housed inside a bank during their hours of business (09:00-15:00 Mon to Fri). The bank will have other users and possibly security. Always guard your pin number when entering the code and never use an ATM that looks as though it has been tampered with.
5) Always be alert, be prepared, confident, look as though you know where you are going and what you are doing. Criminals home in on those look potentially a weak target.
6) Don't carry anything other than the essentials to city beaches, towel, sun cream and swimming attire as required.
7) After dark, never walk along empty streets, stay away from beaches or deserted parks. Also avoid el Centro in Rio at night, weekends and public holidays.
8) Always take a radio or officially licenced taxi. Never get into an unmarked vehicle. All licenced taxis have a meter, so, what you see is what you pay. If asked up front for money you are about to be hustled.
9) When out on the town never accept drinks or cigarettes from anyone you don't know. There have been reports of spiked drinks and drug related attacks. If you feel unnecessarily uneasy, dizzy, light headed (not due to normal alcoholic affects) remove yourself from the situation and head to your hotel.
Further advice and guidance