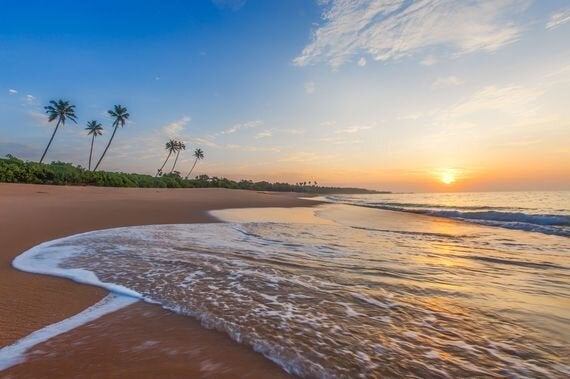 Image Courtesy of Breath of Life Sanctuary
I was made aware of Sam Kankanamge and his new project in Sri Lanka earlier this year. Sam is one of London's top osteopaths and healers with London's great and good vying for his time to fix them - he boasts a an A celebrity list of patients but for me his claim to fame was working for several years in NHS hospitals helping premature babies.
He is certainly a very special man and from the moment I met him I knew deep in my core that his mission was to help others. He told me about his project "The Breath of Life Sanctuary" near his birth place in Southern Sri Lanka. His eyes lit up as he explained his passion in helping the local community with a sustainable tourism project that will help the people economically, the environment and the local blind orphanage. I was hooked. It was refreshing to be speaking to one man who has a dream to heal and help people.
Sam and I talked extensively about his plan to create a place of connection. Where people could escape the pressure of their daily life, connect with themselves as well as others establishing meaningful relationships in a safe environment. The Sanctuary took two years to complete with the usual setbacks and the inevitable initial resistance from the local community. The location is not an established tourist region but a place where fisherman and agricultural workers work hard but also want to protect their way of life. Sam and his brother Sudheera persevered to win the trust of the locals, employing many of them and gently educating them about more environmentally sustainable ways to make their living.
Months later I make my way to The Breath of Life Sanctuary, with high expectations. It is not easy to get to, around a 3.5 transfer from Colombo Airport but I know this is needed to discover a more remote uncommercialised part of Sri Lanka.
The location is filled with wildlife. Playful monkeys, butterflies that take your breath away, birds that fill the sky with colour and sounds that you have never heard before. The miles of idyllic Indian Ocean beach without a tourist in sight alone are worth a visit. The beach is the home to Turtles that come to lay their eggs during the season.
The Sanctuary itself is light and circular where light and energy flows freely. It sits between the beach and the lagoon and the breeze blows through it from both sides. Not an unhealthy air conditioning unit in sight - there is no need with the ceiling fans and the breeze. It is boutique in every sense of the word, tasteful and small with only 8 rooms.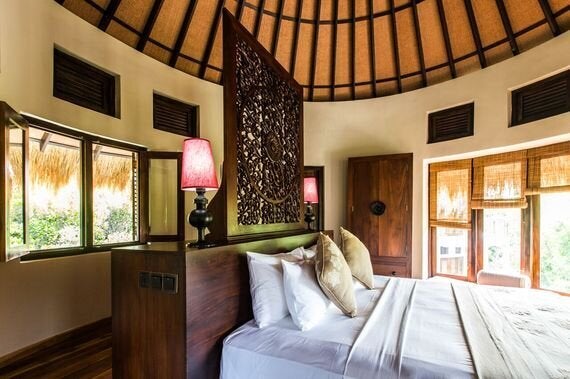 Image Courtesy of Breath of Life Sanctuary
My days here quickly fall into a routine. Morning yoga starts at 6am, not compulsory but worth the effort on the fabulous outdoor yoga platform on the upper floor. Breakfast follows yoga with a mixture of fresh fruit, herbal teas and traditional Sri Lankan dishes.
The resident Ayurvedic Doctor provides you with an initial consultation to determine your dosha (constitution) and sets out her treatment plan for you. This usually includes some type of luxurious Ayurvedic massage in the morning and another treatment in the afternoon. With a restorative yoga & meditation lesson at 6pm, a dip in the sea and a walk along the beach, my days fill up without much time or inclination to read the business books I brought along. Dinner is served around 7pm and before you know it , you are in bed by 9.30pm sleeping soundly. There is something deeply therapeutic about just going with the flow and not having many choices to make.
The atmosphere is sociable and supportive. I meet people from all walks of life and different age groups, most having come alone but quickly becoming part of the Breath of Life community. We all sit around the one long communal table to share our meals and I observe a real sense of connection between the guests. It is without pretension.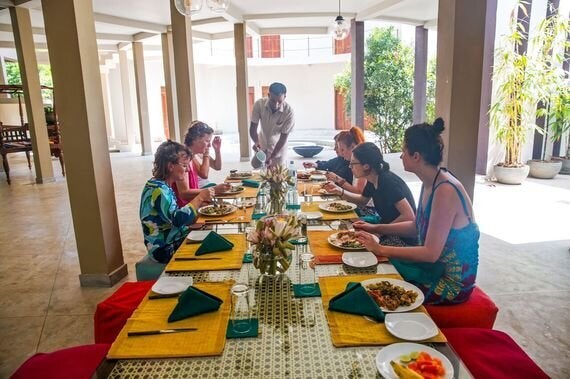 Image Courtesy of Breath of Life Sanctuary
The food is largely vegetarian but with fish served. As Sam says it would be a crime not to offer fish where the local livelihood is fishing! The dishes are typically Sri Lankan using exotic and delicious fruit and vegetables. Many guests comment about how they could become vegetarian or even vegan if they could access this type of cuisine easily. There is no alcohol on site but plentiful king coconut and mocktails. Caffeine is also nowhere to be found, and I conclude that I am detoxing without actually realising it. Nobody told me this was a detox break but somehow the usual detox side effects are not there! If you want a cleanse, the Ayurvedic Doctor will supervise a one day fast but this is not compulsory by any means.
For those who want to get out and about, the team can arrange for visits to sacred Bhuddist Temples, National Parks with a relatively high density of leopards and elephants and market visits where you can view the team purchasing the fruit and vegetables from the local individual growers. There is also of course the turtle watching which is on the doorstep of the Sanctuary during the season.
• you are in need of gentleness, of peace and awareness of the beauty of the nature around you.
• If you are a yoga lover and want to further your practice with a couple of sessions a day (not compuslory)
• If you want to detox, get healthy and be pampered with luxurious Ayurvedic treatments.