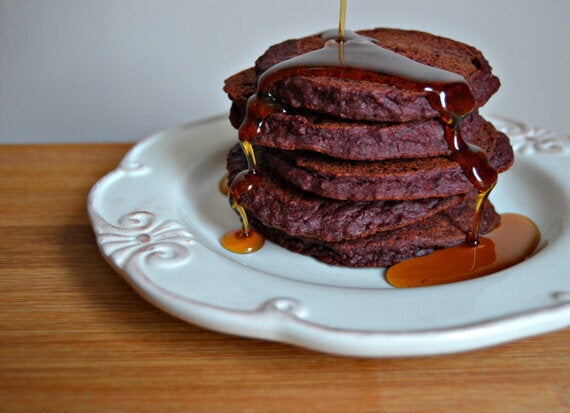 Pancakes are a real favourite of mine and I always enjoy playing with new recipes and coming up with something delicious. I really wanted to try and create a great tasting fluffy pancake that could also be made vegan for an all-inclusive recipe that anyone can enjoy. I challenge you to see if your friends and family notice it's gluten free and dairy free too!
These are a real treat, indulgent but made with healthy ingredients for a breakfast you don't want to miss. Don't be scared off by the addition of chia seeds in place of an egg. These mighty little seeds are full of fibre, calcium, protein, and vitamins and minerals. They will provide your body with a healthy dose of omega-3's as well. If you don't have any, you can easily use an egg instead although you might even find that you prefer the vegan version even more!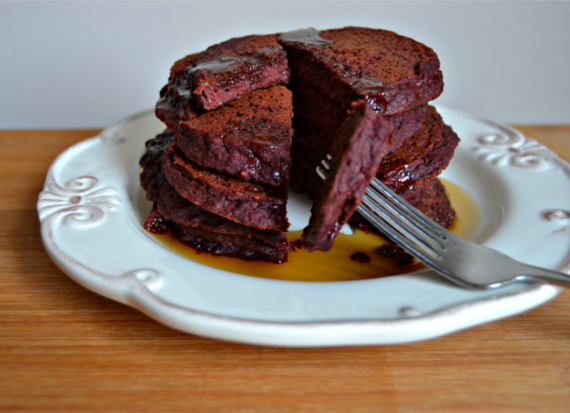 1 tbsp. ground chia seeds + 3 ½ tbsp. water (or 1 large egg)
1 tbsp. melted coconut oil
Optional: 1 tsp. maca (I love Organic Burst)
1. Mix the ground chia seeds with the water and set aside to gel.
2. In a blender, add the beetroot, coconut milk, vanilla, hemp seeds, maple syrup, and coconut oil until smooth (If you're using an egg, add that into the large bowl as below, then add the ingredients from the blender)
3. Pour the mixture into a large bowl and whisk in the chia seed gel.
4. Add the rest of the ingredients and whisk until everything is combined.
5. Melt a little more coconut oil into a frying pan dropping spoonfuls of the pancake batter, a couple of tablespoons at a time. Cook on the first side until they begin to bubble and the edges firm up then flip them over for another minute or two.