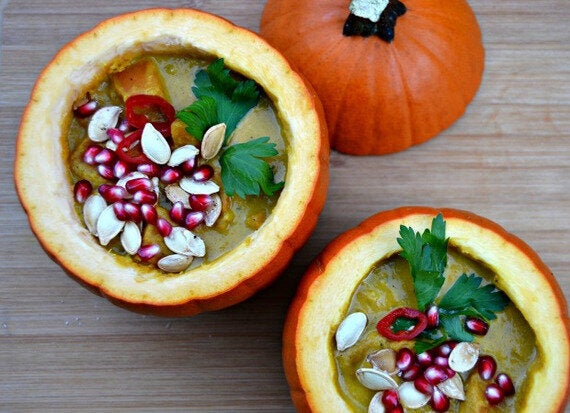 The one good thing about the colder weather is of course pumpkin season. You know it's here with the release of that infamous coffee drink.
This pumpkin coconut curry contains all the warming elements you need to begin your seasonal hibernation. Each bite combines the infusion of turmeric, chilli, and pumpkin in the coconut sauce and then you add in the texture of fresh pomegranate seeds and toasted pumpkin seeds for extra colour and crunch. This makes for one delicious combination.
It may seem like a lot of ingredients here but everything is quick to throw together in a large pot that makes plenty of servings to share or freeze and have extra for lunches and weeknight dinners. You can even make this extra festive by using pie pumpkins or squash as your bowls! If you're using fresh pumpkin, don't forget about those seeds either. Give them a rinse, lay them on a baking tray, and toast them in the oven with salt, pepper, and some paprika for a tasty nutritious snack.
3 cloves of garlic, crushed
2 tsp. fresh ginger, grated
1 tin full fat coconut milk
1-2 tins of water (use from the coconut milk)
1 tin pureed pumpkin or 1 ½ cups fresh pumpkin
1 tin white beans (kidney, lima)
½ tsp. freshly ground black pepper
Optional: Fresh coriander, toasted pumpkin seeds, pomegranate seeds, sliced fresh chilli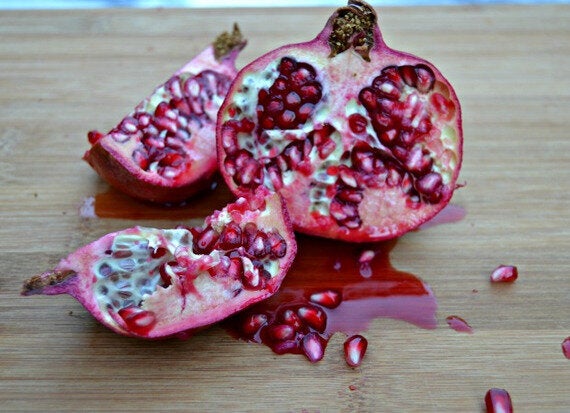 1. Melt the knob of coconut oil in a large casserole pot. Add the garlic, onion, chilli, and ginger and allow to cook for a minute then add the spices in.
2. Chop the carrot and sweet potato into bite sized pieces and toss in. Allow to soften for a few minutes.
3. Add the pumpkin, the beans, and the coconut milk. Using the tin from the coconut milk, add in 1-2 tins of water (depending on how thick the curry is)
4. Bring everything to a boil, then allow to simmer for 40-45 minutes or until the veg has softened.
5. Serve straight away and top with toasted pumpkin seeds, fresh pomegranate seeds, and chopped fresh coriander.