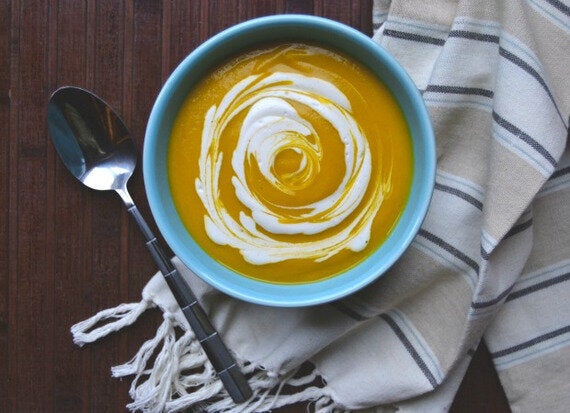 I know the feeling of coming home from work in the evening and not wanting to make anything at all yet still being completely famished. I also know the feeling of coming home in the evening and really looking forward to a warm and comforting meal to enjoy while you cozy up for the remainder of the night. This recipe is the happy medium.
Although it may seem like it takes a lot of time to make this, the timing is merely in the roasting of the veggies. This soup is simple enough to make and enjoy for dinner and is delicious leftover for lunch the day after. It's full of protein and fibre from the beans and contains immune boosting ingredients such as ginger and turmeric. It's also dairy free but still creamy and satisfying using cashews in lieu of cream or yogurt.
If you're really short on time, you can just as easily lightly steam or use the carrots raw but I really love the flavour you get when they caramelize together with the fresh herbs and garlic.
The cashew cream is also optional but from someone who doesn't get easily excited about soup, this is what takes it to another level and finishes off the bowl nicely.
1 pound carrots (4 large, preferably organic)
1 tbsp. fresh ginger (approx. 1 inch piece)
2-heaped cups white beans (Great Northern, lima, cannellini)
2 sprigs of fresh thyme plus fresh rosemary & thyme, chopped (to taste, I used about ½ tbsp. of each)
1-cup cashews soaked (minimum 4 hours or overnight)
1. Preheat oven to 400°F. Grease a baking dish with some coconut oil, allowing it to melt while the oven warms up.
2. Wash and peel (if non-organic) the carrots, chop into pieces, and add to the baking dish with coconut oil. Smash the two cloves of garlic and add them to the dish along with the sprigs of thyme, turmeric, and salt and pepper. Roast in the oven for 20-30 minutes until they're tender and ready to purée.
3. While the carrots are roasting make your cashew cream. Add the soaked cashews to a high-speed blender with the water and blend. Add a minced clove of garlic, coconut vinegar, and some salt and pepper. Taste and see if you need to add the lemon juice as well. Pour into a small bowl and set aside.
4. When the carrots are ready, remove from the oven and allow them to cool slightly before adding them to the blender. Drain and rinse your beans and add with the veggie stock, fresh ginger, and fresh herbs. You may have to do this in batches depending on the size of your blender.
5. When you reach the desired texture of your soup, bowl it up and swirl in the cashew cream.