As summer approaches people are quickly booking their holidays - whether that be abroad or here in the UK.
While picking those holidays, a majority of people also take into consideration what activities are offered - especially ones they have never tried before. Even I, having booked a holiday to Crete, glanced ambitiously over the list of water activities offered at the nearby beach...
But in the UK some water activities are being questioned following lrecent devastating accidents.
Coasteering - the sport or activity of exploring a rocky coastline by climbing, jumping, and swimming without aid - has been around for many years as people took to the water if only to reach hidden coves.
But recently it has been the subject of huge media attention, with concerns over its safety after the recent inquest of a Royal Navy reservist who died while participating in the sport.
Charlotte "Buffy" Furness-Smith, 30, was "coasteering" last year when she was washed into a cave on the stormy Dorset shoreline.
Her brother, who was with her at the time, managed to get out of the cave and frantically call for help but rescue attempts were unsuccessful - Charlotte sadly died.
Now in the face of serious questions over its safety, adventure activity experts are insisting it can be a safe and fun sport.
Obviously, like all adventure sports, it carries an element of risk. In a similar way to bungee jumping, rock climbing and even surfing - things can go wrong.
As I'm not an expert in these adventure sports (I have yet to even place my foot on a surf board despite desperately wanting to), I spoke to Keith Crockford, Managing Director of Rock and Rapid Adventures based in North Devon, who has been involved in the Outdoor Adventure Industry for the last 16 years.
He said that coasteering, like any adventurous activity, has risks involved, which is what makes it such an adrenaline packed experience.
But he said: "Adventurous activities undertaken by experienced participants or qualified Instructors turn those real risks into perceived risks by the general public.
"I have been delivering Coasteering for over a decade, I know all the risks involved and my decisions are made on what lays ahead of me that day.
"By knowing the area, weather patterns and current conditions I make a judgement on what is safe and what is not safe.
"Coasteering is a safe and fun activity if you go with a company that is qualified to teach, and has the experience to do so.
"As a provider we see people out trying to replicate what we are doing. How do they know there are no rocks underneath the waterline? Do they know the times of high tide? Are they carrying flares to summon help if needed?
"The answer to these questions is normally no. Most of the time they are not wearing a floatation device or a helmet either," says Keith.
In the last few years Coasteering providers have formed the National Coasteering Charter. The charter has now set a minimum operating standard for companies to work to as well as training standards to train Coasteering guides to.
The Charter website also shows those reputable companies that have signed and agreed to the charter.
Keith concludes: "My advice to anyone wanting to try Coasteering is book with a reputable company - look on the National Coasteering Charter Website for operators in your area.
"Thousands of people safely go Coasteering every year, but they do so under the expert guidance of people who are qualified to be leading them."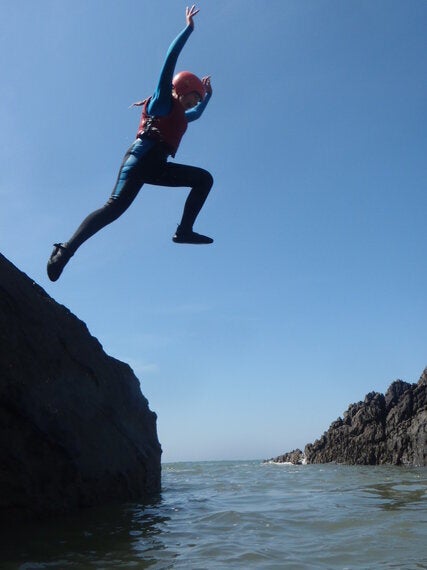 Popular in the Community