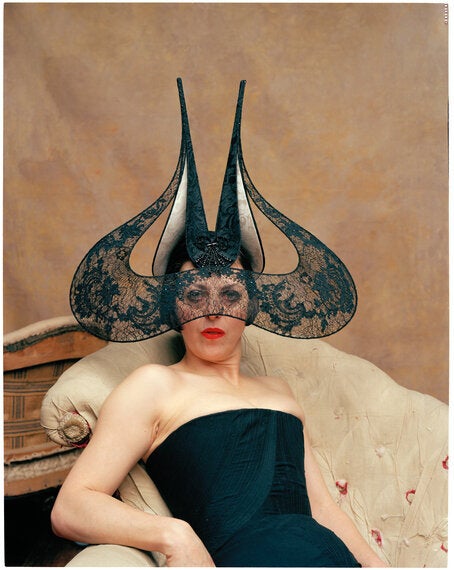 (Isabella Blow, 2002 © Diego Uchitel)
Isabella Blow is a name that the fashion world will never forget. Flamboyant, daring and unquestionably British, Isabella was a style icon unlike any other. Part muse, part mentor, in her short life she helped change the face of British fashion and hand it over to a whole new generation. Now her legacy is being honoured with a fittingly unique exhibition at Somerset House that showcases all things Isabella.
Entitled Fashion Galore!, this is as much a celebration of Isabella's life as her unique style. Never conventional, the exhibition's first section explores her family's rich history, which can be traced back to the 14th century. Photographs and newspaper cuttings of the young Isabella Delves Broughton, as she was then known, show that her innate flair and glamour were present even at a young age. Also displayed in this section is Tim Noble and Sue Webster's fascinating tribute 'Isabella Blow'. Both a sculpture and a light installation, it was crafted using items selected by Isabella herself including a Manolo Balanik heel and a lipstick.
The journey through Isabella's life continues as the designers she cherished and the clothes they made for her take centre stage. Always the first to spot new talent, Blow acted as a mentor for the burgeoning designers of the fashion world. The work of her most famous discovery, Alexander McQueen, features heavily, including his graduate MA collection, which she bought in its entirety, (even though she had to pay it off in weekly instalments). Viewing the pieces close up allows you to see the great attention to detail and the innovativeness that first caught Isabella's eye. Another talent she nurtured was Philip Treacy, whose hats would become synonymous with her style. Each hat displayed is a unique work of art which Isabella brought to life on a daily basis.
Scattered throughout the exhibition is video footage of Isabella, which shows the fun and exuberance she brought to the fashion world. Her unique idiosyncrasies such as writing in pink ink and her love of the English countryside, show a woman who was able to see the beauty and fun in life and who wasn't afraid to fully express herself. Through looking at her editorial work you can see how she used her unique understanding of fashion to create memorable fashion spreads that leapt off the pages.
With six different sections and spreading over three floors, Fashion Galore! is a visual feast for fans of both art and fashion. Curated by Alistair O'Neil and Shonagh Marshall and with installations by Shona Heath, it is beautifully presented with care and attention to detail. The clothes that Isabella treasured so much are now owned by Daphne Guinness who has truly found the best way to honour her friend's memory.
Isabella Blow lived her life with passion, flair and an impeccable eye for beauty. She didn't just wear clothes, she breathed life into them and transformed herself into a walking work of art for all to admire. Although bittersweet, Fashion Galore! proves a fitting tribute to a remarkable woman who should continue to inspire. Most of all, it leaves you with the knowledge that fashion is as much fun as you're willing to make it and clothes are there to be loved and enjoyed.
Fashion Galore! is at Somerset House from 20 November until 2 March 2014
for more information and to book tickets click here
Related