The FAD 2013 'Future optimism' brief encouraged us to look 10 years to the future: "Envisage a key development or change taking place in the next ten years, and design two outfits which respond to it. Create people-centred design that enhances our way of living. Consider the moral and ethical choices to be made. Balance the practical and the beautiful, the sensory and the intellectual; be innovative and resourceful".
When first seeing the brief, I have to say I loved it. I felt that it really struck on beliefs that I hold close as a designer; the idea that clothing should be user-centric and enhance living, and that above all else, functionality and style should work together in fashion design.
I responded to the brief by designing a protective sportswear collection based on functional clothing for cycling; I love cycling, and I really wanted to share this through my designs. Cycling is rapidly growing in popularity throughout the UK, but I feel that despite this growth, there maybe isn't enough fashionable cycle wear available. During the summer I spent 3 weeks cycling round Portugal with a friend that gave me a lot of ideas and design inspiration for the collection.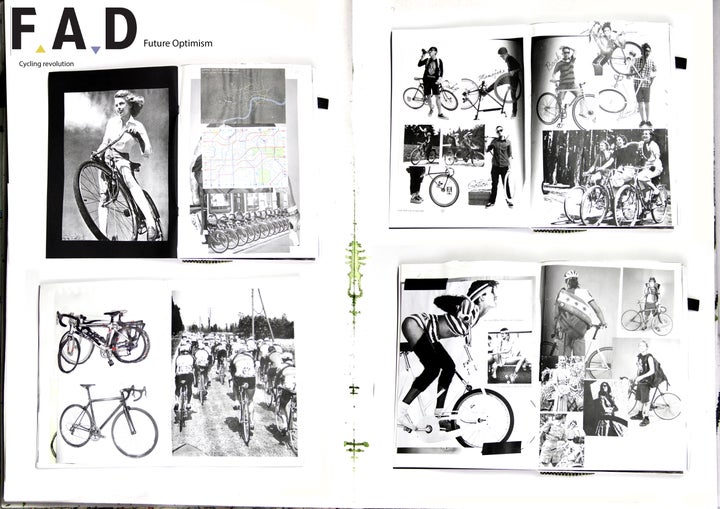 Historically, the military have been at the forefront of innovation and technological advancement, and provide a very strong and distinctive design aesthetic. In keeping with this, I sourced my fabrics from a local factory in Devon, where they were developed for use by the military. The jackets are made from waterproof ripstop nylon, and I integrated 3D spacer shock absorbing fabric into them (and the leggings) to add protection for cycling. Each piece is also reflective, which increases visibility of the cyclist to other road users.
As well as looking at military technology, I also wanted to include other key developments that I think will be at the forefront of design in the next 10 years. For example, the increased drive for sustainability means that the use of recycled materials could be increasingly important in fashion. In the collection, I represented this with the use of recycled bicycle inner tube as straps and waist bands, and a solar panel in the pannier bag. I also wanted to use modern manufacturing techniques in the collection, so made 3D printed goggles.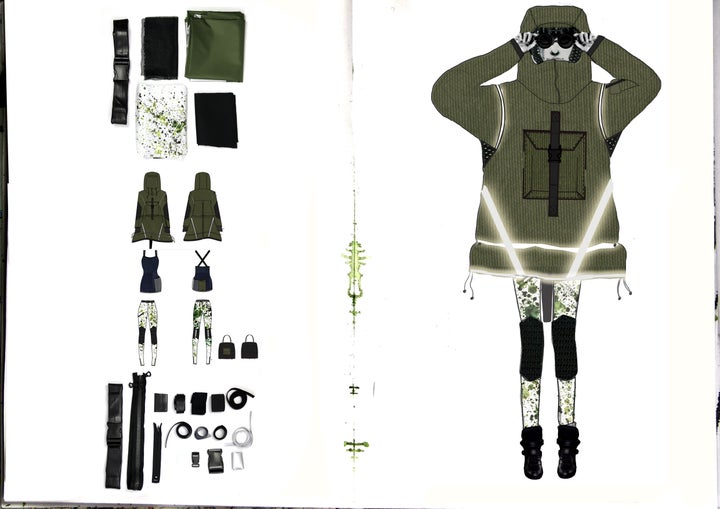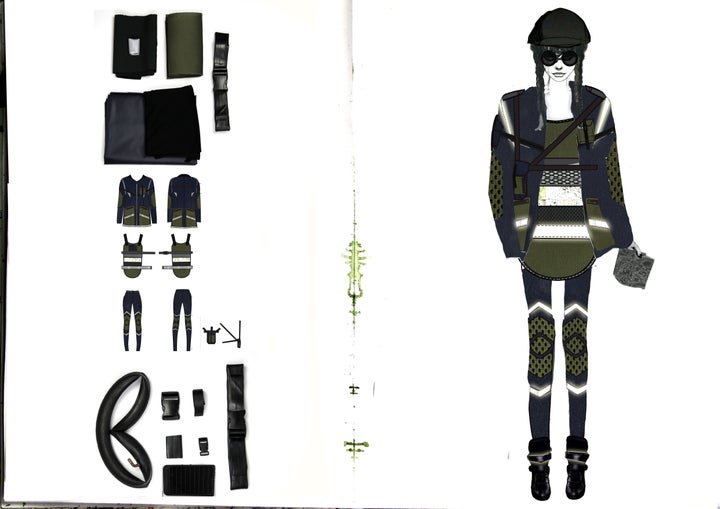 I was really flattered and excited when I found out I had been selected to enter the competition, and to then find out that I was a finalist was amazing! Having the opportunity to product develop my designs, and see them come to life has been really rewarding- I feel like I have learnt so much through this taking part in this competition!
Unfortunately, I got appendicitis over Christmas so was really pushed for time with the making of the final garments, writing my dissertation and developing my final collection all at the same time; but I feel the added pressure really drove me to work harder because I love it!
I'm so grateful to FAD for giving me this amazing opportunity and really excited to meet everyone and see all the other finalists' designs on the catwalk in London on Tuesday! Thank you FAD!