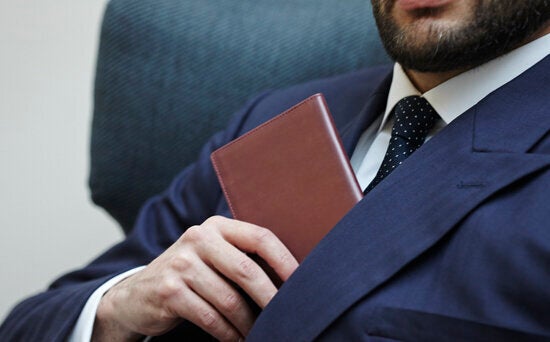 It's that time of year again, the nights are long, the temperature's dropped and the high streets are packed with shoppers. As the festive season begins a lot of people will be buying wallets and purses as presents. So, I thought this would be a good time to pass on a few tips on what to look for, from one of our leather craftsmen. Tim's been in the leather trade for over twenty-five years and he's made goods for the Royal Household, the Royal Courts of Justice and the House of Lords to name a few. So he knows a thing or two about craftsmanship and he says there are five things to look for when choosing a new wallet:
The first thing to check is the quality of the leather. A lot of leather these days is sanded to remove imperfections and then coated in resin, which make it feel plastic. This is called top-grain and should be avoided. Instead, look for wallets made of full-grain leather. Full-grain has not been "corrected" making it stronger and more durable. Most important of all, it has more character because you can see each pore and crease that makes the leather unique.
Next you should look at how the wallet is made. There are two main types of wallet construction: Turned or Cut edge. Cut Edge is where the leather is cut and stitched together leaving the raw edge visible. The edge is usually coated in black resin but will eventually degrade and deteriorate. Turned Edge is where the edge of the leather is thinned and then turned before being stitched in place. It takes longer to make a wallet like this and when made by expert craftsmen will last for many years. In short, always buy a quality Turned Edge wallet.
It's important to check the craftsmanship that's gone in to making a wallet. A good test is the width of the turnover and position of the stitching. A well-crafted wallet should have a narrow turnover with the stitching positioned centrally. A poorly crafted wallet will have a wider turnover, allowing a greater margin of error, and often crooked stitching. In addition, the leather should have been thinned before being turned, meaning there shouldn't be a lip when you run your thumb across the turned edge.
The corners are another key test of craftsmanship. When properly crafted they are thinned down, pleated in to a rounded corner and then stitched in place. No cuts are made to the leather as it weakens the wallet as a whole. Any wallet with right-angled corners is a sure sign of poor craftsmanship. If you can see a diagonal cut then the wallet has been made on the cheap.
Lastly, any quality wallet should have creases made by a hot iron alongside the turned edge stitching, on the credit card slots and the note dividers. It is purely aesthetic and accentuates the clean lines of the wallet, but it's the kind of attention to detail usually missed or poorly executed on a badly crafted wallet.
As you can see, there's more to choosing a quality wallet than meets the eye. Equipped with these tips you'll be able to shop with confidence knowing you can tell the wheat from the chaff. So, wrap up warm and brace yourself for the crowded high street, safe in the knowledge that this will be a present they'll enjoy for years to come.
Related