In my 12 or so years as eirector of Tate Britain I was involved in organising more than 60 art exhibitions. They ranged from masterpieces of medieval sculpture to the surprises of the annual Turner Prize, and when they'd shown in London they often travelled on to venues elsewhere in the world: taking great British art to new audiences in Beijing and Moscow, or Istanbul and Sharjah, was certainly a challenge, but always rewarding. From time to time you might find a 'lost' British masterpiece and bring it back to London on temporary loan - a Bacon triptych found in a basement in Tehran, for example, or a huge Burne-Jones briefly repatriated from Puerto Rico. At their best, exhibitions involve surprise - art put in unfamiliar contexts, seen in different ways, by new people, taking on fresh meanings, in unexpected places.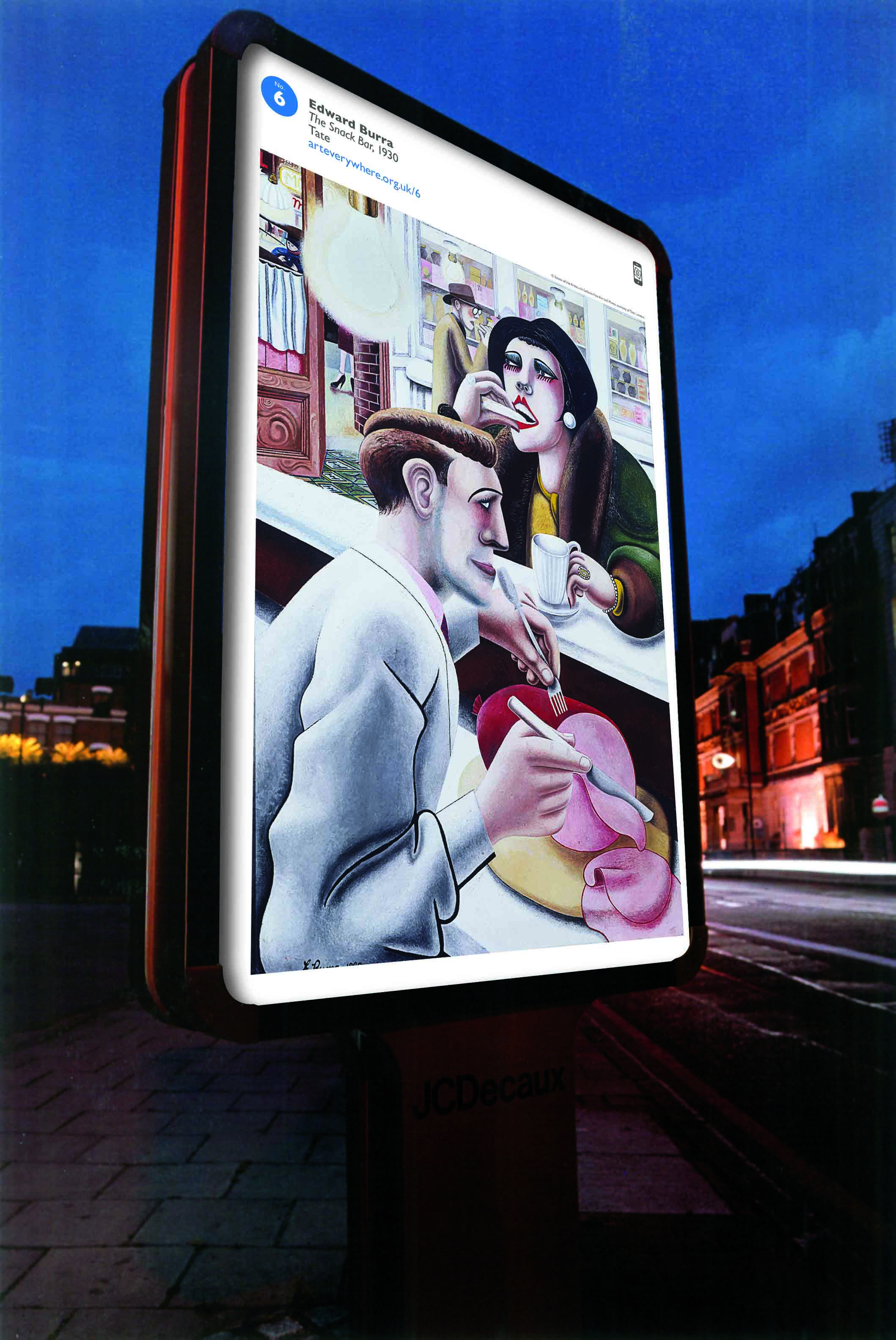 'Art Everywhere' is a new collaboration between the Art Fund (where I am now Director), Tate, Richard Reed (co-founder of Innocent Drinks) and a number of other partners united behind a cause that is not only charitable but groundbreaking. In fact I think it's as important as any exhibition project I've ever been part of. For the next two weeks, tens of thousands of billboard and commercial poster sites across the country will feature largescale images of British works of art from museum collections, ranging from Hans Holbein's iconic 'The Ambassadors' (1533) through Humphrey Ocean's 'Lord Volvo and his Estate' (1982) to Mona Hatoum's 'Performance Still' (1995). They will crop up everywhere from the 12.19 m wide digital billboard at Westfield to the back of a bus in Belfast. You may drive past the dying Ophelia at Shepherd's Bush roundabout or find Lucian Freud in the station cafe at Hull. Lowry might get a couple of weeks on Eastbourne seafront and Hepworth could be heading for Aberdeen. You will see and feel all this not in the hushed environs of an art gallery but as part of daily life, the controlling hand of the artist or curator replaced by the democracy of public will.
The public helped us choose 57 works of art by liking their favourites through Facebook, which was coordinated through the website arteverywhere.org.uk. The same art-loving public also helped put up the money to make it all happen. A crowd-sourcing initiative, the first of its kind for the visual arts in Britain, underpinned the project budget of £140,000 (excluding all the in-kind contributions of the partners), with each donor of more than £3 claiming a 'reward' - everything from a limited edition badge or print by artist Bob and Roberta Smith to a full billboard-size poster big enough to wallpaper a whole living room. The art consumer, rather than the art provider, was in charge from the start.
Although a group of expert curators compiled the original list of 100 suggested images, many of their ideas - from the esoteric to the overfamiliar - were rejected, and the final list makes up a powerful, diverse and confident public exhibition. It may not be surprising that Waterhouse's 'Lady of Shallot' got most votes of all, but who would have expected Sargent's 'Gassed', a harrowing image from the Imperial War Museum, or a still from Zarina Bhimji's haunting but little publicised film 'Out of Blue', to make the cut as well? These 57 images, drawn from six centuries of artistic endeavour, are the discerning product of popular choice and an exhilarating expression of contemporary British taste.
If this extraordinary undertaking affects people's lives in some way, as I believe it must (whose day will not be altered by seeing Martin Creed's ambiguously reassuring neon message 'Everything is Going to be Alright'?) it will have accomplished its mission, and it will have helped draw attention to the glories of public museum collections as well the quality of British creativity through to the present day. This is not a jingoistic celebration by nature, but it's true that international recognition of British artists has probably never been higher: from David Hockney to Tracey Emin, Grayson Perry to Jeremy Deller, Gary Hume to Cornelia Parker, they are admired across the world. Perhaps next year we might try a global version?