Across the country and around the world, old and tired looking WW1 memorials are being repaired. Most places have refurbished their existing memorials, cleaning out the soot and car fumes from the memorials so that the names can be read and the monuments look as they did almost a century ago,
The looming 100th anniversary of WW1 or The Great War is bringing communities together again remembrance of those awful events a century ago. Unlike in some other places, the villagers of Leavesden Green have been busy fundraising and working towards having a new war memorial which is situated at the end of my street.
The war memorial in our village of Leavesden had been falling apart for years made as it was of simple brick and a sandstone/mortar mixture. When I arrived here 7 years ago, it was looking in a sorry state, bits falling off it due to decades of weather and neglect. Happily, since then, it has become increasingly significant again and the focal point of a memorial service at 11am every November 11th.
Last year it was decided that the village was going to replace the memorial in time for the 100th anniversary. Originally, it was going to cover the names of all those fallen in WW1, WW2 and other later conflicts such as Korea, The Falklands, Iraq and Afghanistan. However it became clear this wasn't possible, at least not with the money we had for the job. There was also the difficulty in tracking down the names of people, some with no living relations or others whose family had long since moved out of the area. What would we do if someone in 20 years time came to say their family member should be on it?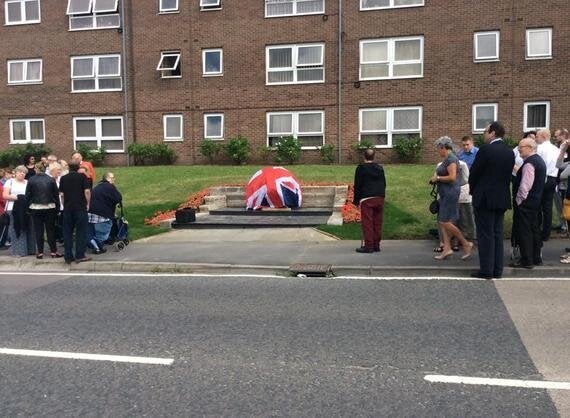 For that reason the decision was made to list out the WW1 names but then acknowledge the later wars, something the original memorial never did. Much fundraising was had and though much was raised, sadly many of the local residents seemed not to contribute much if anything. I remember that we did even as I was out of work after all without their sacrifice I may not be here at all or if I were, would be writing my blog in another language.
Kindly three local businesses donated their time, expertise and materials for the expensive parts of the memorial and so at 3.30pm on Sunday 13th July we gathered to pay our respects and see our new memorial.
It's hard to imagine what it was like here 100 years ago. Today Leavesden is in Hertfordshire but on the very edges of the spread of London and the closer but increasingly over-developed Watford, and a world-wide name due to Harry Potter. In 1914 though it was a tiny farming community with London still 10 or 15 miles away. Just a handful of buildings and residents lived here along with farmhands from across the country and yet there are 36 names on the memorial of that tiny settlement. Can you imagine how empty the village was, the empty places at the dinner table in each house.
Even now they and the nearly million British men who died leave gaps in our lives. The fathers, grandfathers, uncles that we never met. Their siblings would have been our brothers or cousins that we didn't have the chance to play with in our childhood. The poverty many families had to grow up in even without taking WW2 into consideration.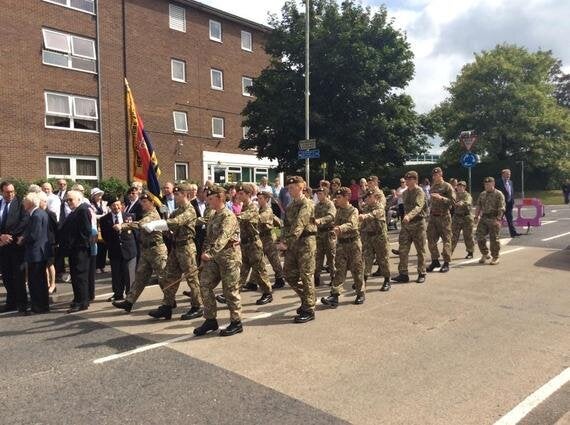 The new memorial sat under a wooden box ready for its unveiling. A Union Flag lay on top, fluttering in the slight breeze on this warm summers day so much like that Bank Holiday in August 1914. A crowd of around 150 people must have attended including many veterans from WW2 and later wars. An elderly lady in a wheelchair sat with the best view in the street, the sole person in the area who in any way remembers WW1.
The local army cadet force of teenage boys marched in with their flag and with the local vicar, MP and mayor present, the box was lifted and our new granite memorial was unveiled in its new position.
A series of postcards from the front were read out by our neighbour, a serving Staff Sergeant who has seen action in the recent wars. The post cards indicated the increasing horrors of the war and the ever increasingly feel of despair that the writers would never get home again.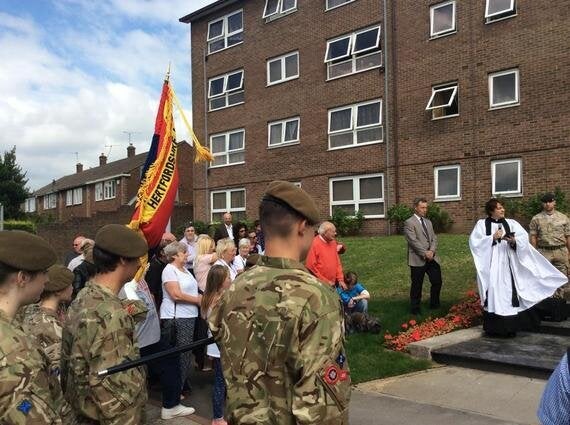 The vicar lead prayers of remembrance and after a short while it was over. We all chatted to each other, the veterans and also took a peek at the memorial though I am sure most of us will give it a more thorough inspection later.
Afterwards, we went upstairs into the communal area of the home for the elderly many of which had survived WW2. The names of all of the contributors were read out and toasts were said to the fallen soldiers, to their families and to the Queen. It all felt slightly like we had been sent back to 1914 ourselves before we enjoyed some cakes, sandwiches and drinks.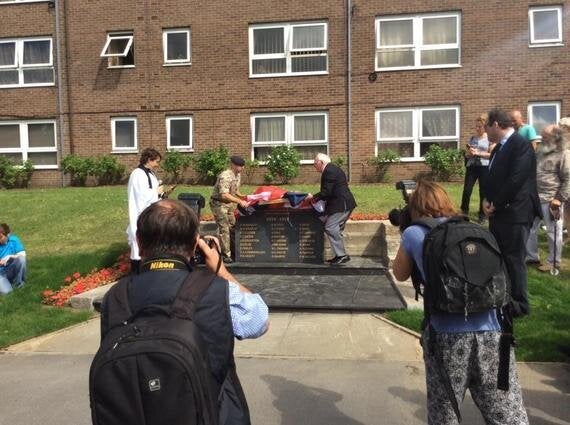 It was incredible that so many people spent an hour or two of their Sunday on this warm summers day to come and pay tribute to people who 100 years ago who were packing up their troubles in their old kit bag and making their way across the Channel never to come home again.
I go past the memorial almost every day and just about every time I look at the names written upon it. Several of which share surnames and must obviously have been brothers or fathers and sons.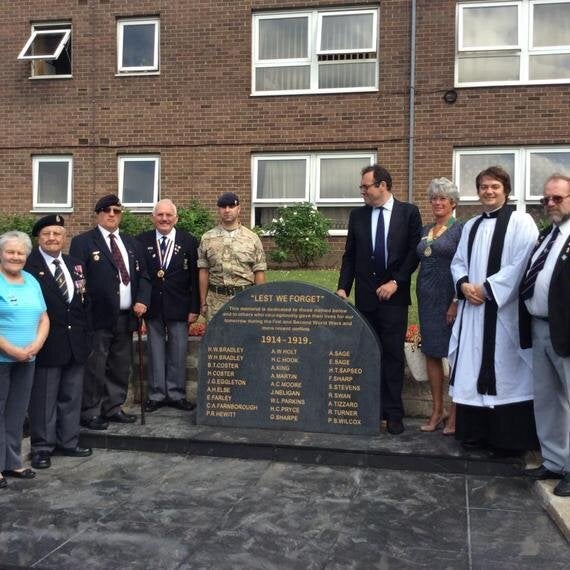 The new memorial is a fitting tribute and will no doubt be used frequently for the next 4 years in addition to its usual annual services. Made out of tough granite, it is likely that in 100 years time, long after we are forgotten, the memorial will simply need a little touch-up when our as yet unborn descendants remember the names of the 36 men of tiny Leavesden who died in WW1 and also those that came later and who shape the lives of our village and all of us by their bravery and sad absence.
They shall grow not old, as we that are left grow old:

Age shall not weary them, nor the years condemn.

At the going down of the sun and in the morning,

We will remember them.
Popular in the Community