From 1 November 2016 BBC Two will broadcast Arctic Live, a new three-part series about the icy wilderness that stretches across the most northerly reaches of our planet. Wildlife cameraman Gordon Buchanan will report from the town of Churchill in Manitoba, Canada--a destination from which I've just returned.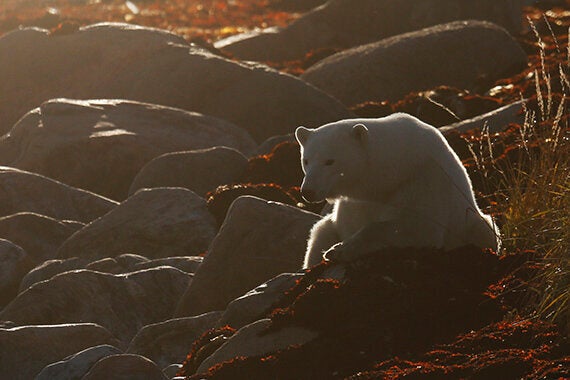 Simon Reeve and Kate Humble will also present on Arctic Live, which will be aired for an hour from 8pm.
When it comes to wildlife, nothing can be guaranteed, but few people return from Churchill without spotting polar bears. Large numbers of the animals gather in the region while waiting for the Hudson Bay to freeze. When it does they head out onto the ice to hunt seals.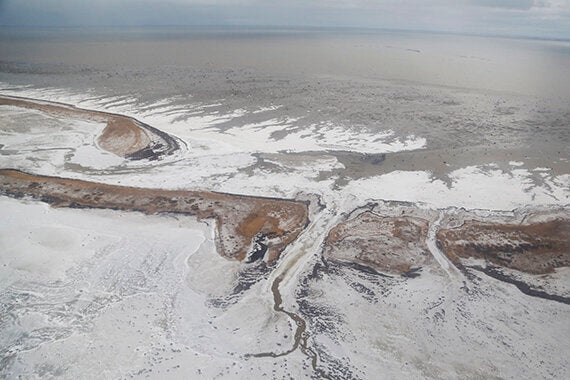 Ice begins to grip the shoreline
Any bear wandering into the town of around 850 human inhabitants is detained in Churchill's Polar Bear Holding Facility, a building known colloquially as the 'bear jail'. While in the area I talked with Brett Whitlock, the man who oversees the facility.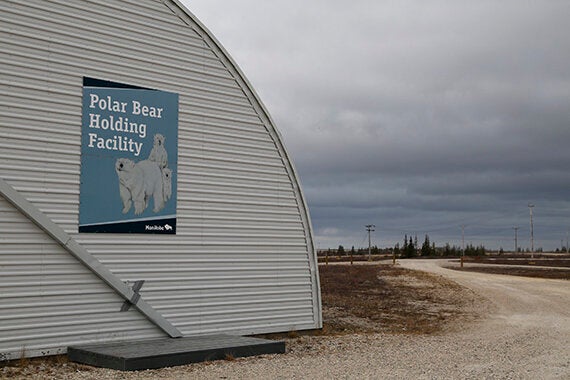 Churchill's Polar Bear Holding Facility
One local told me that in Churchill they have a phrase, "take your corners wide." Doing so gives you that fraction of a second to react in the unlikely case of you coming face-to-face with a bear coming in the opposite direction. Polar bear patrols, until 10pm each day, help keep the town safe.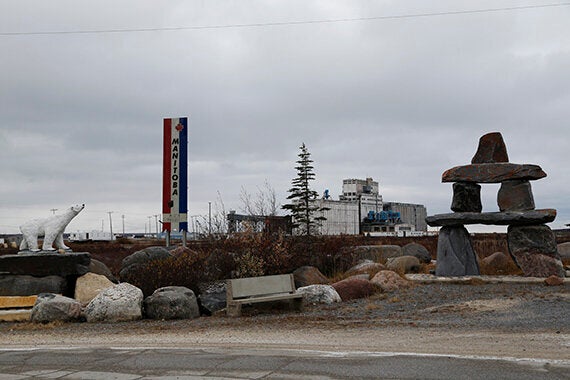 A scene from Churchill, Manitoba
These days around 15,000 people head to Churchill every year to view polar bears. Most do so from the back of a Tundra Buggy, a type of powerful all-terrain vehicle with a heated cabin and a deck for viewing bears. They can cover a lot of ground each day and, from them, sightings are pretty much guaranteed. Instead of viewing wildlife from a vehicle I chose to do so on foot. To do that I participated in one of the polar bear safaris operated by Churchill Wild from Seal River Heritage Lodge--a remote eco-property, located around 60km from Churchill.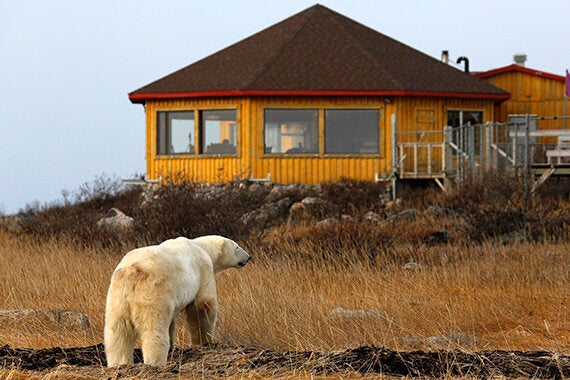 A polar bear outside of Seal River Heritage Lodge
Even on the way north from Churchill I sighted a number of bears, including a female with cubs, from the light aircraft we used to get there. There isn't a road connecting Churchill with Seal River Heritage Lodge. Moose were also roaming the tundra, close to the shoreline of Hudson Bay.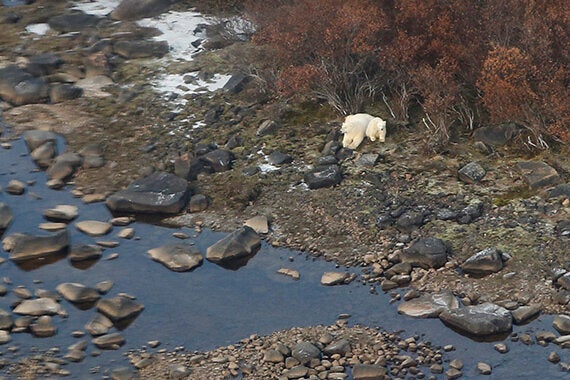 A mother with her cub, seen from a light aircraft
Each day I was at the luxury lodge, which overlooks Hudson Bay, I joined fellow guests to go walking in the morning and then in the afternoon. We were accompanied by two guides. The temperature was well below zero, so, of course, we had to wrap up well and carry spare batteries for our cameras.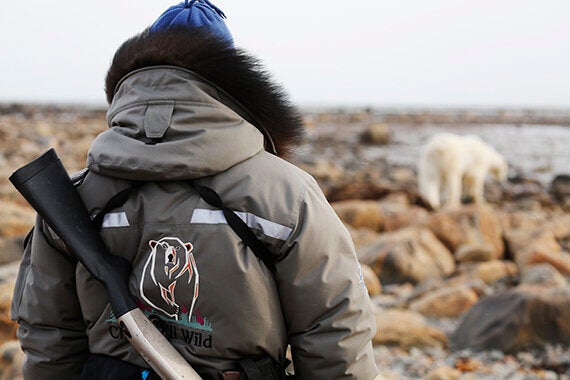 Derek, my guide, with a shotgun over his shoulder
Friends back home suggested I was crazy to walking in polar bear country but Derek, the bear expert who was our chief guide, explained that the group could manage risk by staying together. Though he carried a shotgun he told us he had never needed to use it and no-one had ever been injured during one of the lodge's safaris.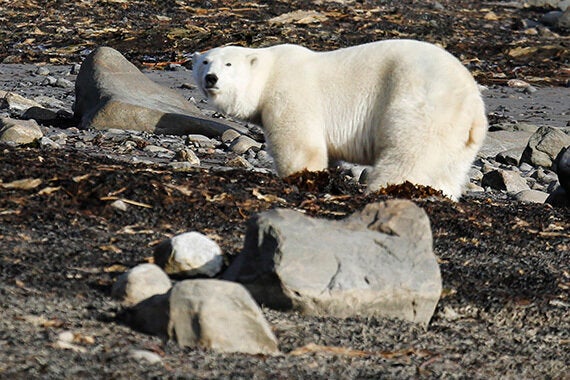 A polar bear walking on the beach
In the nigh silent landscape around Seal River, well away from permanent human settlement, clacking a couple of stones together is normally enough to turn away an advancing polar bear. I might not have believed that if I hadn't seen it.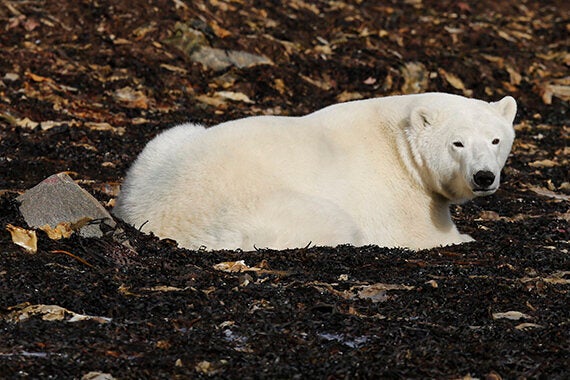 Enjoying the beach in sub-zero temperatures
A 400kg male sauntered to around 10 metres of us, before being repelled by the harsh sound of Derek smacking two stones together. Though my heart was hammering I managed to click a number of decent shots of the bear as he advanced.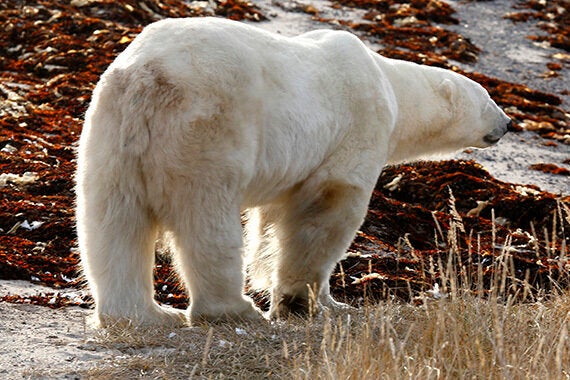 The south end of a north-bound bear
If Gordon's experiences are anything like mine then viewers of Arctic Live are in for a visual treat. I'll certainly be tuning in to compare experiences. I hope the BBC's viewers are as thrilled as I was by the wildlife around Churchill.
All of the images illustrating this post were photographed by Stuart Forster.

The Northern Lights in Manitoba's night sky