An exhibition of work by Saloua Raouda Choucair, a Lebanese artist little known beyond her native land, opened this week at London's Tate Modern.
Many Britons will remember 17 April, the opening date of this exhibition, as being the day of Baroness Thatcher's funeral. That event took place at St Paul's Cathedral, about 500 metres away from the Tate Modern. On normal, quieter, days the two attractions are within an easy ten-minute stroll of each other via the pedestrian Millennium Bridge spanning the river Thames.
Choucair was born in Beirut in 1916, where she studied at the American University before going to Paris and the École Nationale Supérieure des Beaux-Arts (France's National School of Fine Arts). In the late 1940s she worked in the studio of the cubist and figurative artist Fernand Léger, whose influence can be seen in Choucair's Les Peintre Celebres series from that period. They can be seen in the first of the four rooms dedicated to this exhibition.
After a spell in the United States, Choucair returned to Lebanon, becoming a pioneer of abstract art in the region and one of only a few females active in the art scene. She is mooted as a proto-feminist, though whether the colourful female figures depicted in Les Trois Graces, a work of gouache on paper, are really asserting themselves is open to debate.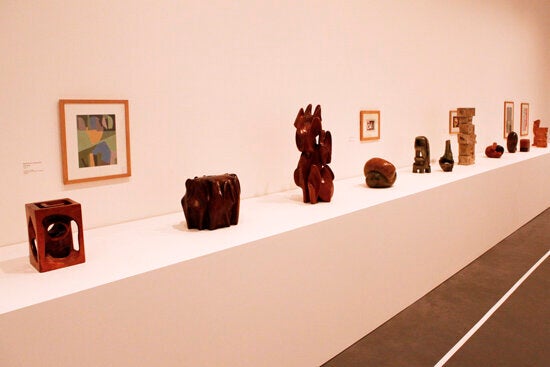 This exhibition of paintings and sculptures is on the fourth floor of the Tate Modern. The work used on the exhibition's posters is Choucair's Self-portrait, dating from 1943, the earliest of more than 120 works on display.
Choucair, who still lives in Beirut, developed passionate interests in architecture, Islamic art, and then Western abstract art. These influence her work.
A number of interlocking sculptures are displayed in the second room, using wood, fibreglass and stone. Infinite Structure, made of Tufa stone from 1963-65, bears similarities to breeze block like shaped concrete and its modular form can be re-articulated according to the desires of the person installing it, according to Jessica Morgan, the exhibition's curator.
The form of pieces such as Dual, Poem and Screw provoke thought and emphasise how Choucair would experiment and master materials. She also used brass, aluminium and terracotta. Works featuring nylon, Plexiglas and stainless steel, dating from the late 1960s to mid-1970s, are shown in the final room.
The third room of the exhibition includes a painting that was damaged by glass thrown by a bomb exploding near the artist's home during Lebanon's civil war in the 1980s. Looking at that painting and speaking of Choucair's resilience during that time, Ann Coxon, the Tate Modern's Assistant Curator, says, "it's like her vision was unaffected by what's going on around her."
To Halah Shoukair, Choucair's daughter, that piece of damaged artwork "represents how our soul was hit" and is a symbol of survival.
Morgan visited Choucair in her apartment and selected a number of items for display in the third room. "It was a treasure trove of works," says Morgan, who believes those on display in the third room convey "a sense of her creative energy." These include sculptures in miniature and the artist's copies of critics' reviews of her work.
What the critics working in London will say of her exhibition will become apparent in the days ahead, providing new material for Choucair's personal collection.
The Saloua Raouda Choucair exhibition at the Tate Modern will run until 20 October. Entry costs £10 (£8.50 concessions). The exhibition is open daily from 10.00am to 6.00pm with extended opening, until 10.00pm, on Fridays and Saturdays.