History is full of conspiracies. Perhaps even history itself has conspired to ensure that the German city of Weimar is not been better visited by British travellers?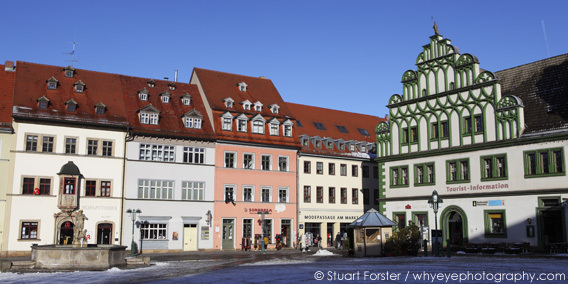 You might argue that's ironic because Weimar's name will be familiar to anybody who has read 20th century history. It was within the city's German National Theatre that Germany's National Assembly met, in the turbulent period following the end of World War One, to draft the constitution of the new republic. The strife-ridden Weimar Republic was eventually toppled, in 1933, by the National Socialists. Nazi policies led to war and the partition of Germany. Weimar ended up east of the border that remained tightly guarded until 1989.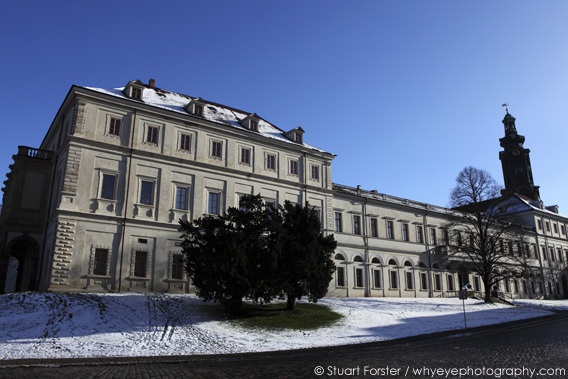 In the quarter of a century on since the fall of the Iron Curtain the city has undergone significant restoration and is now easier to reach from the UK than ever before. Since December 2013 Germania has been flying directly from London Gatwick into Erfurt-Weimar Airport, 44km and roughly a half-hour transfer from the centre of Weimar.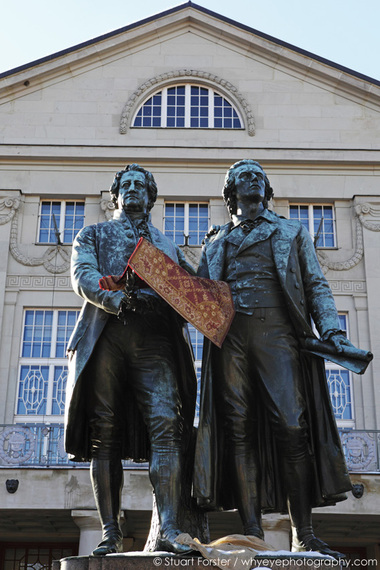 A statue depicting the polymaths Johann Wolfgang von Goethe and Friedrich Schiller stands on Theaterplatz, the square in front of the theatre, traditionally regarded as the heart of the city. The two men number among the host of distinguished names who served at the court of Saxe-Weimar-Eisenach during its Golden Age under Duchess Anna Amalia and her son Grand Duke Karl August. Numerous figures of renown were drawn to Weimar, which become one of the leading centres of the Enlightenment. This prompts locals to joke darkly that though their city has few famous sons and daughters plenty of famous figures came here to die.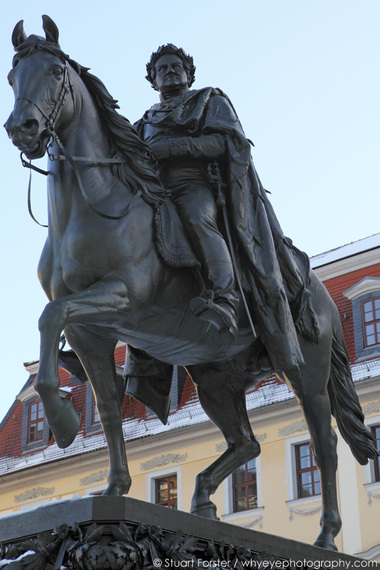 Palaces and historic buildings, including the houses of Goethe and Schiller, stand as a legacy of that area and were in 2008 collectively designated as the Classical Weimar UNESCO World Heritage Site. The City Palace, known locally as the Residenz Schloss, houses a museum and art gallery that helps contextualise Weimar's Golden Age. You can pull felt slippers over your shoes and shuffle around the Anna Amalia Library, whose three-storey Rococo Hall has been carefully restored following the destruction wrought by a fire that broke out on 2 September 2004.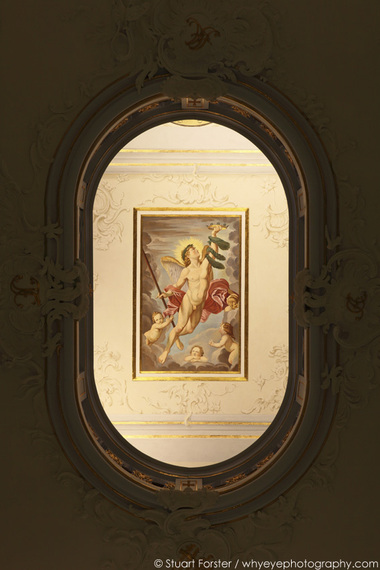 Weimar was also a key location in the birth of the Bauhaus movement. Locations associated with the influential arts, craft and design school are commemorated as another UNESCO World Heritage Site, spanning Weimar and Dessau. Students from the Bauhaus University Weimar lead informative tours of their campus and other places of interest, including the Haus am Horn, the show house designed by Georg Mulche and built in 1923. You can also gain insights into the movement at the Bauhaus Museum on Theaterplatz, in the building faced by the Goethe and Schiller statue.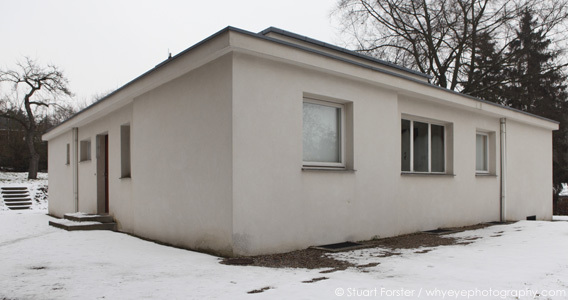 The attractive Old Town is sufficiently compact to explore on foot. At the cobbled market place (Gruener Markt), in front of the town hall, you can browse stalls selling local produce and taste authentic, freshly grilled Thueringer (Thuringian) style sausages. You're never far from a café where you can order coffee and cake, a German tradition that lends itself well to pauses between sightseeing.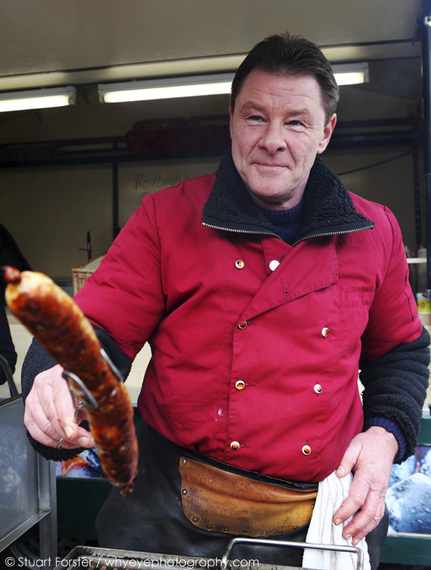 From the centre of Weimar you don't have to far to travel to experience one of the darkest aspects of modern European history. The Buchenwald Memorial, 10km north of the city, is the site of a concentration camp built by the Nazis and used by the Soviets until 1950.
To the south of the city, you can visit Belvedere Palace, a Baroque era hunting lodge surrounded by parkland. The recently renovated Ettersburg Palace, used as a summer residence by Duchess Anna Amalia from 1776 to 1780, also offers opportunities to stroll in well-tended gardens.
Within Germany, Weimar is long-established as a popular cultural destination. The history-rich Thuringian city is now little more than two hours flying time from Gatwick.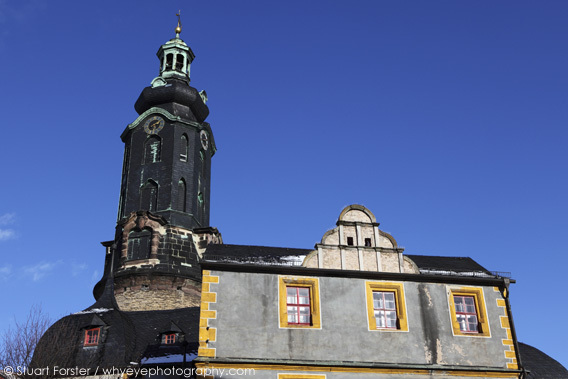 More Information
Learn more about the city and tourist attractions in the surrounding region on the Weimar, Thuringia and Germany websites.
Getting There
Germania flies direct between London Gatwick and Erfurt-Weimar. One-way prices start from €59.
It's also possible to travel by rail from the United Kingdom to destinations in Germany. For fare information and to make bookings see the Railbookers and Deutsche Bahn websites.
Where to Stay
The Hotel Elephant (Markt 19, hotelelephantweimar.com, tel. +49 (0) 3643 8020, rooms from €115 per night) is a 99-room, 4-star superior hotel overlooking the city's market square.
Gasthof Luise (Wielandplatz 3, gasthof-luise-weimar.de, tel. +49 3643 905819, rooms from €40 per night) offers accommodation close to the heart of the city and has a traditional, wood-panelled bar serving local beers.
Where to Eat
Chef Sten Fischer serves Thuringian cuisine with a modern twist at the Alt Weimar restaurant (Prellerstrasse 2, tel. +49 (0) 3643 86190).
Anna Amalia (Markt 19, tel. +49 (0) 3643 8020) is Thuringia's only Michelin-starred restaurant, with gourmet dishes prepared by chef Marcello Fabbri and his team.
Residenz-Café Weimar (Gruener Markt 4, tel. 49 3643 743270) is an all-day café-restaurant serving Thuringian and German dishes.
Read more of Stuart Forster's travel features on his blog, www.go-eat-do.com.