UK Sport's decision to strip Wheelchair Rugby of its £750,000 a year funding was a chastening reminder that disabled sport in Britain remains a poor relation, struggling to keep its head above water.
The GB Wheelchair Rugby team are reigning European champions and since 2012 the sport has expanded rapidly, with the number of teams increasing from seven to 22. The Rugby Football Union contributes £100,000 to Wheelchair Rugby's Paralympic Programme, but without UK Sport's funding it is hard to see how the sport can continue to grow. A crowd-funding campaign has begun in the hope that new money can be raised.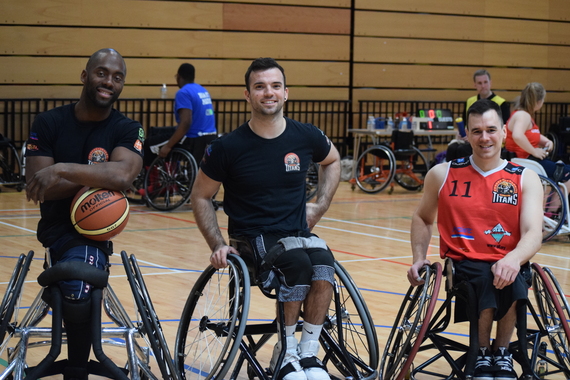 I don't have any personal involvement in wheelchair rugby, but, like everyone in this country, I was inspired by the London 2012 Paralympics. Watching people overcome hardship to represent their country is a moving experience and it instils confidence in other wheelchair users, giving them role models. It would be terribly sad if disabled sport regressed because of a lack of funding.
However, there is not a bottomless pit of public money and that is where philanthropists and charities can play a role. To give our wheelchair athletes the best possible of competing successfully in Tokyo in 2020 we need to start fundraising now.
The London Titans, based in east London, is one of Britain's leading wheelchair basketball clubs. It has a rich history and has produced more than 50 Team GB players, including Ade Adepitan MBE and Rio 2016 bronze medallist Gaz Choudhry. Despite this, they receive no central sports funding and rely on charitable donations to run every aspect of the club, from coaching fees to court hire and the purchase of specially modified wheelchairs.
Path to Success, a charity run by my wife, Anita, and of which I am a director, has been raising money for the disabled for more than a decade. We talk about turning inability into ability. Last year, we began raising funds for the London Titans and staged a Corporate Team Building Wheelchair Basketball competition at the Copper Box, one of the iconic venues of the 2012 Games.

The message from the Titans players - whether they were elite members of the club or newcomers to the sport - was that playing wheelchair basketball had given them confidence, helped them make friends in a new environment and opened up unimaginable opportunities. One young player, Christy, said that getting his first specialised wheelchair was like getting a new set of legs and it made him feel like he could do anything.
The charity is continuing to support the London Titans this year and a second corporate wheelchair basketball tournament is taking place on May 16th at the Copper Box. It's an opportunity for businesses to support the club financially by entering a team in the tournament, but it's about more than just fundraising. When able-bodied people take part in wheelchair basketball they get an insight into what it's like to be disabled and an appreciation of the skill and strength disabled players need to play the sport. No one leaves at the end of the day without feeling enriched and educated by the experience.
And the knowledge that we can also help our Paralympians fulfil their dreams at the Tokyo Olympics should inspire us all.