Monday marked the 140 year anniversary of the nation's leading first aid charity, St John Ambulance, which has been saving lives since 1877. Established over 70 years before the NHS, the charity has helped, comforted and saved millions of people through delivering and teaching the simple, yet incredibly important, skill of first aid. From the industrial boom in the 1800s, to the Great War, through to today's major music and sporting events, St John Ambulance has, and continues to, have an important role in society.
Credit: St John Ambulance
Created by The Order of St John, it originally had the dual aim of training people in 'First Aid to the Injured' and the distribution of ambulance equipment, with the belief that no one should suffer from the lack of first aid. However since then, its remit has grown to include being present as some of the most memorable and notable events in British history. St John Ambulance volunteers have been on duty on many high profile occasions, such as the first London Olympics, Wimbledon, Sir Winston Churchill's funeral, the wedding of HRH Prince William and Kate Middleton, as well as Lady Diana Spencer's wedding and funeral.
But, it is during times of war, when the true impact of the charity can be felt. During both World Wars, St John Ambulance had a strong public presence and worked tirelessly to ensure the safety of British troops and the general public. Whether this is by deploying nurses to the front line, as they did in WWI, or by helping victims of the Blitz and bringing injured soldiers home as they did in WWII, St John Ambulance has been a driving force in ensuring the safety and wellbeing of the public. Further to this, in WWII the charity also set up the Joint War Organisation with members of the British Red Cross. With over 90,000 members of the organisation, their aim was to care for victims of war; raise vital funds for supplies, medical equipment and training; as well as sending out parcels for prisoners of war.
In more recent years, St John Ambulance has continued to provide life saving support during times of political unrest and terror, having been present at the Notting Hill Riots of 1976, the Poll Tax Riots of 1990 and the London 7/7 bombings of 2005.
But, one of St John Ambulance's main aims is to create a nation of live savers. In 2016, the charity trained around 500,000 people in life saving skills. During the charity's first aid awareness month, a further 46,000 people were taught first aid at over 370 free public first aid demonstrations, and over 269,000 people were trained in first aid at work.
The charity also believes that it is never too young to be a life saver, and in 2016, more than 166,000 school children were taught basic first aid techniques, giving them confidence and incredible skills that will last for life.
With the help of public support, St John Ambulance wants to continue this life saving work, with a focus on future generations to grow up with the essential skills needed to ensure that no one suffers for the lack of first aid skills. First aid is such a simple skill, but has such an incredible impact, which can mean the difference between a life lost and a life saved. To book a first aid course, to donate, or for free first aid advice, please visit www.sja.org.uk.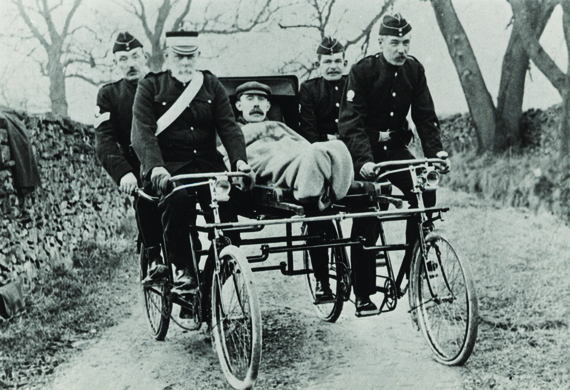 Credit: St John Ambulance