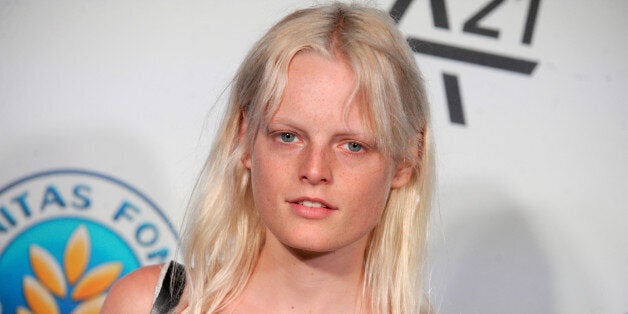 Hanne Gaby Odiele is a beloved fashion model who has achieved global success. She also happens to be intersex, like myself and many others. Yesterday, she shared her intersex status with the world.
For those who aren't familiar, and I know that many of you aren't, intersex people are born with sex characteristics that do not fit typical binary notions of male or female bodies. These physical variations can include chromosomes, internal organs and/or genitals.
Nearly 2% of the population is born with intersex traits, similar to the number of people born with red hair.
However, in many countries, intersex children are subjected to repeated surgery and treatment to try to change their sex characteristics and appearance, causing terrible physical, psychological and emotional pain - and violating their rights. The interventions are often driven by the fear of non-binary bodies, rather than any medical need. Despite the United Nations High Commissioner on Human rights and The World Health Organisation issuing declarations in support of intersex rights, they continue today. Hanne understands first-hand the harm caused by unnecessary intervention routinely done to "fix" intersex children having lived through two traumatic surgeries herself.
Increased visibility and representation is crucial, but up until recently we've been relatively invisible. Despite how common it is to be intersex, laws, policies and medical best practices still fail to protect intersex children from harm.
Like so many, I idolised fashion models growing up. I developed cancer as a teenager and intensive chemotherapy meant I could barely finish a sentence, let alone a book, I would look to the pages of Vogue for inspiration and escape. As small as it may sound, models like Agyness Deyn and Hanne, with their androgynous and fearless style made me feel less afraid to go outside with my shaved head and, later, bleached blonde quiff. (I've regularly considered writing Agyness a fan letter - thanking her because she made a fair few teens in chemo feel 'cool'.)
At 16, I was told about my intersex variation. I learnt that I have XY chromosomes and streak gonads instead of ovaries, which had been removed months before. Eventually through my work with the Teenage Cancer Trust, I got the opportunity to be in British Vogue at the age of 17 to tell my cancer story and raise awareness. In my interview for the September issue, I sat opposite the journalist and lied about my intersex variation, absolutely terrified of being 'outed'.
Despite the support and love around me I felt alone and confused. I was told repeatedly not to tell anyone, that I was rare and would probably never meet another intersex person. I was made to believe that the world would not accept me as I am. As is often the case, I internalised that shame and stigma. I stopped feeling worthy. I didn't know where to look for people like me. I didn't know if there was anyone like me. Difficult and often cruel encounters with doctors in following years cemented this belief.
That was nearly a decade ago. Yesterday, that same Vogue covered Hanne's story with dignity and kind interest.
I am proud to be openly intersex today, and to know a strong community of intersex advocates. Hanne's own rational is going public is equally inspiring; "It was important for me to make this declaration now, based on where I am in my life. I want to live authentically as who I am and help to break down the stigma that intersex persons face--but...to give back to those without a voice. I want to be there for people who are struggling, to tell them it's OK--it's one part of you, but it's not who you are." Hanne joins a global network of intersex activists, some of whom have been paving the way, in fields from advocacy to academia, for over 20 years.
Hanne partnership with advocacy group interACT, will raise awareness in the mainstream. interACT champions the rights of intersex youth using law and policy, raising awareness and collaborating with the media, and by empowering intersex youth in their teens and twenties to speak out to reduce stigma and promote intersex rights.
Hanne's trademark is her spirit and innovative style. Her message for intersex people today is "you can be whoever you want." I truly believe there are people, like me, reading Hanne's story who now feeling stronger, supported, beautiful, and hopeful about the future.