There's under a week to go before the UN Climate Summit in New York on 23 September when global leaders - from government, finance, business, and civil society - will meet to discuss climate change (the first time the UN has tackled the subject since Copenhagen in 2009). You might be thinking, "What's that got to do with me? There's nothing I can do to affect this." Well actually, there is. It's up to the global leaders to act, but everyone can play a small part in making a big difference.
The UN secretary-general Ban Ki-moon has specifically asked for "bold commitments and actions that will catalyse transformative change" to help jump-start the climate negotiations that are due to conclude with an ambitious global treaty in December 2015. So Paul, Mary and Stella McCartney and the Rt Hon Greg Barker MP (Energy and Climate Advisor to prime minister David Cameron) are joining forces and putting a simple but effective idea on the table ...
Their idea is something that all of us can do to help the planet, and it's something that we can do immediately. We don't need to make changes to our homes and it doesn't cost more money - in fact it can save money. And it also improves our health!
So what exactly is this idea? Simple - it's a weekly meat free day.
If every person in the UK went meat free for one day, it would reduce our carbon footprint by more than if every vehicle in the UK was taken off the road for one day!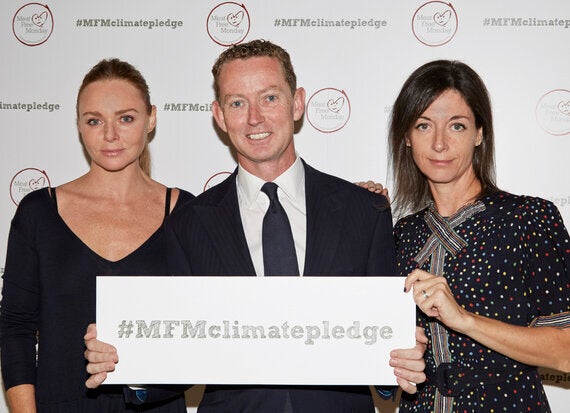 Stella McCartney, Greg Barker, Mary McCartney © Peter John Morgan
As well as being responsible for a huge amount of global greenhouse gas emissions, meat production requires increasingly unsustainable levels of precious resources - land, water and energy - and is a major contributor towards global environmental degradation. A report from Cambridge and Aberdeen universities, Importance of food-demand management for climate mitigation, published earlier this month, is one of many reports which has highlighted the fact that we urgently need to reduce our meat consumption and eat more plants.
A third of all the land on Earth is used for livestock and feed production.
An area of Amazon rainforest the size of a hundred football pitches is cut down every hour to create room for grazing cattle!
It can take 12 kg of animal feed and 15,000 litres of water to produce just 1 kg of beef.
Demand for meat is growing fast, particularly in previously low meat eating countries such as India and China. In 2000, global meat consumption was 230 million tonnes per year; by 2050 it is expected to reach 465 million tonnes. The sheer number of animals being farmed for consumption is the reason why livestock has such a huge effect on climate. Over 60 billion animals are used to produce food each year. As the numbers go up, so does the environmental damage.
Reducing the amount of meat we eat has health as well as environmental benefits. A 2010 study by the Harvard School of Public Health found that as little as 50 g of processed meat a day (one sausage or two strips of bacon) increases the risk of coronary heart disease by 42% and diabetes by 19%.
Most of us would like to do something in our lifetime for the benefit of future generations. While many suggestions offered can be quite difficult to put into practice, skipping meat for one day a week is something that can be done relatively easily.
In fact, it's probably never been easier. Well-known chefs such as Yotam Ottolenghi, Mario Batali, Bruno Loubet, and Jamie Oliver are getting on board by being more experimental with vegetables - showing that they understand meat free cuisine in a way which never used to be the case. There is an abundance of vegetarian and vegan cookbooks available, and meat free recipes and cooking tips are easy to find online. The result is a focus on flavourful, imaginative and exciting meat free food and a whole world of delicious choices.
We need to let the delegates at the UN Climate Summit know that we are willing to go meat free for one day a week, and that we expect them to take the idea forward.
Mark Ruffalo, Lily Cole and Sophie Dahl are just some of the people who have already signed the #MFMclimatepledge, and NGOs including Greenpeace, Friends of the Earth and WWF are backing the initiative.
Mary McCartney said: "One small gesture can make a transformative change to the on-going damage to our planet. It takes two minutes to go onto the pledge site. Please show your support."
So, if you can see yourself doing it, are already doing it, or even if you're vegetarian or vegan, please add your name to the campaign. Greg Barker will then present the total number of pledges at the Summit, to demonstrate the magnitude of support.