As a fashion writer, I naturally spend a lot of time describing clothes. Whether it's this season's 'must-have awkward length trousers', 'on point peplum palazzo pants', or 'essential autumnal cat hats' (yes, I really wrote that), the chances are if it sounds slightly ridiculous - I've written about it. But out of all the hyperbole and sartorial superlatives there's one adjective that really irks me. Nude.
So what is nude? A quick Google search produces endless images of topless ladies, a link to view pictures of Kim Kardashian in the buff (in case you don't want to fork out on Selfish), and a Wikipedia entry on the state of nakedness. Dig a bit deeper and the Collins English Dictionary definition is: 'adjective: completely unclothed; undressed'.
So it seems strange to me, paradoxical even, that a word that by definition means without clothes, crops up so often in the fashion world to describe them.
Do the same search on any major fashion e-tailor and you will be met with pages upon pages of apparel and accessories in a pinkish to beige colour palette. Nude perhaps, if you're white.
The trouble is this is not a new debate, the 'nude trend' first came to light around five years ago. And nude has since become so entrenched in fashion rhetoric that it's banded about to describe anything wearable from taupe to cream.
Back in 2010 a conversation was sparked around this very subject when Jezebel called out designer Naeem Khan for describing a dress worn by Michelle Obama as a 'nude strapless gown.' 'Nude? For whom?' was their response, leading to others criticising the fashion industry for un-PC use of language. Many, including the Associated Press revised their description of the dress to 'champagne' as a result.
But fast forward five years and nude is still being used as a colour descriptor by brands and journalists alike.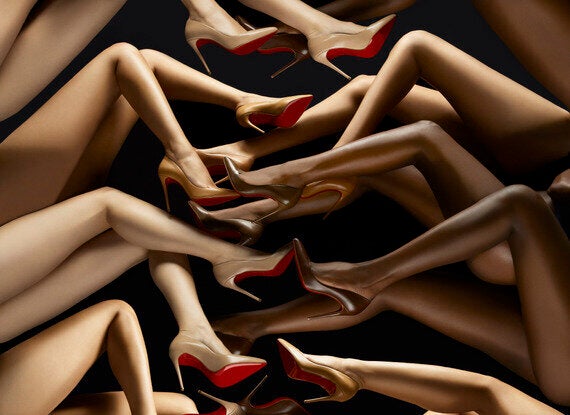 Christian Louboutin's 'A nude for every woman' collection, photo courtesy of Christian Louboutin
That's not to say there hasn't been some progress, especially in sister industries like the lingerie and cosmetics sector where various brands have made significant efforts to create a more inclusive range of 'skin coloured' products.
And even within fashion there has been some development. This year Christian Louboutin expanded its 'nudes' collection to five shades that range from 'fair blush' to 'rich chestnut', with Christian Louboutin explaining 'nude is not a colour, it's a concept'. The concept being that whatever your skin tone you can splash out on a leg-lengthening pair of iconic red soles if you so wish- hurrah!
But whilst Christian Louboutin may be making baby steps, if in some very grown up shoes, the fashion industry still has a long way to go. Nude may be being used to describe an array of beiges, but it's far from a neutral subject.