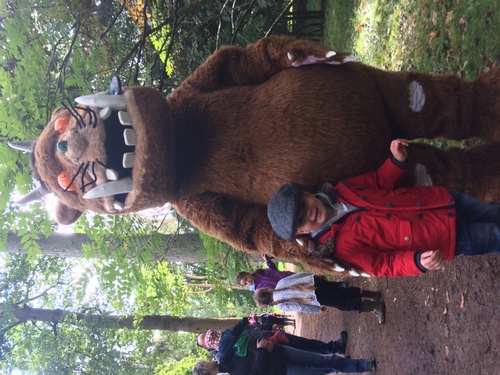 Big or small they are equally important.
Over the past few weeks I have witnessed hundreds of pictures of my friends children starting school in their slightly over sized uniform looking super excited, followed by pictures of them eight hours later asleep on the sofa because 'Big school has worn them out!' I love the pictures, it's fab to see how they are all growing up. I've felt a little pang of emotion that my god daughter posted a picture of her new room at uni when she left yesterday to embark on a great adventure.
I see my close friends visiting universities with their kids for next year and I find myself thinking 'how can they be old enough to go to uni already?
I really struggle with the whole comparison of my friends kids getting ready to go to uni and mine has just moved to a big bed.
I love seeing the new adventures my friends children are taking but sometimes I do feel myself wishing away the time for the rockstar to be doing the same. Then I remember I'll be even older by then so maybe I should just take every day at a time!
While we were walking through the woods at the weekend looking for a Gruffalo, as you do, I looked at the little man and realised the last month has been full of milestones for him and us.
Cot to big bed - It was hard going for us all, he hated it and woke four times every night for two weeks. I blamed myself in rushing him, he loved his cot and never attempted to climb out.
Pre-school - He was moved from nursery to pre-school early. It doesn't normally happen until they are three but everyone felt it was the right time for him and his development (oh and numbers in the class no doubt) so the transition was made and it was an easy one for him and he is thriving.
The bottle - Rockstar had a tendency to love a night time milk in a bottle, yes I know he's too old for a bottle but I liked the cuddle as much as he liked the milk. Anyway one day I decided enough was enough and gave him milk in another cup (of his choice) He drank it sat on the sofa watching bing before bed and never asked for a bottle again. If I'd known it was going to be that easy I'd have done it months ago. The whole cot to bed thing put me off a bit. I didn't need more tears at night, from either of us.
The dummy - He had them when he is in bed or really tired. Then on Saturday he woke up and said 'I am three now, my dummies need to go in the bin'. We had talked briefly about them going in the bin when he turned three. He's not actually three yet, he thinks he is as he had his birthday present early (it needed to be used while the weather was reasonably dry). He decided that was the time and off he went - popped them in the bin and has only asked for them twice over the weekend but no tears. 
Dressing himself - He's a lazy boy. He say's 'can't' a lot. He won't dress himself without a fight. I was busy in the kitchen and he wanted his shoes on, I told him to put them on himself. I turned around and he had. Two shoes on the right feet, velcro closed. Now to work on pulling up his own trousers after a wee.
Swimming and bike riding - Two things we've been doing for a while but in the last few weeks he's cracked both. 
The art of conversation - We have full on chats about a variety of subjects, some more entertaining than others but as I watch his mind working and listen to the chatter it fills me with joy.
My little man may only be a month from being three but he's growing up fast. Just remembering these milestones tire me out. He must be exhausted. Learning new skills all of the time and growing up so quickly.
I'm desperate to catalogue the journey, I take so many pictures and pop them in the album for us all to look back on in the years to come. I do post pictures on social of him having fun, I vowed I never would but I just can't help myself. I certainly didn't expect to write a blog about our journey through parenthood?!
When I post my little moment pictures I do think of my mates that are sending their kids off to school and Uni, all having a little smile and thinking how pleased they are to be onto those grown up milestones.
I'll stick with our baby steps for now and will be sure to let everyone know when Rocco can wipe his own bum!
Picture Authors Own