On Wednesday 11 November 2015, we brought together more than thirty fashion designers, leading journalists and CEOs of major brands, retailers and manufacturers at the UK Houses of Parliament to discuss how sustainability can be taken to scale in the fashion and textiles industry and how the new Mysource.io platform will make that possible.
Jointly hosted with Baroness Lola Young of Hornsey OBE, this roundtable convened many of fashion's leading figures, including: Hilary Alexander OBE, former Fashion Director of The Daily Telegraph; Roland Mouret, award-winning luxury fashion designer; Eric Musgrave, former Editorial Director of Drapers; Catarina Midby of H&M; Brigitte Stepputtis, Head of Couture at Vivienne Westwood; and several world leading suppliers.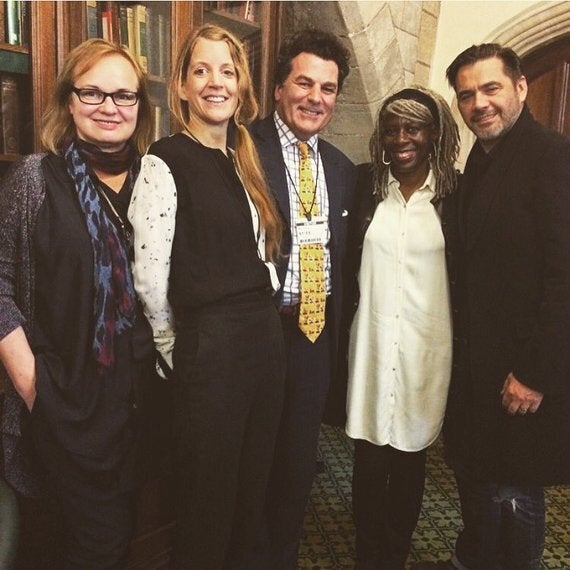 Some of the roundtable attendees from left: Brigitte Stepputtis, Head of Couture at Vivienne Westwood; Tamsin Lejeune, CEO Mysource; Assheton Stewart Carter, The Dragonfly Initiative; Baroness (Lola) Young of Hornsey; and designer Roland Mouret.
Lucy Shea, the CEO of communications agency Futerra, said she sees an evolving sea change where sustainability is becoming a business imperative, especially as more consumers are looking for products made in a sustainable way. However, the research behind Mysource suggests that only a minority of businesses are taking a triple bottom line approach to business - one that considers social and environmental goals alongside financial targets. Shea agreed, "there is a huge potential for more of the fashion industry to get involved and that it's going to take pioneering solutions like Mysource to move sustainable business from niche to norm."
Mysource aims to help fashion professionals to do business better, by matching them with the connections and resources they need to succeed, both commercially and sustainably. This tech platform that we are currently building builds upon our 10 years of work with the Ethical Fashion Forum which already reaches a network of 220,000 people in 141 countries.
Sustainability is a business benefit
The roundtable united business leaders from one end of the supply chain to the other. On the supply and manufacturing side, there was consensus that sustainability has been an important business benefit. For the Hirdaramani Group, top manufacturer in Sri Lanka, they believe that trying to be more sustainable is simply the right thing to do and their investments in social and environmental improvements have shown a payback.
Shafiq ul Hassan believes that his company Echo Sourcing, a UK and Bangladesh based manufacturer, has seen medium-term business benefits but wants to see brands and retailers move in the same direction. This is where Mysource.io comes in. For suppliers like Hirdaramani and Echo Sourcing, Mysource will connect them with customers who share their values and will help them get discovered by more prospective customers as a reward for their pioneering best practices.
Fashion industry players need to take a lead on sustainability
There was much discussion over how regulation and legislative incentives are needed to push the industry towards sustainability. However, Baroness Young noted that changing legislation at the UK level is a long term project. It was argued that industry players need to take a lead in driving change - and that governments can at least look to be more supportive.
The need for more transparency, collaboration and "making sustainability sexy"
Lucy Shea believes that the power of Mysource is in its wide reaching network and that it is the people using Mysource who will truly take sustainability to scale in the fashion industry.
Catarina Midby from H&M talked about the need for more industry transparency and collaboration and how Mysource will be a crucial tool for industry professionals to connect, share and learn from others on the platform - making both transparency and collaboration a practical reality.
The more that brands like H&M are able to demonstrate and communicate to their customers about sustainability, the more likely it is that sustainable business will be scaleable. Hilary Alexander argued that not enough companies are talking about their sustainability efforts and need to do more. She believes that the businesses that are working sustainably should promote this more publicly - if we want to truly change mindsets.
Many of the roundtable delegates agreed that sustainability at scale is not going to be led by consumers but by business. Prama Bhardwaj, the CEO of Mantis World, further elaborated saying that "customers want above all to trust brands and to feel confident that they're conducting their business in the right way."
Luxury designer Roland Mouret described his passionate commitment to producing his designs in the most sustainable way possible but has found it difficult to access enough suitable materials and fabrics. Mouret said enthusiastically that "if sustainability is made sexy then all women will want to buy it." Mysource will make that possible.
Mysource's in-built rating feature will give companies, such as H&M and Mantis World, the opportunity to showcase their sustainability initiatives in a credible way. Mysource also will give industry professionals practical information and training on how to most effectively communicate what they do.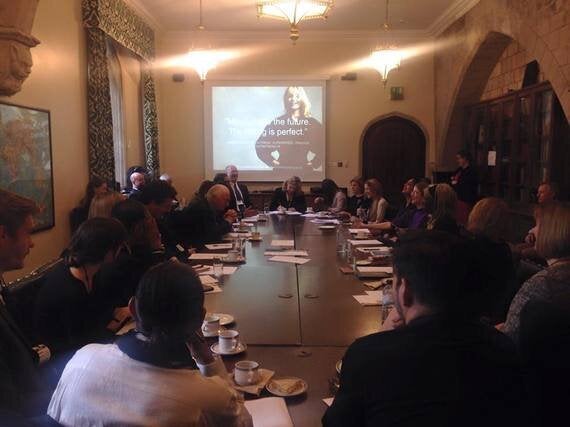 A full room at the Houses of Parliament
Building a coalition of leaders to take this to scale
Prama Bhardwaj believes that sustainability is the responsibility of business leaders and industry professionals. Shafiq ul Hassan of Echo Sourcing, Lucy Shea and Hilary Alexander agreed that it's the visionaries at the top who will drive this forward.
Mysource, through events like this roundtable, is building a coalition of leaders - companies and individuals - who will back Mysource and help take sustainability in the fashion industry to scale. Industry leaders who have already committed their support include Amber Valletta, supermodel and entrepreneur; Jane Shepherdson CBE, CEO of Whistles; Dolly Jones, Head of Digital at Condé Nast; and Baroness Martha Lane Fox. See who else is backing Mysource, here.
The Mysource team have launched a crowdfunding campaign, allowing anyone to become a shareholder, and benefit from the projected growth of the platform. Learn more about Mysource, including a 3 minute video introduction at www.mysource.io. Be part of a better future for fashion: Visit Crowdcube for all the details on how to become a shareholder, including Return on Investment. www.crowdcube.com/mysource