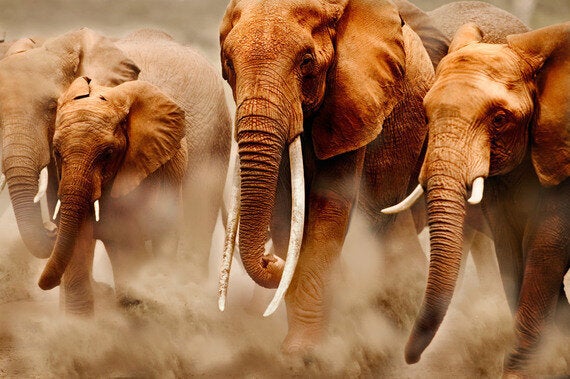 Elephants have roamed the African wilderness for an estimated 55 million years. But over the past century around 90% of Africa's elephants have been wiped out, mainly due to poaching driven by the global demand for elephant ivory.
Tragically this senseless slaughter continues. On average one African elephant is killed every 25 minutes for its precious tusks, with most ivory being smuggled to Asia, by ruthless criminal syndicates. China, Hong Kong, Thailand and Vietnam all have large legal and illegal ivory markets, where ivory is seen as a luxury status symbol.
Although Asian countries are the greatest drivers of the poaching crisis we're seeing now, the UK has a long and brutal history of ivory trade. According to TRAFFIC, an estimated 30,000 tonnes of ivory moved out of Africa into the UK between 1860-1920 and the tusks from at least 1.1 million elephants became household products for a rapidly expanding middle class. Tusks were carved into everything from musical instruments and cutlery to napkin rings and bangles.
Alarmingly the UK still allows some legal ivory trade, and recent evidence has shown that UK ivory markets are being used to launder illegal ivory, with some shipments destined for Asia.
In the last few months, we've seen monumental steps in the battle against elephant poaching. In a much-heralded move for elephants, China announced they will ban all domestic ivory trade by the end of 2017. The US has also introduced a near-total ban and Hong Kong has committed to closing its domestic market. The UK must also do everything possible to help protect the world's elephants.
I've just returned from an inspirational trip to Kenya and Tanzania, where I saw first-hand the complex - and often dangerous - work it takes to keep wildlife safe. The illegal wildlife trade is now the fourth largest illegal trade in the world. The perpetrators use sophisticated means and they are determined.
Masaai Mara is a vast reserve, covering 1,510 km² of pristine habitat. Rangers work tirelessly to safeguard the wildlife here, with daily patrols to prevent poaching. Talking with rangers who have worked here for 20 years their eyes lower with sadness when they describe the senseless death of an elephant for 'its teeth' or a rhino for its horn; and yet they have made significant progress in the Mara reserve, poaching here has plummeted.
Kenya has taken recent steps to tackle the illegal ivory trade. In April last year President, Uhuru Kenyatta sent a clear message that Kenya would not tolerate the illegal wildlife trade, by burning 105 tonnes of ivory and 1.5 tonnes of rhino horn in the world's largest ivory destruction.
In neighbouring Tanzania, similar commitment has followed from President John Magufuli, where in the Selous-Mikumi region over 60% of its elephant population has been lost to poaching over the last decade. With support from WWF they are now deploying drones and tracking technology alongside game wardens to monitor wildlife and importantly to detect and catch poachers. It is, however, an overwhelming task and cannot be tackled by any one nation alone.
Back home, MPs will today debate the future of the UK's elephant ivory trade, ahead of a public consultation on the issue. The government has already announced plans to ban sales of 'modern' day ivory, but I urge it to go much further. WWF is calling for an urgent ban on the legal ivory trade in the UK, including antique ivory pre 1947, to ensure the UK plays no part in the global illegal ivory trade which is driving the poaching of elephants.
The Conservative Party pledged a ban on ivory sales in the UK in its 2010 and 2015 manifestoes; but it has failed to deliver so far, despite intense public pressure. I hope the government will use the upcoming ivory consultation as an opportunity to uphold its promise and enact an ivory ban without delay.
Our government has taken commendable steps to tackle illegal wildlife trade overseas, providing funding for vital projects and hosting the 2014 London Conference on Illegal Wildlife Trade. All eyes will be on London when the UK hosts the next conference in 2018, so it's essential that we have our own house in order, as we urge other key nations such as Vietnam and Thailand to close their domestic ivory markets.
The clock is ticking for elephants. In the time it takes MPs to debate the issue in Westminster Hall, we could have lost another six elephants to poaching. Now is the time for bold and decisive action to close down the UK ivory market and ensure other nations make similar commitments.
We need a future where ivory stays in its rightful place - with an elephant.