We've always been under the impression that to find good Asian food in London, we would need to trek over to Chinatown in the centre of the city. So, you can imagine our surprise, (relief?) and joy when we noted that there was a Korean BBQ restaurant a few minutes walk away from our home... Well, who would think or imagine an authentic Korean restaurant in Maida Vale of all places? Somehow the words Maida Vale and Korean just don't seem to get along. But there it has been for the last two years, at the edge of the canals serving some traditional and authentic, not to mention extremely delicious, Korean food. As big fans of Asian food, even the rain Gods couldn't stop my wife and me from making the trek down to try out our latest discovery.
Not overly crowded, with a full black decor well spaced out tables, the restaurant automatically makes you feel welcome; it makes you want to eat there. And if that isn't enough, you have a bevy of staff hanging around, with warm and welcoming smiles to draw you in. All of the tables are equipped with a grill and so if you're a curious cat like me, you are more than likely going to opt for the BBQ option.
That's for the mains though... you have a whole menu to work your way through before you get to that point in the meal.
No Korean meal is complete without Kimchi, either as an appetizer, a pre-appetizer, in your soup or your rice... See what I mean? You can't go through a Korean meal without picking or being forced to pick Kimchi somewhere in there. Alright, alright, we get the point; we'll get it out of the way early and so we opted for it right at the outset to get our juices flowing. The Kimchi was indeed delicious.. soft and juicy... well marinated. It had just the right balance of spice and sourness to it to make you keep wanting more and not put you off. It is easy to get Kimchi wrong and get carried away with the amount of chillies in there, but not Gogi. They had got it just right. We were now excited about what was to come next. Well, I mean, we knew what we had ordered, but it was just a question of how good it would be... In the meantime, I kept eyeing that grill on our table wondering when they would light it up!
Next we ordered the Jap Chae - the traditional glass noodles stir fried with your choice of beef or veggies. As a practising Hindu I adhere to the mantra of Holy Cow, and so asked the server if they could swap the beef for another choice of meat - either chicken or pork. If they were just stir fried noodles surely the chef could throw in a bit of pork instead of the shreds of beef. "It's tough, but I'll check with the chef", our server told us. We weren't sure why this would be a big deal but nonetheless asked her to serve us the veggie version in the event the swap couldn't be made.
I am not sure if the question was even asked of the chef because before we knew it, we had the veggie noodles put down on our table. We didn't mind. The noodles were cooked to perfection and you don't really miss the meat in it. The noodles are served cold (and I don't mean in terms of attitude), with a bunch of veggies mixed into them; the standout of this dish is the Shitake Mushroom, whose texture goes beautifully with the slithery and smooth glass noodles. The mushroom feels as though you're almost chewing on a piece of meat, hence my comment about not really missing the meat in there (after eating this dish I realized why for many years my grandma, a strict vegetarian, never ate mushrooms and why she always insisted that they were not vegetarian).
The appetizer portions weren't too big... Or maybe we were just hungry that day, but we ordered three main courses between the two of us... There was going to be a spicy pork BBQ (Duh!) wrapped in lettuce leaves, a Bibimbap, and my wife, after much deliberation, wanted to try the Hot Pot Bulgogi. We asked our server if this was too much and she responded saying, "No, it should be fine. These are usually servings enough for one person."
"We'll see", I'm thinking. "Most restaurants say that just to be able to get you to order more." But on this particularly occasion, I have to admit that she was right. Maybe we just were really hungry or too excited about the fact that we had stumbled upon this restaurant so close to home! At the end of the night, our plates were wiped clean with not a morsel of food left to even take home. (How sad!)
Each of the main courses was delightful, authentic and well presented. The Bibimbap, a traditional Korean rice dish cooked in a stone pot was as authentic as you will have anywhere else... It brought back memories of my time in Singapore, where access to traditional Asian cooking was relatively easy. My only complaint here was that the server brought the dish to the table and before we could even look at the dish (or take that customary food pic), she had already mixed it all up - there's an egg cracked in there, some veggies and rice. The Bibimbap was accompanied by a 'chilli' sauce that was not so 'chilli'. The flavourful sauce had a bit of zing to it, although I wouldn't necessarily call it chilli; it did however bring an added flavour to the dish. My wife, not a big fan of a lot of spice in her food, doused her rice with this sauce...
Next up was what I had been waiting for all evening. As soon as the grill was lit up, I sat up and paid attention (you would think that only kids got amazed by such things and not so much a 32-year old man! But hey, I guess there's that hidden kid in all of us somewhere that's just looking for an opportunity to come through). The server expertly chopped up the mushrooms and pork slices and put them on the grill. In the interim, she served up my wife's Bulgogi Hot Pot, which she gladly dug into. For the next 15 odd minutes, there was absolute silence on our table... All you could hear was the sizzle from the grill and 'hmmms' and 'aaaahhhhs' as we approved of the food in front of us. The pork sizzled away as I wrapped it up into crunchy lettuce leaves and built my own little summer rolls - one down, two down, three gone... you could keep eating and could very easily lose count. What I found interesting though was the fact that the lettuce leaf is an essential part of this dish - I mean no one is going to really just order the meat on the grill - so why charge an extra £3 for it? Charging for the extra sides of garlic and chilli make a little bit more sense, but the lettuce leaves, really? Surely Gogi, you can do better than that! No complaints otherwise...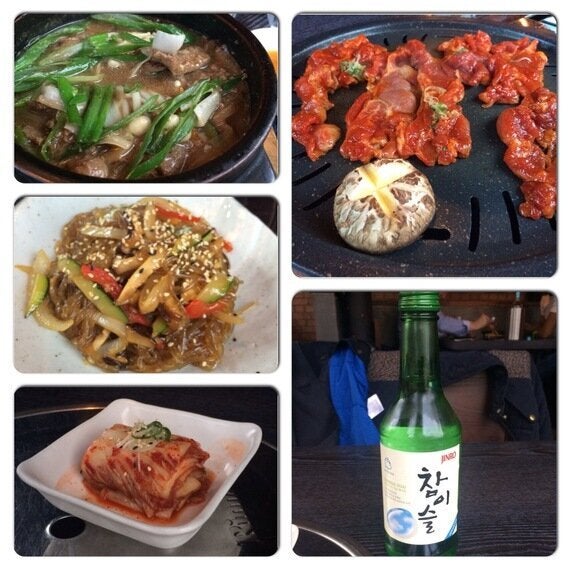 At the end of it all, we were asked if we wanted dessert. Now, normally I would at least take a peek at the dessert menu to see if there was anything noteworthy on there or anything that caught my fancy. Tonight, we just weren't interested... We were too full, but I think more importantly we didn't want anything to overshadow those tastes of grilled pork and Bibimbap that were still dancing around and creating this mini party of flavours on our tongues.
The icing on the cake was when the server offered to sign us up for their loyalty card. We didn't have to fill out any paperwork or submit reams of documents with our details. It was a simple computer printout that would log our every visit and allow us to avail of a discount each time we visited. So if having a Korean restaurant close to home wasn't enough incentive to keep visiting, the loyalty card was surely going to make us Gogi back...