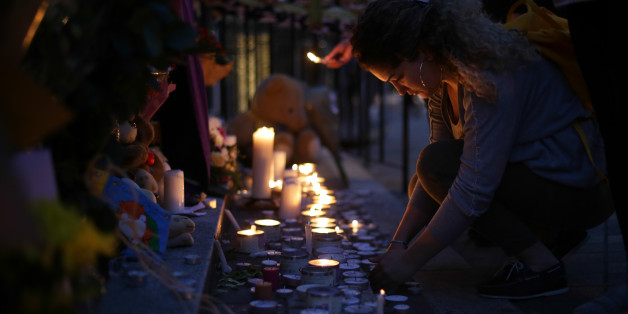 DANIEL LEAL-OLIVAS via Getty Images
The unprecedented fire in West London that saw fatalities, displaced people and those who have still been unaccounted for has shocked us all. As a British Muslim and Londoner myself, it pained me to think of the desperation of parents trying to save their children, those who were unable to escape and those who have lost their loved ones.
One thing that has brought hope and comfort to all those affected is the abundant expression of support and community spirit that has been so prevalent from the onset of the tragedy. Many mosques, churches, gurdwaras and other community organisations have come forward to offer shelter, food, and support for the victims and their families.
Many Muslims who were awake due to Ramadan were one of the first to alert their neighbours of the fire and save lives. A much circulated video on social media shows a woman saying " If it wasn't for all these young Muslim boys round here helping us, coming from mosques, nuff more people would have dead. They were the first people with bags of water, helping people". Another woman in the video says "We don't care what people are, we love them... Thank you for Ramadan".
It is these type of expressions that shows just how the London community is united in times of tragedy, how we come together as one and do our best to support one another. Many people are fundraising on crowdfunding sites to help the victims and a number of pages have been set up for people to help including the Glenfell Tower Fire Fund which was set up by local councillor Eatha Pond.
It is not only locals and organisations that are coming together to show their support but also celebrities such as Lily Allen who had reportedly offered a 'bed and tea' to those affected. With the thousands who have been left homeless due to the fire, community centres have opened up their doors, collecting essentials for the victims.
We cannot praise the London firefighters enough for their efforts in tackling such a devastating fire and running towards the danger whilst helping others to escape. The fire, saw over forty fire engines and 200 firefighters battling to save people lives with many firefighters saving young children and whoever they could.
However, inevitably the soaring fire could not be escaped from many of the victims and there are still loved ones who have not heard from their family and friends. In this excruciating period, when reports are seeping through and our hearts and minds are filled with sadness it is important to remember one thing. We will never forget the reports of the mother who could only save four out of her six children, or the woman who threw her baby down to an onlooker just to save her son's life or the other countless heartbreaking reports. But, one thing we will remember is the shining community spirit that is streaming through like a ray of hope in bringing people closer together, aiding in supporting one another and breaking down barriers.
London will get through this as one big community that comes through for each other in times of adversity and comes out stronger than before.