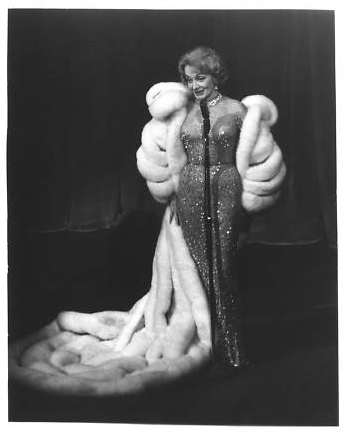 A new show that examines the extraordinary life and career of enduring cinematic icon Marlene Dietrich will play for two nights in London on 7 & 8 September.
It's two decades since the death of Marlene Dietrich who, for the final 12 years of her 90 year life span, was holed up in seclusion in a Paris apartment. And yet still her image persists, pervading many aspects of our cultural life - from fashion to pop music, from movie history to war heroism.
But what is it that keeps her so deeply embedded in the collective consciousness?
She was certainly a woman ahead of her time, so far ahead, in fact, that we don't seem to have caught up with her yet. An uber-feminist who relied on no-one but herself, a woman who lived by the highest principles and would not compromise them even when she faced death on the front line of the war.
She was by turns soft and hard, sometimes a mother, sometimes a seductress, ice cold and achingly warm, a complete enigma and, in the end, entirely untouchable. Such is the mystique that well over 200 books have been written about her, each trying to fathom the appeal that extended her career over nearly sixty years.
From a dumpy young girl in the early days of Germany's silent cinema, to the sophisticated concert artiste who entranced the world as she toured her one-woman show with Burt Bacharach as her accompanist, we still don't know who is the real Marlene Dietrich. And by the end, neither did she.
It is the film career, of course, on which her legend rests. It was 1929 when Hollywood director Josef von Sternberg came to Berlin to cast his first talkie, The Blue Angel, to be made at the famous UFA studios. He had in mind a very particular kind of actress for the part of Lola Lola, the heartless vamp at the centre of the movie who destroys respectable men without a backward glance.
He scoured Berlin looking for the right face, the right icy insouciance, the almost psychotic indifference to the feelings of others. And eventually he found Dietrich.
She was, by this time, 29 years old and still rather plain and slightly overweight. But when von Sternberg had finished with her, lighting her to the best advantage and directing her to within an inch of her life, she transformed into the mysterious blonde who would entrance the world for several generations.
Von Sternberg whisked her off to Hollywood when the Blue Angel was completed, recognising that he had a hot property on his hands. Paramount, for whom he worked, was looking for its own Garbo, who had been such a money-spinner for MGM - the beautiful but mysterious foreigner with the intriguing accent. Marlene was just what they wanted.
Dietrich and von Sternberg made seven films together for Paramount, recognised now as masterworks of cinematic art but at the time of their first release enjoying mixed box office successes.
When Dietrich and von Sternberg's partnership broke up, Marlene's film career became an uneven affair, with thirty films of wildly varying quality. All of them survive for endless DVD reissues and TV broadcasts simply because Marlene - who assiduously nurtured her legend throughout her career - shines from the screen.
Marlene's freewheeling attitude to sex has been much analysed since her death, particularly by her daughter Maria, who wrote a tell-all book about Marlene in the grand tradition of Christina Crawford's Mommie Dearest - only Maria's effort was dubbed Mommie Queerest.
Maria revealed that Marlene used sex as a kind of weapon in her affairs with men - she didn't actually care much for "it". It was a way of controlling and manipulating them.
With women it was different. Marlene actually enjoyed the sex, and the relationships were much more satisfying for her.
To call Marlene 'lesbian' would not be quite accurate. To call her bisexual would also not tell the whole story. Perhaps 'queer' describes her best or simply, as one commentator said, 'unstraight'.
She made love to those she was attracted to at any particular time in her life, their gender was immaterial. This is extraordinary, given that most of her career was built on being the ultimate fetish object for straight men. The film critic Kenneth Tynan defined this bisexual appeal when he said "she has sex without gender."
Throughout the decades when she was the ultimate celebrity, known throughout the world and feted like royalty wherever she went, she defied pigeonholes. Constantly reinventing herself, she extended her career well into the 1970s.
Her legend was reinforced when, during the Second World War, she gave up her German nationality and became an American citizen. Hitler wanted her back in Germany - she was the only real international star that Germany had produced and of potentially gigantic propaganda value. She refused his blandishments and instead joined the Allied war effort against the Nazis.
For her amazing courage during those years on the front line she was awarded a whole string of medals, not least of which were the Medal of Freedom from the Americans and the Legion d'Honneur from France - the highest civilian honour from both countries.
After the war came Marlene's next incarnation - as a cabaret entertainer. And once again, the phoenix rose from the ashes, and Dietrich became the world's highest paid entertainer yet again as she toured her famous show around the globe.
But as she grew older and the legend of glamour and beauty came harder to sustain she transformed into what all great stars should be - a monster. She was demanding, insulting, quick-tempered and intolerant of anyone who would not reach her standards of perfectionism.
When Earl Harwood booked her for the 1964 Edinburgh Festival he said it was the most traumatic experience of his life. Yet such was her success that he was forced to bring her back the following year.
The actor Maximillian Schell (who made an academy award-nominated documentary about Marlene in 1984) said after her death: "She was a typical Berlin woman who could handle king and beggar with equal adroitness, and she was totally open about her homosexual relationships. I had the impression that Marlene did not converse with the people she met but rather wanted to provoke them. There was a spirit of confrontation in the air wherever she was."
Dietrich was a legendary movie star, but she was much, much more than that - she was a cipher, an allegory, someone who could fulfil any fantasy or fit any construction. But most of all she was entirely her own woman whose amazingly full life was an example that all of us can take inspiration from.
Marlene - an affectionate tribute will include generous clips from Marlene's campest films and an exploration of her surprising war heroism. It concludes with a unique showing in full of her one-woman show, recorded in Sweden when she was at the height of her powers.
Marlene - an affectionate tribute Conway Hall, Red Lion Square, London WC1R 4RL 7.30pm. Tickets are £10, available from http://www.MDTribute.comwww.MDTribute.com