Hurrah for post feminism. For the uninitiated, this simply means that women now enjoy the luxury of choice. Whereas 1970's feminists fought for equality, over time women have come to accept this for the misguided, militant ideology that it is. Choice is where it's at.
So, when I stumbled upon this pornographic T-shirt on the high street of a sleepy Welsh town, whilst out with my 5 year old, I had a choice. Do I buy it to wear to the school fete (demonstrating my post feminist, "porn is empowering" enlightenment) or do I feign feminist righteousness for a laugh? I have previously stated the case for gender inequality so it's not like I object to the wholesale degradation of women perse.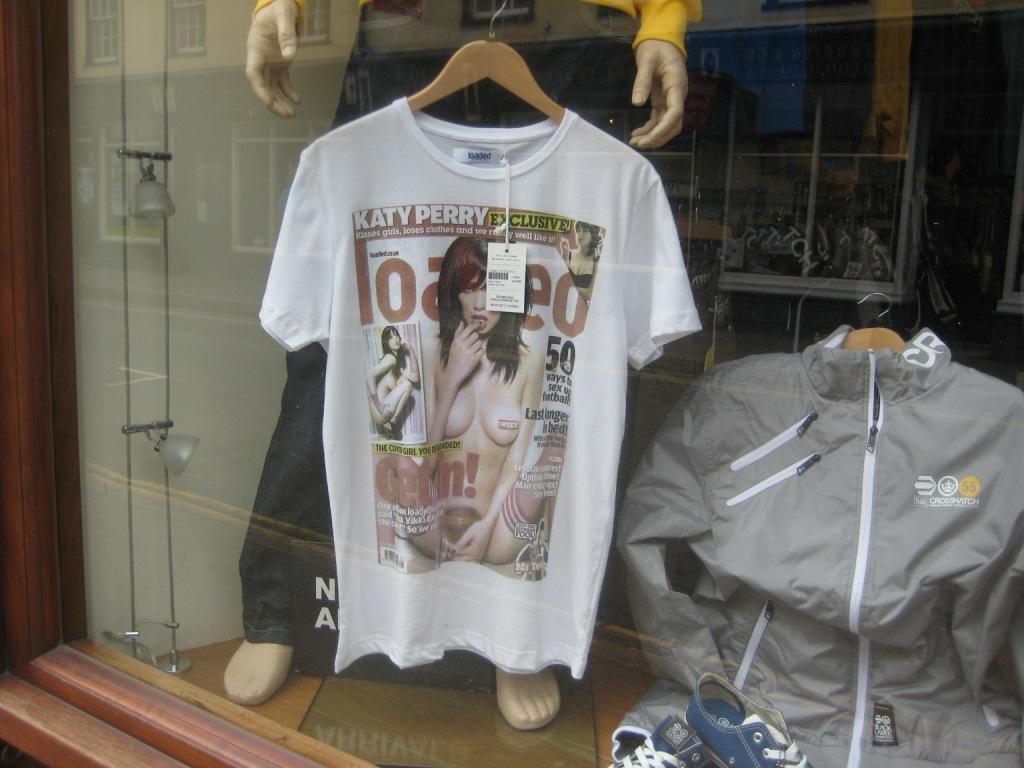 I left my oblivious 5 year old outside to play with the traffic (what doesn't kill you makes you stronger) and decided to feign feminist outrage. As I opened the door, I expected to be greeted by an atavistic old geezer in open neck trousers with a gold medallion dangling from his thick set neck. Instead, I found 2 women sitting behind the counter. One was in her forties, the other in her teens. They both looked up from their magazines, Zoo and Good Housekeeping respectively.
When they asked if there was anything I was after I said. "A bit of respect would be nice". Blank faces. "Have you any idea how offensive that T-shirt is?" "What T-shirt?" they asked in unison. "How many rape inciting T-Shirts have you got? The one with the naked woman with a honey pot between her splayed legs with the caption "GET IN!". They were both speechless. I was on a roll, "I feel like I've just been violated".
My impromptu anthropological experiment unearthed the realisation that neither of these women even noticed the T-shirt (which featured a cover from Loaded magazine). So prevalent are demeaning images of women, portraying them as inanimate sex objects that we've become immune to them. A victory for post feminism which recognises that the young woman with the (toxic) silicone boobs, made an informed choice about how she should be represented. It was her choice to be on the cover of a lad rag and, even if she didn't choose to be draped on a hanger and hung from the crotch of a male dummy, she should be glad of the exposure, frankly.
She will also have chosen her outfit for the day (being naked). It was no doubt her choice to put a honey pot between her legs which then inspired her classy choice of caption "GET IN". Think how empowering those choices were for this woman and then stop with the feminist outrage already.
Having time on my hands between PTA engagements and knitting orgasms, I called the Equality & Human Rights Commission (EHRC) to see what they made of porn window displays. Don't be fooled by the name. It's just a front to lure you into a false sense of there being an institution out there that gives a damn. In reality the government has cut back on Human Rights in order to subsidise the Commons Bar. Needs must. So, the EHRC has been outsourced to a call centre in Misery-on-Sea, where someone called Daphne dispenses "advice".
Because Equality legislation is so extensive, the government has given Daphne a catch all phrase to cover all queries, "The legislation is vague so don't bother making a fuss". She tries to pawn me off but I persist. "It's definitely covered by the Equality Act 2010. Goods and services I believe?" I'm put on hold while she calls her gran who agrees, it's as vague as a post botox celebrity expression.
So immersed was I in my role that I protested my right as a woman not to be bombarded by demeaning, offensive, discriminatory imagery. My right as a parent for my child not to be exposed to pornographic images of women when out for a walk on the high street. Why should people, including men, be forced to avoid their high street in order to escape porn?
My parting words to Daphne were, "If your interpretation of the law is that it's OK for porn to be displayed in high street shops then there's something wrong with the Equality Act. If I accept your "advice" it means I accept that the mainstream pornification of women is normal and I refuse to accept that".
Don't get me wrong, I'm not actually a feminist. Unless your name is Germaine Greer, feminism is career limiting. With a son to put through Eton (assuming he survives the traffic) I can't afford to be principled.
www.tessfinchlees.com