Prior to coming to Geneva, I was engaged full-time in a social-political movement in my home country, Albania. The movement was committed to breaking the monopoly of the main political parties and to eventually offer an alternative to the rotten system which caused our country to lag behind its European neighbors for years. Political involvements in Albania are often associated with some sort of financial benefit or at least with the promise of an immediate better upcoming status in the labour market. It therefore came as a surprise to many that I was contributing full-time while still being unpaid. Regardless of the perceptions that surrounded me, the reality was that I had a stake in the process, I and my contribution were seen and the reward that came with that exceeded financial remuneration.
After this experience my understanding of free labour, especially if directed toward greater causes, was somehow inflated and biased. It was with this in mind that I accepted an unpaid internship at a specialized agency of the United Nations (UN) in Geneva.
I found myself, once again, surrounded by some of the most dedicated and hardworking people, whose passion was, sometimes, dim from exhaustion but still bright with perseverance. However inspirational the experience, there was no way of slowing down the quick draining of my savings, even though I was one of the interns that had the financial privilege of even considering this experience. An average Albanian citizen earns around 350 euros/month, with little left to put aside. I'll let you work out how many years of saving it would take them in order to invest at least 8.000 euros in a six-month, unpaid, internship in cities like Geneva or New York. Albania is not even one of the poorest countries in the world.
The understanding that my status as an unpaid intern and the roles assigned to me could indeed be questioned was not immediate. The over-idealization of the UN, had made my fellow interns and I see it as an aspiration, quite naive to what could be the consequences of free labour.
It was difficult for me to ascertain the convenience of being open and honest about this issue and it was even more difficult to realize how much apathy and disinterest I would encounter from the decision-making bodies. What followed were countless meetings with permanent missions in the UN, open letters, peaceful protests, flash mobs and panel discussions. A chicken-egg situation between member states and the UN, ironically whirled into a circle of outpouring empathy and support. ''Yes, we know you are unpaid and we utterly believe this is unfair and discriminatory...but please notice we can't do anything about it.'' The values that unified us were pooled into a larger system of rules and resolutions, a system acknowledging its flaws but strangely not reacting as fast as it should or at times even deflecting responsibility.
This time, my attempts of attaching the deserved importance to this issue were not seen most of the time and the reaction from the UN was quite limited.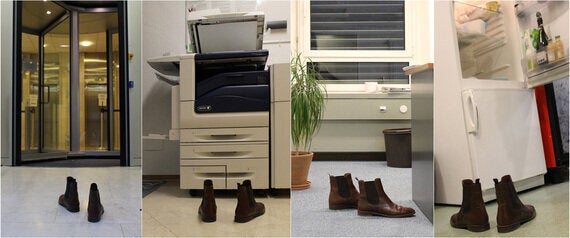 I have therefore decided to retrace my story, the story of an unpaid intern, through the #UNPAIDisUNSEEN social media campaign. For 180 days I will be posting a picture of the unseen intern who, in the name of a magical steroid known as work experience, is expected to compromise his/her right of being equally paid for equal work; the unseen intern who is excluded a-priori due to his inability to afford this position; the unseen intern who is contributing to a distorted labour market in which the minimum wage starts looking like a King's ransom. Through this campaign I aim to tell the UN more about the sense of invisibility that is embracing the generation which will be leading it in a few decades. Our overzealous energy, creativity and hopes unfold as a reflection of the way we are perceived, respected and trusted. A generation that is expected to compromise with its own worthiness and rights today is not a generation that will fight for others' rights and futures tomorrow, not a generation the UN should demand.
'Why don't you pay your interns?' is not so much a question of technical understanding anymore. It is instead a call demanding an honest explanation on how it is possible that the UN, the cradle of fairness and equality, is allowing this issue to persist within its structures.
I believe that my honesty abides to a code of ethics which can only make a contribution to the organization's prosperity. If only the UN could start translating its willingness to support youth into further actions and commitments, then we wouldn't have to jump a fence of compromises but rather enter from a gate which embeds those values the UN stands for.
Related