Banyan trees, hanging vines and Hindu temples and colourful processions - it's no secret that Ubud is a very spiritual place. Known for its healing powers and soul-stirring views over terraced rice paddies, along the Sayan Ridge, Ubud is in the leafy centre of this popular holiday island. It's been home to a bohemian art scene since the 1930s when Ubud's own royal family invited the intelligentsia to come and stay. Today, these highlands draw digital nomads as well as yoga disciples - but as popular as it gets, here close to the heart of the hub, Amandari is one of Aman's original properties, a luxury retreat which has found a unique way of preserving, and celebrating, a sense of traditional village life.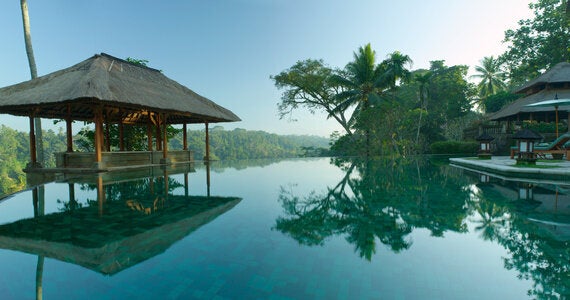 Rather than being a five-star bubble that disconnects you from your host country, Amandari makes sure that all your senses know you're here in the hills of Bali. A seventh-century shrine is preserved at its heart, and like a small hamlet of houses, the suites have sleek teak interiors, alang-alang grass thatching and intricately carved stone walls steeped in centuries of stories and spiritualism.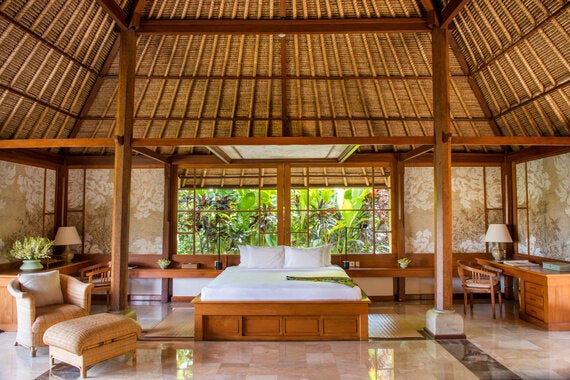 Ubud's name is derived from the Balinese 'ubad' meaning medicine - and time here is a tonic. Amandari's spa sits by a lotus pond, offering treatments in open-air balés amid the trees. I'd booked a Balinese Melukat purification ceremony, and on arrival, I was taken to a private villa where a village elder carried out a traditional Hindu water blessing. The Balinese believe that water represents a flow of energy which is linked to emotion and intuition and that the benefit is physical, emotional and spiritual. When translated, 'melukat' quite literally means to cleanse or purify, 'lukat; making 'to let go'. Combining the soothing and cleansing of a more conventional spa pampering, with a deeper and more meaningful experience, one imagines this two-hour ritual is to be the dream therapy for a honeymooning couple after a long-haul flight. Crouched down in their long sarongs, with a silk scarf tied around the waist, it must be the perfect way to transition mind, body and soul into their new life with a clear head and positive state of mind.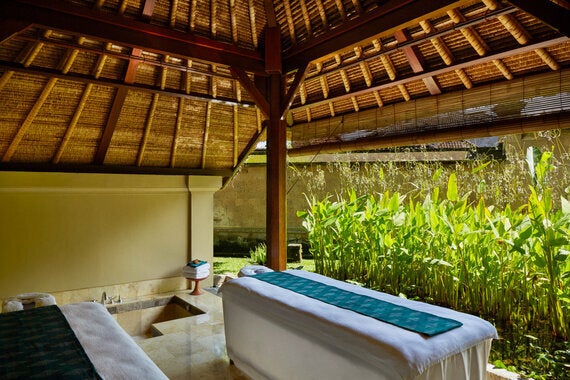 Time spent meditating with the sweet, softly spoken priest who shared with me drops of holy water, scented flowers, incense, and offerings of traditional sweet rice cakes, while chanting mantras will stay with me. Less significant was the rub-down part lying on a massage table, it was the exchange of smiles and sense of connection.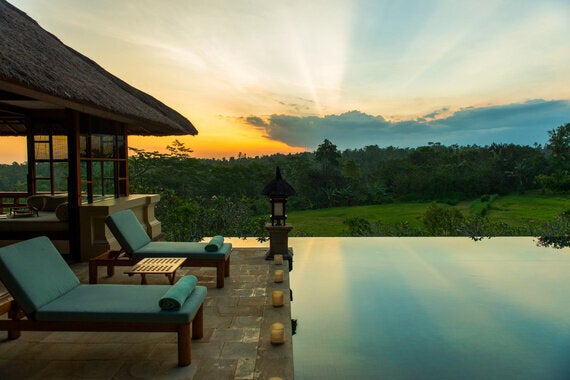 Throughout your stay at Amandari, there are thoughtful touches which remind guests of what a special place this Indonesian island is. A small hand-painted ceramic cockerel was one of the gifts at bedtime. Tied to it was a note that gently warned us of the rooster call that might rouse us at dawn. It may seem a small consideration, but this is the sort of detail that sets Aman experiences apart as being considerate and cultured.