Hotel Am Steinplatz, Charlottenburg, Berlin
Berlin isn't the first place you might visit to recharge your batteries. In fact, this city sleeps less than New York. But its huge collection of beautiful empty buildings and booming tourist numbers has started attracting high-end hotel groups looking for the next euro hotspot. As a result you are more and more likely to find five star spa-loving properties cropping up within walking distance of the city's craziest underground clubs.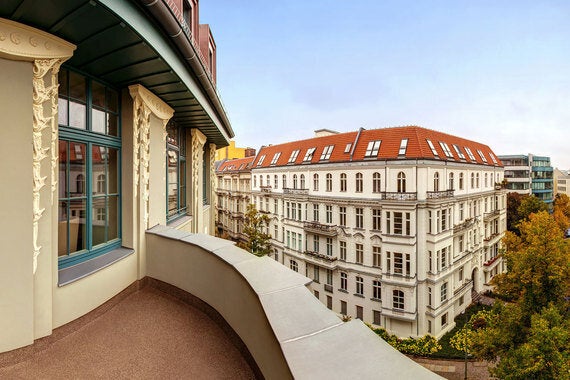 Hotel Am Steinplatz is one of several new luxury properties that have recently landed in the west of the city in Steinplatz. The building first opened as a hotel in 1913, and one hundred years later has been completely renovated to offer a glamorous and grown-up oasis for visitors to this creative and colourful city.
The Art Nouveau hotel houses 87 rooms (including three suites), but clever use of space and boutique design touches means that it feels a lot more intimate. The communal areas are decorated impeccably with sumptuous fabrics, inviting leather chairs, the chicest coffee table books and white orchids and there's even a piano room open to all if tinkling the ivories takes your fancy. Upstairs the luxury design and attention to detail continues. The hotel only opened in December and everything feels fabulously new.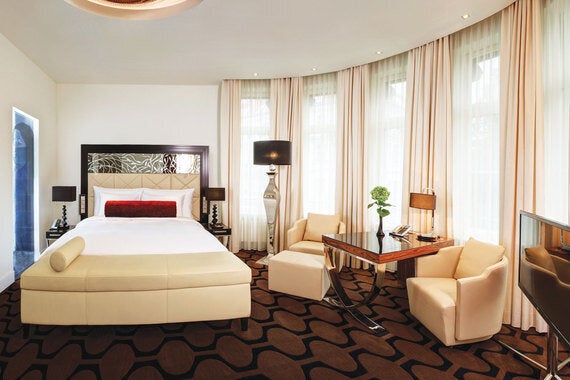 Our fifth floor superior room featured a supersized bed, serious storage, luxury lounging options and high-end coffee. Free WiFi, iPhone 5 docks, central lighting controls and even an iPhone entry system kept my gadget geek happy while in the bathroom we were treated to Frette gowns and Etro products.
(nb the spa is on the fifth floor too so worth requesting a room here if you are considering spending a lot of time in there and two of the suites have direct access to the space).
A small unassuming door on the fifth floor opens onto a sunlit split-level tardis of a spa. There are only a couple of treatment rooms, the rest of the space being devoted to relaxing spaces, which lends the place an air of privacy and peace.
So peaceful, in fact, that we had the entire place to ourselves all of Sunday morning. If you're looking for seclusion it's worth heading now before word gets out. Upstairs there are relaxation beds, a weeny kitchen offering organic tea and healthy snacks and a terribly cute terrace in the sun that's worth checking out in your robe even if not getting a treatment.
Two saunas offer space to chill out pre-massage, and a spanking new 24-hour gym with a view of the city offers the latest equipment, including social media options on the cross-trainers to help make working out that bit more fun.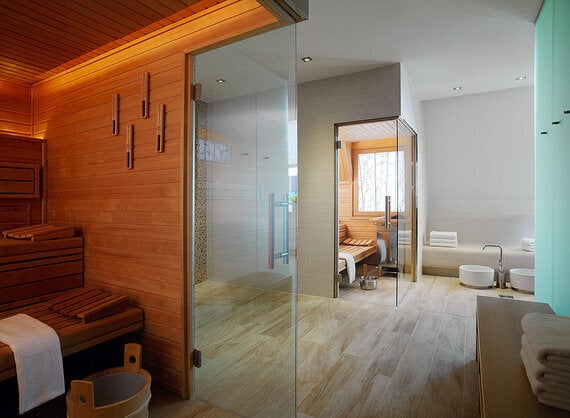 My Swedish Full Body Massage (€99 for 60 minutes) came with no frills (no candles, fragrance or chat) but was VERY thorough (from fingers to toes) and technically great. This is the perfect spa for those of you who want to decompress on a city break, but don't really 'do' spas. My therapist used available light, which was lovely as it was a beautiful day, but if you want something more relaxing you will need to ask for a darkened room.
And if you ARE looking for frills I would suggest the gold-plated treatment: A Luxury Pure Gold Massage (€149 for 90 minutes) and the spa also offers packages including champagne and chocolate-dipped strawberries which are worth looking into if you are celebrating a special occasion.
The hotel offers the best-looking breakfast in the city and the omelette with shrimp from the a la carte menu was a great way to fuel a day of sightseeing.
By night the restaurant hosts an international, label-loving crowd who visit for the chilled Duval Leroy and inventive German menu. I was sold as soon as the amuse bouche arrived with a mini gin punch. To follow, a beautifully presented plate of carrot and mint three ways and a delicious and unusual roast chicken and pasta dish served with piles of local asparagus.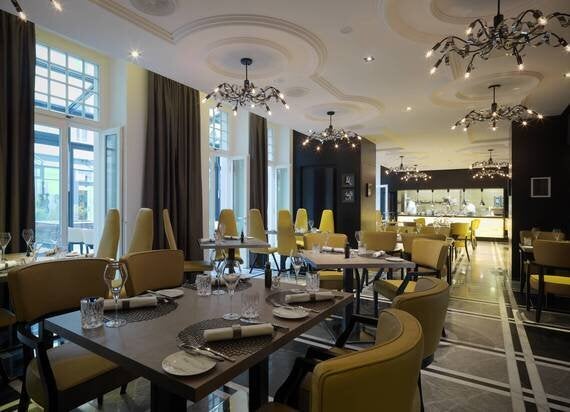 The Bar at Steinplatz is seriously sexy and designed for serious drinking, featuring dark leather, lots of bevelled mirrors and dramatic vaulted ceilings. A classic Old-Fashioned cocktail ordered off-menu was flawless, while the bartender's list is a twist on international favourites: I'm still daydreaming about the popping Blaubeer Margarita.
When not hunkering down in the bar bikes are a brilliant way to see the city. Hire some from reception (€12 for 24 hours) and trundle off to play in the TierGarten (Berlin's biggest park) or for a real slice of Berlin life head a bit further east to Mauerpark where the Sunday afternoon outdoor karaoke sessions (and the huge Bavarian beers available close by for just €2.50) are guaranteed to put a smile on your face.
Rooms start from €165 per night.