Elite wellness fans have been flocking to The Original FX Mayr Health Centre on the banks of Lake Worthessee for over 40 years. The typical F.X Mayr client is usually at the top of their game in life and serious about their health.
As I board the flight destined for Ljubljana Airport I post a quick Instagram entry, taken from the FX Mayr page, it reads 'health is more than an absence of illness'. I ponder the quote and think just how true it is for so many of us. It's not until the body gives us a very clear signal, alerting us that something is not quite right, that we take notice.
After a short flight and a scenic drive from the airport I finally arrive at the FX Mayr. I'm impressed by the ease of my new surroundings. The decor is inviting and aesthetically pleasing, there is no unnecessary razzmatazz, the reputation simply speaks for itself.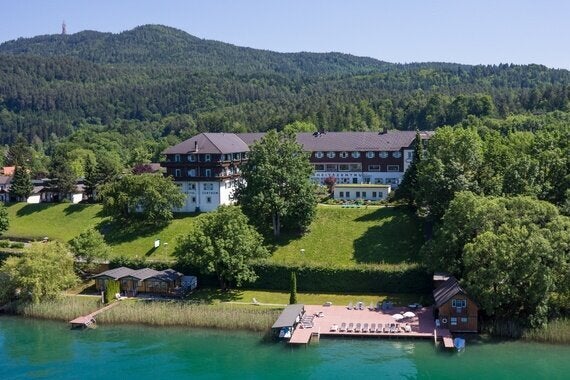 The FX original Mayr Health centre has been at the forefront of the world's leading health protocols for the last 40 years. Many of today's leading health advocates follow in Mayr's footsteps of fasting, rest and rejuvenation. The accolades, the awards and the gleaming celebrity reviews are too numerous to mention. Many who signs up for the 'Mayr Cure' claim they leave totally rejuvenated, full of energy, happier and at least a few kilos lighter. What's not to like?
The FX Mayr system is based on a detoxification and a regeneration process to enable the digestive system to function without congestion or disturbance. The initial days after arrival are spent in a quite intense detox process, until you are fortunate enough to graduate to a more gentle rejuvenating diet. You will,no matter how far you've graduated, still sip the famous Mayr broth every evening...
The idea of the cure is to fast for 15 hours in order to allow the body to cleanse, rest, repair and rejuvenate through the sleeping period. Most nights I was tucked up in bed by 9.30 pm and raring to go at 6.00 am. My daily dose of epsom salts was followed by the first stretch class of the day, with one of the many experienced trainers, then breakfast - my favourite meal of the day after the nightly fasting period.
If you are following, as I was, the 'Basic Cure' programme your day will be broken down into a plethora of relaxing and some not so relaxing (colonics) but highly beneficial treatments. Ranging from stomach massages, to assess the progress of the digestive system, to relaxing massages and lymph drainage.
In addition to the cleansing on an inner level I also sought solace in the form of regular 'Bodywork' therapies - Cranial Osteopathy and Shiatsu. One of the by-products of cleansing the body is that the unwanted toxins begin to move out of the whole system - even the deeper tissue. This can sometimes result in achy limbs and joints as the toxins move along the bodily structures. I found it extremely beneficial to have regular treatments to assist in this process. My absolute favourite treatment was the Cranial Osteopathy, my body literally as light as a feather and my posture had never felt better.
Most people are aware that any form of detoxing involves very little food or none at all - needless to say that the first few days are quite a test. The principal of the cure is based upon achieving a well-functioning digestive system by eating slowly and consciously - chewing each morsel up to 30 times. By doing so the relevant digestive enzymes in the mouth and digestion tract are signalled to start their work of breaking down the food mass. More often than not in daily life we eat late at night and way too quickly. Our bodies don't have a chance to break the food down and digest it. We are often left with a stagnated system and undigested food left in our guts and intestines - leading to gas and increased acidity levels accumulating in high levels of inflammation.
At first meals seem tiny but rest assured by the end of the week you can barely finish the portions. Once you adjust and are sufficiently detoxed - around day three - you will joyously graduate on to the spectacular Mayr cuisine. These absolutely delicious dishes are elegantly prepared and intelligently seasoned.
Fresh herbal teas are available to assist with all maladies from relaxation to detoxing and an abundance of bottled water to flush away those unwanted toxins.
Whether that's a kneipping session, massage or a swim the lake, my days were full of pampering and indulgence and I loved every minute of it. It's a strange phenomenon but when your body has been allowed to clean and detox itself (with a little assistance) everything seems to reset and life takes on a new meaning.
For down time relaxation there is an amazing chill out area by the pool with sauna and steam rooms. My personal indulgence was to spend a few hours in the late afternoon lounging by the lake and splashing around on the paddle boards.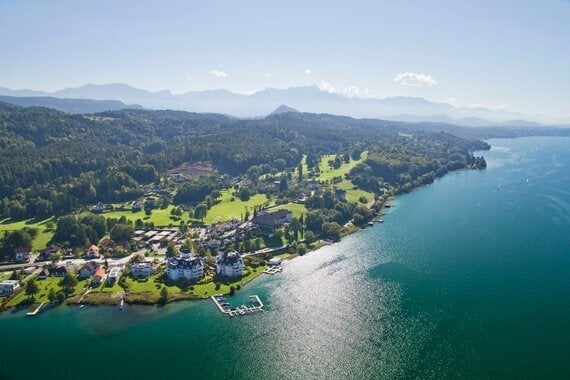 When you do eventually leave the FX Mayr Health Centre you will part with many unimaginable gifts for life. Upon leaving, every part of my being felt cleansed pampered and nurtured - body, mind and spirit . I felt new and energised and remarkably alert.
I'm ready to face the world with a brand new joie de vivre. I'm not hovering but I'm certainly gliding back into my reality a better version of my former self. In just 7 days I felt happier, more energised and in better health mentally, physically and spiritually than I have for many years.
This post has been published on The Huffington Post's blogging platform. The views and opinions expressed in this blog are those of the author and should not be taken as those of The Huffington Post. The Huffington Post does not allow bloggers to acquire products, access or accommodation for review in the site's name.