The exclusive Can Batista villa has long been a hit with famous folk, thanks to its spectacular views, five star style and private location high in the hills of North Ibiza.
Previously home to serious parties, the villa is now base to The Body Camp crew, a team of expert health and fitness professionals who are serious about giving you the body and life you have probably been chasing for years.
As Ibiza's hottest new health retreat the place remains a celebrity hotspot, but now the A-list and friends are heading there to lose pounds and unhealthy conditioning rather than brain cells and days on the dance floor.
This is a new breed of retreat, billing itself as a 'holistic lifestyle transformation' that works on mind, body and soul rather than just punishing you enough to drop a dress size in a week like many other boot camps.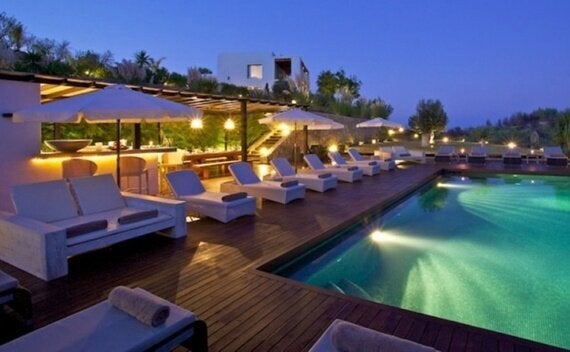 At The Body Camp there's a huge emphasis on the psychology and emotions behind guests' relationships with exercise, food and their bodies, and the team combine proven nutrition and fitness methods with alternative therapies and mindfulness techniques to deliver results that founder Kate Whale hopes will stay with guests long after they leave the magical white isle.
And it's fun. Loads of fun, SO much fun.
Yes you will be doing burpees before breakfast and nursing sore shoulders after the third press-up challenge of the week. And while the food is clean and absolutely delicious, portion sizes are very well policed.
BUT there are also Voguing classes, fancy dress boxes, kitchen karaoke sessions, water polo games, poolside trampolining and teeny house Chihuahua Rebel to keep things light-hearted.
Exercise certainly doesn't feel like exercise when you're laughing so hard you cry.
And the energy that comes from being part of a group intent on improving their lives is the ultimate motivation, I discovered on my week's retreat in the healing hills of San Juan.
Head trainer Rick Parcell (ex Navy star and one of the world's top transformation coaches) likes to refer to The Body Camp as the 'hot tub', a place where reality is suspended for a while and guests live in a bubble of frothy, friendly positivity and support as they are driven to achieve things they never thought possible: a 20km hike up often vertical cliffs, mountain climbers and planks in bikinis, life-changing conversations with strangers over quinoa toast and Friday evenings without sugar or wine for starters.
And while it IS a results-driven programme, and you will see a difference in your stats and fitness (I lost six inches off my body, and six years off my metabolic age in one week) it's the holistic, immersive experience that sets The Body Camp apart from the rest.
One idea that was drummed into us at Can Batista was that the body and life you have are a direct result of the decisions you make. And if you're serious about making positive changes in your life and are willing to get involved and be pushed out of your comfort zone, then a decision to book a week here will be one your future self will certainly thank you for.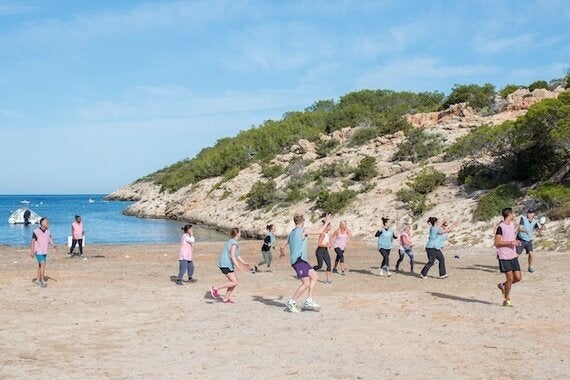 The Body Camp is a villa-based activity holiday, offering a mix of accommodation styles from a chi-chi room share to private doubles and even deluxe tipis. My friend and I stayed in one of three deluxe twins with private terrace over the pool and jaw-dropping views over the Ibizan countryside.
Although we didn't spend much time in the room (the schedule, sometimes starting at 6.30am, was intense) it was a beautiful place to escape for some peace and take a fierce power shower after a day of pushing our bodies to the max.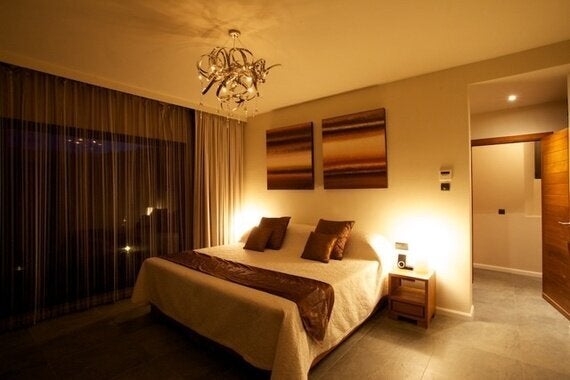 While days at The Body Camp are taken up with fitness activities, motivational talks and super food cookery classes the evenings are yours to indulge in a more gentle kind of self-development with pampering sessions and holistic therapies like Reiki, reflexology, acupuncture or even counselling available.
This being Ibiza the treatments and therapists all come infused with their own kind of magic. My detox massage (which is part of the standard Body Camp package) featured intense essential oils made with local herbs picked by the light of the full moon, and therapist Victoria Parkes - a glowing advert for her own therapies and handmade products - included meditation and breathing techniques in the session to help me fully relax into the experience.
Another therapist I loved enough to book a follow-up session with before I left Ibiza was the gorgeous yoga guru Ayda, whose group practices with the camp throughout the week had left most of us buzzing and/or highly emotional. Her holistic sessions focus on self-healing through a deep, hatha-meets-tantric yoga style. Every session is different, delivered from the heart and tailored to suit the current phase of the moon (of course it is ☺, this is Ibiza).
Food, and looking at the decision-making behind our eating habits, is a crucial part of The Body Camp's magic mix. And taking more care about what I'll put in my mouth in future is one of the most important lessons I will take from my time at the retreat.
Meal times here are all about delivering optimal health and the biggest nutritional punch per plate (when you're living on a daily calorie deficit, every mouthful counts!).
The menus by onsite chef Ben Whale cut out all processed sugars, chemicals and additives and instead the 80% plant-based meals are supplemented with small amounts of eggs, dairy, organic lean meat and fresh fish, designed to maximise weight loss and re-train your portion habits.
Ben combines his flair for flavor with his interest in nutrition and healthy living to create awesome organic concoctions like smoothie bowls and baked eggs at breakfast, laksa curries, raw pizza and veggie burgers for dinner and dairy-free ice cream, cacao smoothies and super food shots as 'treats' in between.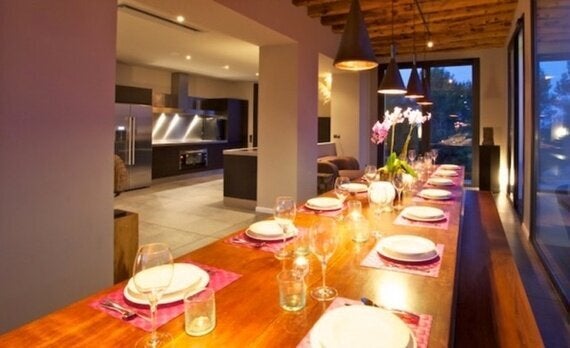 As well as the pampering and alternative therapies available the camp also offers various excursions around Ibiza and kayaking around Benirras beach and the magnetic rocks of the island at sunset was a once-in-a-lifetime experience that I'd recommend to anyone (even non-kayakers, like me!).
And good news if you can't squeeze in a whole week's stay: the camp is also open to day guests, who will get to experience a mini version of The Body Camp magic (all classes/activities/experts as well as meals and treats) depending on the day/schedule.
A week full board at The Body Camp costs from £1250 per person including the programme, all food and drink and a massage of your choice.
The camp runs weekly starting on a Saturday right through until the end of November and starts again in 2017 on the island. www.thebodycamp.com for all details.
Monarch, the scheduled leisure airline, operates flights to Ibiza from Birmingham, London Gatwick and Manchester airports during the summer season with fares, including taxes, starting from £49 one way (£95 return).
For further information or to book Monarch flights, Monarch Holidays or Monarch Hotels, please visit www.monarch.co.uk