There is something magical about Ibiza. Basking in the middle of the Mediterranean sea the 'white isle' has long been a holiday destination for bohemians and forward thinkers. Sitting on ancient ley-lines which have long been associated with focusing mystical energy, both budding and longtime Yogi's flock to the island every year ready to fill up the plethora of Yoga retreats promising to still your mind and awaken your body.
As a complete Ibiza virgin (although better late than never), the chance to spend a relaxing week at the luxury retreat YogaRosa in Santa Eulalia, and experience a masterclass in yoga and meditation was something my city-strained body and mind were crying out for.
The brainchild of Austrian born Rosa Klein, YogaRosa is a retreat that stands out amongst the many. It is focused on tranquility and wellness, as any retreat should be - but with a healthy dose of luxury thrown in. Situated next to a pine forest in the middle of the Ibizian countryside the retreat is spacious and sprawling and features two pools (fresh and saltwater), a beautiful outdoor dining area, and a covered yoga shala.
Hammocks hang between trees and sitting areas are plush with oversized cushions and throws. A vegetable garden is home to most of the produce that you will eat at the retreat (the menu is strictly vegetarian) and Rosa's four friendly dogs, ducks and micro pig can be seen and heard roaming casually around the grounds.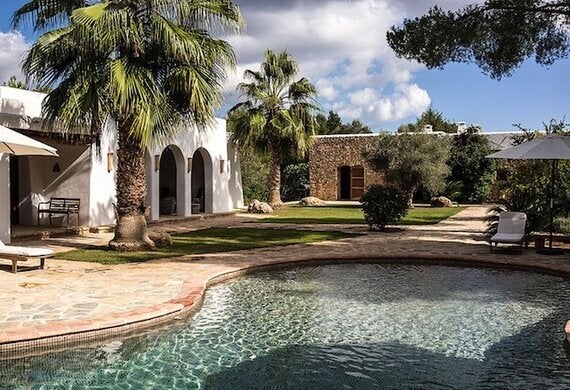 Rooms are clustered around one of the retreats pools and are decorated in a beautiful mix of stone, natural woods and typically Spanish tiles. More than just a bedroom, it's probably more appropriate to call the rooms 'suites' as all have a comfortable lounge and fully equipped kitchen. My bathroom was decorated in the most incredible style (I could have showered in there for hours) and the linen on the bed (sourced locally as I found out from Rosa) was possibly the softest I've ever slept on.
In the kitchen you will find freshly filtered water that is replaced every day, as well as a selection of fresh fruit, and various mason jars filled with nuts, goji berries and dried figs. With two meals a day being part of the retreats programme it was an appreciated touch to have some healthy snacks to nibble on throughout the day.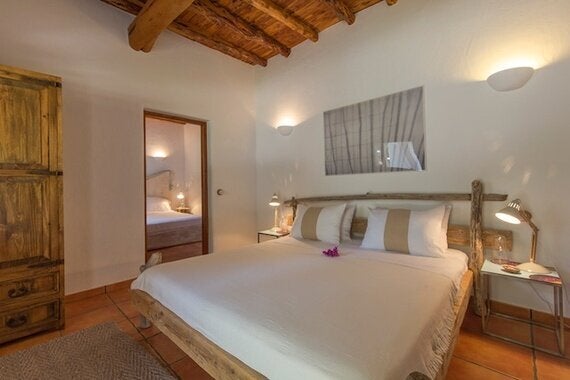 Nutrition plays a major role in the retreat and the vegetarian menu is cooked and prepared by award-winning Austrian chef Philip Gandler. To say that eating at YogaRosa was a culinary experience would be an understatement- every meal was mouth-wateringly delicious and Philip's incredible talent for devising innovative vegetarian menus was a constant joy. Meals are served at the always beautifully decorated communal dining table overlooking one of the pools, and brunch after morning yoga was always welcomed.
There are no small portions, seconds and thirds are positively encouraged(!) and porridge, eggs, fresh vegetable and fruit smoothies and gluten free breads were just some of the brunch highlights. For me it was the meal I most looked forward to- I think I will be hard pushed to ever find a better porridge! Dinner was three courses of fresh, locally sourced produce where standout dishes included courgette flower tempura stuffed with mushrooms, asparagus served with herb potatoes and tomato ragu and vegan creme brulee.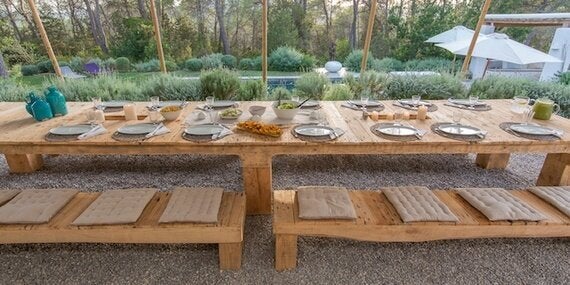 Each day at the retreat begins at the yoga shala at 9am. After a cup of herbal tea you embark on 1.5 hours of yoga. The practice is traditionally Indian with elements of asana flow and pranayama and is beautifully strong. Rosa's tutorage is calming and encouraging and as a semi-experienced yogi my practice really came on leaps and bounds under her watchful eye. In the afternoon an optional 1hr Body Balance class was taught by personal trainer Alex Pudlik and the focus on strengthening legs and arms was perfectly complimentary to the daily yoga practice.
At 5pm we would gather again for an hour of pranayma and meditation- stilling and re-focusing the mind. Rosa's personal touch is part of what makes this retreat so special and one evening we drove to a local beach to complete our meditation practise by the sea- a beautiful and humbling experience.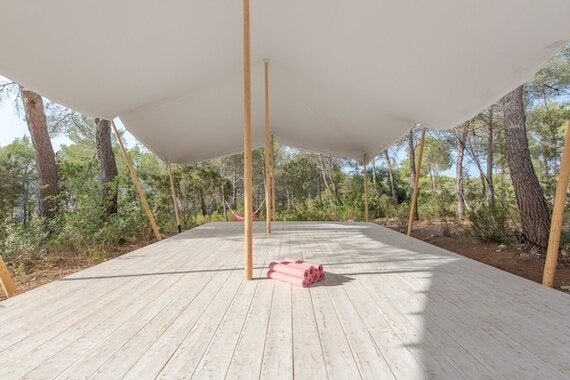 The visiting therapists. Book a massage with masseurs recommended by Rosa and you won't regret that you did. I indulged in an hour long Thai Yoga Massage which worked out kinks in my body that I didn't even know I had.
If you're feeling frazzled by city life and want to spiritually re-charge with all the luxurious comforts of home- this is the retreat for you.
From £250 a night including full board, yoga therapy and pranayama meditation.