Bagni di Pisa is the kind of hotel that demands a signature scent. An ancient summer residence of a Grand Duke of Tuscany, the retreat now hosts a more modern kind of royalty in the shape of jet setting couples, handsome models and the odd celebrity guest wanting to wind down or lose weight in its exclusive grounds.
Guests here are greeted with a glass of chilled Italian fizz (the detox can wait until after check in) and an intense hit of the designer Dr. Vranjes Firenze-Rosse perfume that permeates all corners of this rather fabulous spa hotel.
Huge diffusers of the heady Florentine fragrance are dotted around the 18th Century residence, competing for sensory attention with original frescoes, shocks of bright flowers and the sound of expensive Italian heels click-clacking across the marble floors.
Host to numerous European kings and queens over the decades, the terracotta walls have surely witnessed much privilege and excess. And today the hotel and its guests remain terribly chic, the hotel blending five star Italian style and hospitality with cutting edge cuisine and wellness practices, and stylish, silver-haired couples even managing to pull off the compulsory swimming caps as they recharge in the thermal pools.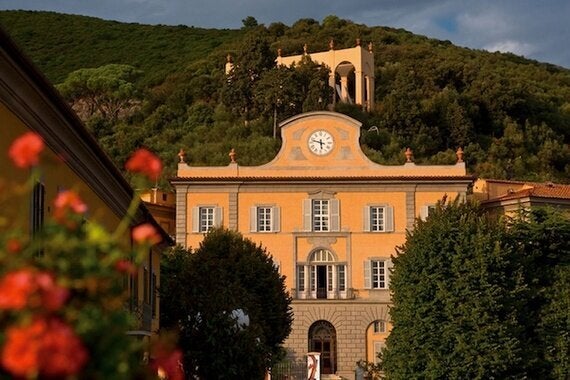 The Bagni di Pisa is a SPA in the true sense of the word - a word meaning 'Salus Per Aquam' ('Health Through Water') - and while there are hundreds of variations of detox, diet and pampering programmes on offer, the magical thermal waters are the foundation of any stay here.
Bubbling up from hot springs far below the city hotel, the mineral-rich waters offer incredible restorative health benefits internally and externally including pain relief and improved circulation as well as deep relaxation.
Guests can choose to enjoy the waters at their own pace in various hydrotherapy baths and pools or join one of the hotel's excellently curated wellness programmes.
Because, behind the light and lovely atrium, soothing cappuccino-tones and boutique pampering products on show this is a serious health spa offering serious results.
While some guests intend to spend their Pisa weekend being utterly pampered, and others just soaking in the magnesium-rich springs, many more are here to make dramatic changes to their lifestyles through holistic programmes like the new Equilibrium plan which aims to balance body and mind with a combination of fitness, nutrition and various therapies.
The teams of experts here include doctors, dieticians, therapists and even psychologists who support guests to improve their health and fitness and, crucially, change long-term habits from the initial assessment through the week and beyond.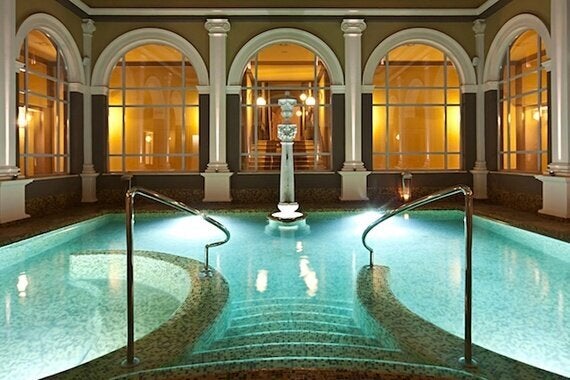 Spa junkies will be pleased to know that pampering is taken just as seriously as wellness at Bagni di Pisa.
The treatment menu takes inspiration from the orient (including an incredible Tibetan Bell Sound Treatment for the more spiritual traveller) as well as ancient Mediterranean techniques using salts, olive oils, herbs and the region's famous thermal mud.
Romantics will love the private cave, a small grotto with its own natural bath and waterfall, built in the early 700s and now being used as the ultimate steamy treat for two.
And my Brightening Facial, using the Spa's own Eteria gold-leaf mask, included what felt like hours of incredible facial massage (it was actually officially 80 minutes [170euros]) and left me melting off the bed.
TIP: Book a late afternoon treatment and then head to the rooftop pool where you can finish the day watching the sun set over the mountains as you paddle in 38 degree bubbles.
As fitting a one-time Royal residence, our enchanting Junior Suite was prepared for a princess.
Steeped in neoclassical style, the room features vaulted ceilings, huge canopied beds, pastel frescoes, Tuscan terracotta, and marble bathrooms. Morning here is like waking up in a in a fairy tale.
And this fairy tale also includes multiple wardrobes, beautiful linens, generous Comfort Zone products, and a gourmet chocolate-based turn down. Some lucky guests even get to drift off to a view of the Leaning Tower.
TIP: The front desk are ready to replace soggy dressing gowns at a moment's notice so don't be shy about calling down for fresh towelling once you're back from the spa.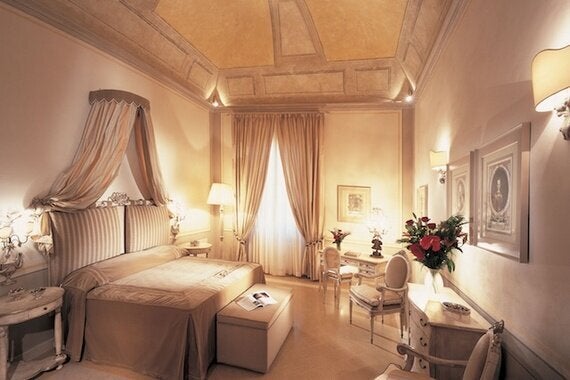 Food here is low in calories and high in taste, provenance and wow factor with chef Umberto Toscano turning the idea of traditional Tuscan dining on its head with eye-catching dishes that are also kind to your body.
Unless they are given a very specific diet to follow for their stay guests here are free to mix and match from various menus, with the most popular being the 'Lose Weight In Tuscany' programme that includes vegan, macrobiotic and gluten-free options. The programme also includes low calorie cookery lessons with the hotels chefs and dieticians, who eat every day with guests in the main dining room (so there's no excuse to make bad food choices!).
Our light lunch featured a colourful raw bar, artichoke with brown rice, and sea bream with tomatoes and olives. Dinner was a naughtier affair (this is a spa, not a super strict retreat) involving beef carpaccio, gnochetti and cauliflower, Tuscan turbot with sweet potato puree, a few glasses of biodynamic Chianti Classico and a whole bowl of cantucci biscuits that was definitely not on the menu, but indicative of the stellar Bagni di Pisa service.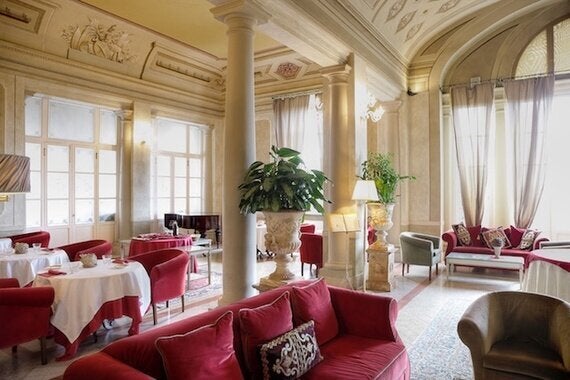 Bagni di Pisa is one of three Italian Hospitality Collection properties in the Tuscany region with the 19th century Grotta Giusti in the countryside of Monsummano Terme especially worth a visit for any adventurous types.
This is a spa hotel with a jaw-dropping subterranean secret: a thermal grotto that stretches 200 metres below the villa, filled with warm steam, glittering stalactites and stalagmites, and now treatment rooms taking advantage of the magical warm waters.
The natural underground steam baths are full of detoxifying properties and the perfect place to unwind and let the water work their magic. And there's the opportunity to float - or even scuba dive! - in the caves below, where a team of divers will take you through mysterious, watery caves and tunnels in a surreal but very special experience.
Nightly rates at Bagni di Pisa start from €208 per room per night in a Comfort Room on a B&B basis. Rates also include wi-fi, access to spa, thermal pools and fitness facilities. For further information please email booking@bagnidipisa.com.
Nightly rates at Grotta Giusti start from €200 per night in a comfort room on weekdays on a B&B basis. Rates also include wi-fi, access to spa and fitness facilities. For further information please email booking@grottagiustiapa.com.