Landing in the Maldives is enough to make even a hardened cynic's jaw drop in wide-eyed wonder. Each mini island boasts a postcard-esque paradise that blurs the lines of reality and Amilla Fushi - situated in the Baa Atoll - is no different. But what sets this resort apart from the rest of the exclusive and uber luxury pack is a distinctly unique vibe that is so relaxed, fresh and youthful that it feels as though they chipped off the best corner of Ibiza and dropped it into the middle of the Indian Ocean. At 18 months old, Amilla is the new kid on the block you'll not find teething problems, or baby footsteps in this perfect sand. On the subject of babies, the resort is very "family friendly" and, come to think of it, is also "groups of singles friendly" and "honeymoon friendly" and, well, just friendly. No wonder the motto here is 'Your Island Home'...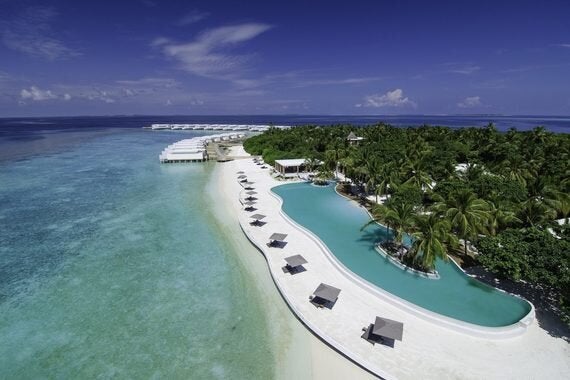 Our Katheeba (personal butler) Shaba, picked us up in a golf buggy and drove us down sandy pathways, onto the wooden promenade leading to our shiny white modern cube on stilts. The décor is positively un-Maldivian, and the minimal modern style makes it feel that the team here didn't so much as reinvent the wheel, as improve on it. Like most hotels in the Maldives, Amilla offers signature over-water villas. But Amilla has taken Maldivian style, turned it upside down, smacked it on it's sandy bottom and made it it's own. The result? Philippe Starck cool meets California chic with whitewashed walls, concrete and wooden floors, funky modern furniture, glorious Moroccan style tiles, walk-in showers the size of a small apartment, low hanging roped lights, leather bound chairs, cool rugs, floor to ceiling windows, large freestanding baths and AESOP products in abundance. Cool aqua upholstery momentarily interrupts your gaze outside to the expansive wooden decks and gazebos and an infinity pool 3 steps from the crystal clear ocean. For the tech nerd, you will find I-pads (offering in room dining order system) and Bose sound systems. Everything, including the ocean, is literally at your doorstep. Your own snorkelling gear, bicycles to get around the island and a mobile phone to contact your Katheeba on (who we decide is more a best friend than a personal butler). If luxury villas aren't your thing, Amilla also offers Residences to impress the fussiest of guests. These are less rooms, suites or even villas. Rather they are glorious abodes with 4-8 bedrooms and are beautifully secluded with private beaches, fully equipped kitchens, chefs, butlers, and miniature cars. You'll be tempted to pinch yourself to make sure you're not dreaming. If you are lucky enough to experience one of these, it will be one dream you won't want to wake up from.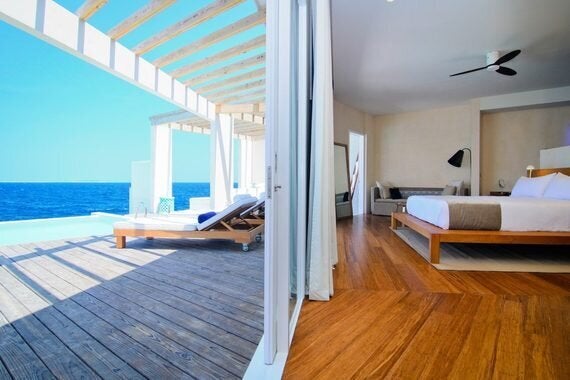 Another perk of Amilla is that (despite it being a 5 star hotel) there is no pretence whatsoever. Their "no dress code" policy reflects this chilled vibe. You may want to dress up if you go to Lonu however, just so you match the exquisite food. Aussie chef Luke Mangan's flagship restaurant SALT, has come to the Maldives (Lonu is Dhivehi for salt) For starters we tucked into tea smoked quail with almond cream, prunes, grains, grilled shallot & sorrel and Luke's famous sashimi of kingfish with ginger-shallot, Persian feta & rocket leaves. For mains, the roasted Maldivian snapper with cauliflower puree, zucchini, pine nuts, currants & basil and don't leave without trying the Wagyu beef with fragrant pumpkin puree, almond, orange & asparagus salad. Leave some space for the passion fruit & sheep's yoghurt cheesecake.
Apart from Lonu there are plenty of alternative restaurants at Bazaar, which forms the sociable hub of the island. Here restaurants flank the stunning infinity pool overlooking the ocean. You can choose an array of cuisines from the restaurants: 'Fish and Chip', 'Joes' pizza', 'Wok ' or 'GRILL'. Try the barracuda or sashimi from the GRILL restaurant and the oven-cooked pizza from Joe's. Also on the island is a very cool old-fashioned café and deli called The Emperor Beach Club and General Store. A marketplace of fresh fruits, vegetables, bakery items and the deli sells gourmet sandwiches and bulletproof coffee, which you can have, sitting in the library. You might need it to give you an extra perk to head to the gym and grab a session with JB and the Bodyism gang.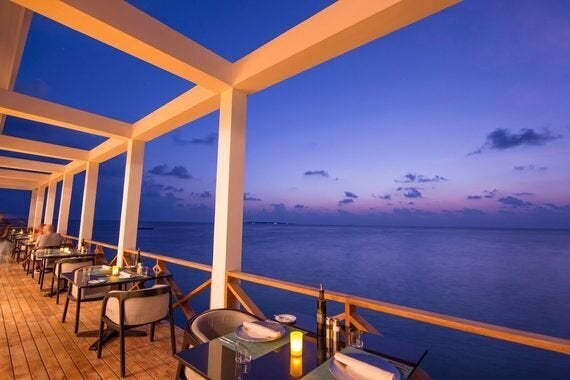 Fitness is as important as luxury here at Amilla, and they know how to combine both seamlessly. Amilla have gone to another level - literally. There are 'Wellness Tree houses' by Bodyism in the centre of the island, dedicated solely to physical and spiritual wellbeing. Personal wellness consultations, 50-minute spa treatments, fitness or wellness classes, yoga and meditation and mindfulness are used throughout the wellness menu to revive the mind and promote blissful relaxation. A daily stocked mini bar is filled with a special selection of Clean and Lean snacks including their unique supplements, organic nuts, fresh fruits, Breakfast, lunch and dinner from a specially designed wellness menu.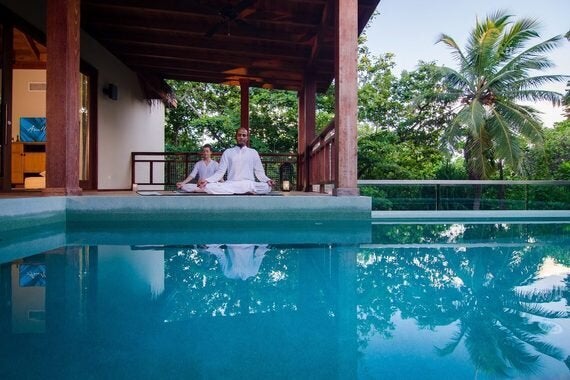 Like the rest of Amilla, The Javuu Spa is extremely welcoming, even having an 'open door' policy, meaning whether you have a spa appointment or not, you can drop by unannounced and just hang out. Take full advantage of the hospitality and have a bite or even a glass of champers - they won't judge you. There are 10 wooden treatment rooms, or pods if you will, each containing their own sauna or steam room. Facials are by QMS, a fantastic brand based on the science of skincare. I had the Collagen rejuvenating facial and the Skin Renewal Facial. These combat the signs of ageing and supports and enhances the skins own stem cells. The Jetlag massage cured my lag immediately with dynamic stretching of muscles I did not know I had. iLA one of my favourite natural products, is used in all of the body treatments. Try the Purifying Body Scrub with Himalayan salt crystals and essential oils to perk up your circulation and give you that 'Island' glow. For those in need of something deeper, the iLA Adreno Restore treatment helps to keep adrenal-function at optimum levels, combating low moods and fatigue. There are also mani-pedi's on offer by Margaret Dabbs and hairstyling by Louise Galvin. Don't worry boys, if you feel left out there is also the Gentleman's Tonic Barber where you can get a pamper. Yoga, Pilates breath work and meditation are also on offer. So you can treat your mind body and soul.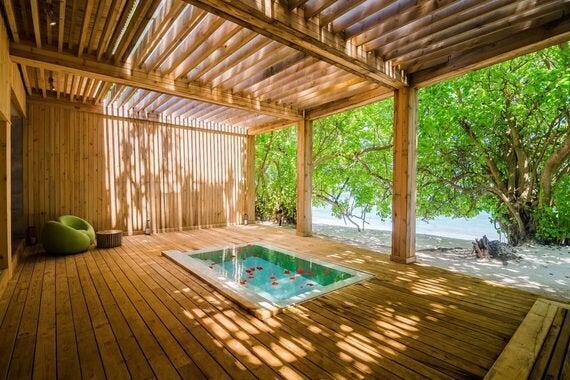 The cool kids at Amilla have thought of everything. The water sports centre offers sunrise fishing, dolphin cruises, night snorkelling, stargazing cruises, reef hopping, sea kayaking and full moon cruises.
Their motto 'Your Island Home' becomes quite literal as staff waves you off at the end of your stay. Knowing full well that the moment you look away, your new dream home is going to fade into a distant memory. Until the next time.
http://www.amandabyram.com/
https://twitter.com/AmandaByram