Virgin has opened its first hotel in Chicago - why? The British travel company spotted a gap in the market for a lifestyle hotel brand, and found a grand 1928-built neoclassical bank ripe for conversion. The result is a 26-story fully Virgin-branded hotel, which promises a Premium Economy experience. What lured me to the downtown city hotel was the opening of a new sweet-smelling Red Flower spa... and hearing folk's moot Chicago as a more affordable alternative to a long weekend in NYC. Really?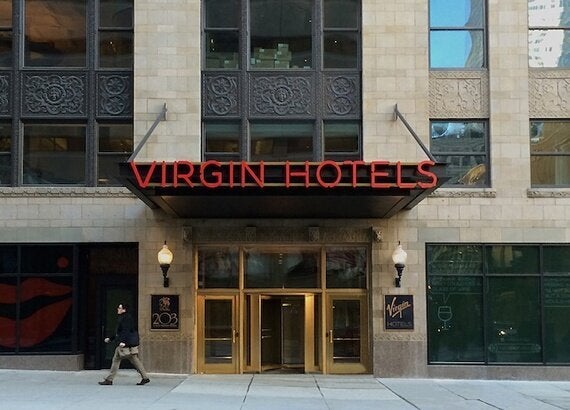 In a destination that stands out for its forward-thinking design and architecture, the Old Dearborn Bank Building is a striking choice. It had the same architects as the Chicago Theater, Rapp & Rapp, while Rockwell Group has taken care of today's jaunty interiors, preserving art deco features such as ceiling plasterwork. The fun-loving rooftop bar with its playful animal objets d'art and ambient lighting was styled by Paola Navone. There's a distinct feminine touch throughout. Instead of a traditional ensuite in the guest rooms, with many of the spaces you walk straight into an area with a sink and vanity station (perfect for make-up application). A patented ergonomic bed invites you to comfortably lean back with your laptop and there's a padded corner seat ideal for girlfriends chatting. You're aware of the unmistakeable voice of Virgin throughout the property - a sprinkling of 'silliness' is deliberate. There's a squidgy bath toy in the shower, loos are signposted as the 'Birds' and dog-friendly rooms are identifiable from the life-size porcelain hounds in the corridor. One imagines Branson likes that the hotel is laced with a sense of humour.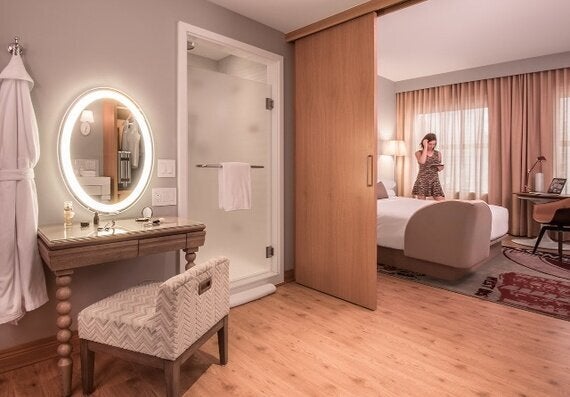 Having opened in spring 2015, the property was smart to add a spa to its offerings. Red Flower is the chosen brand - this nature-loving American beautifier certainly complements a colour theme that makes a lot of the host brand's signature colour. If the main hotel has shades of Hard Rock Café and W Hotel about it, step into the basement and there's a Cowshed vibe. It feels more members club than health club with a synthy electro soundtrack, and an air of pre-club bar more than low-key spa. It's intentional for the mood to feel more bubbly than at your usual subterranean treatment-room reception. There are even mini bottles of fizz on ice next to the oak fireplace to tempt you to enjoy some champers as you have your nails painted.
I love the new trend for bespoke treatments that are economical with guests' limited time - it first came to my attention at the Bathhouse at the Mondrian at Sea Container's House, another master of the playful 'Premium Economy' experience. Here at Red Flower's Virgin base you're promised affordable and effective slots with chirpy professionals adept at fitting into a busy schedule. My 30-minute Flawless Finish facial declared anti-aging and delivered smoother, hydrated skin. Fine lines and wrinkles are tackled with antioxidant-infusing emerginC Apple Stem mask which works wonders in limited time; it freshened my face and gave it a much-needed post-flight dose of Vitamin C. Excellent value at $70 (£46) compared with your usual hotel treatment prices. My Jetlag Massage was remarkable for being one of the most therapeutic I've ever had; I urge you to have this targeted body rub the day you arrive if you can. I feel a bit woozy-in-a-good-way just thinking about it. A headline act is the unisex hammam; this is probably great fun if you sign up for the rhassoul-clay slathering option with your romantic interest. It wasn't the sexiest grey space for me when staying there solo, so I happily head back up to my ensuite power shower.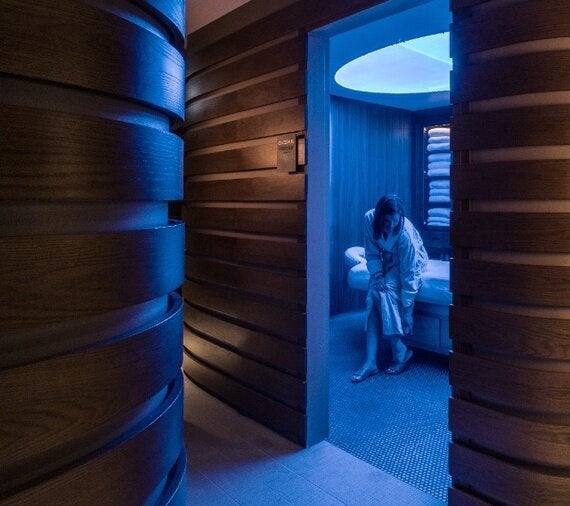 If you're planning a shopping weekend where you want to splurge on American retail brands, get an eyeful of world-leading architecture, then a couple of nights staying at this hotel will set you back a heck of a lot less than what the equivalent escape would in New York. There are nods to the motherland in the interiors - a red British phone booth, London motifs on the bedroom carpet - which aren't my design cup of English breakfast tea, but the fact that they've laced the eating-and-drinking outlets with a convincing taste of Chicago is a winner. Miss Ricky's (the name is a nod to Sir Richard's penchant for dragging up) is their take on an American diner. Ina's Heavenly Hots are the city's famous creamy pancakes (best enjoyed with the house three-year bourbon barrel-aged maple syrup), and regularly checked by the octogenarian creator of this recipe herself. My breakfast tip is the buttermilk fried chicken and waffles - when else do you have an excuse to feast so greedily as your first meal of the day? For the full Chicago chow down, loosen waistbands and order a steak in the Commons Room for dinner. Even better, get it tattooed - which is chef Rick Gresh's idea to literally inked that beef in extra seasoning using a tattoo needle. Then head up to the rooftop bar to sip craft cocktails and toast Prohibition times as you look across at the ornate façade of the Jewelers Building at 35 East Wacker Drive; this is where Al Capone had a secret elevator to his office and his speakeasy. Just beyond is the Chicago River - don't miss the Chicago Architecture Foundation river cruise - this city is riddled with iconic buildings such as Mies van der Rohe's midcentury modernism and Bertrand Goldberg's more recent imaginative creations such as River City (architecture.org/rivercruise). This city is no slouch when it comes to skylines.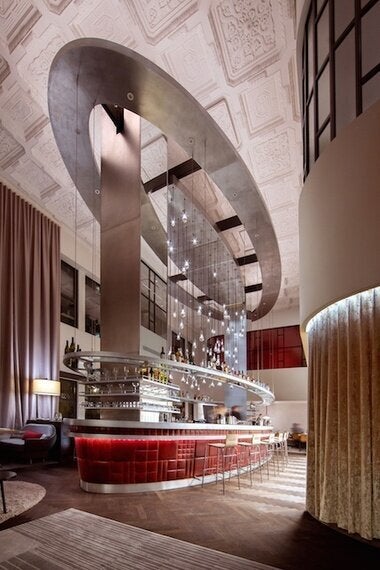 After treating yourself to this level of weekend-away action including sightseeing and bubbly-sipping spa time with room service to boot back at your bunk-up, it's normal to feel a little scared about checking your credit card bill after, right? But what's reassuring here is that there are no hidden stings: wifi is free; there's a massive snack-packed, candy-flaunting red Smeg minibar, with miniscule prices ($2 bottle of water; $1 bag of crisps). It's relaxed, sociable, friendly - just what you'd expect from Virgin Atlantic's hotel sis. The in-house app 'Lucy' helps with this vibe - optimise your room's temperature or book a manicure on your phone while sitting pretty in the bar or on your bed. It's just how you might expect that cheeky, beloved British airline's hotel to be.
203 N Wabash Ave, Chicago, Illinois. Three nights in Chicago from £679 per person with Virgin Holidays (www.virginholidays.co.uk; 0344 557 3859). Return flights from London Heathrow; based on two sharing, includes taxes. 210 chambers, 38 one-bedroom suites and two penthouse suites. Rooms from £109 per night (www.virginhotels.com) The Spa is open 10am-10pm daily. To make an appointment email spachicago@virginhotels.com.
Coming next: Nashville in 2016 and New York in 2017.