Beautiful Bath is unsurprisingly one of the most visited cities in the UK, with its swathes of gorgeous honey-hued Georgian buildings, plethora of parks, chi chi shopping, quirky atmosphere and, of course, the incredible Roman thermal baths and temple, the best preserved of their kind in Northern Europe.
It's also one of the most fitting places in Britain for a spa visit, as that is exactly what folk have been doing for thousands of years. There's evidence humans have been using the waters since 8,000 BC, before Prince Bladud founded Bath around the wells in 800BC, followed by the Romans deciding in 43AD that Bath was the place to go to take in the restorative hot spring waters - deemed to have mystical, healing powers.
For weary Londoners in need of some TLC, it's a no-brainer, with trains taking a scant 90 minutes to spirit cynical city souls through some stunning countryside to the heart of this splendid ancient city for some sumptuous R&R. And The Royal Crescent Hotel and Spa is the perfect location. It's at the centre of one of the most stunning Georgian streets in the country. Hotel perfection is similarly reflected once you've stepped into the historic interior.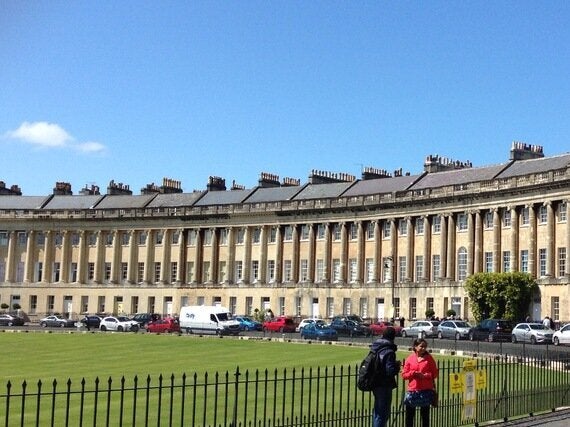 The stunning Royal Crescent in Bath - the foliage marks the hotel entrance (image ©
)
The décor is chic country casual, all Farrow & Ball shades and subtle luxury in a vast listed property, with a huge idyllic central courtyard garden. Toiletries are the royal household-approved Floris, and they are lush. Bedding is as impressively sumptuous as you would hope. Nespresso machines are standard, but there's no kettle or tea bags and it would be nice to have the choice. Anything other than the latest coffee pod requires a call to room service. A bit annoying. However, we must tip our tricorn hat at the front desk staff. They couldn't have been more helpful and gave us some great tips to make the most of the city - service is second to none.

The living room area of one the suites (image © Royal Crescent Hotel and Spa)
Housed in another part of this impressive Georgian complex of buildings, the spa is gorgeous. It's all tastefully decorated with trendy feature wallpaper, bamboo, pebbles and slate, and cushions we wanted to kidnap. But the swimming pool, sauna, steam room and plunge pool area in particular is astounding beautiful, with an airily high ceiling and arched windows looking out onto the immaculate country cottage-styled gardens. It's a serene space that cajoled us into visiting each day of our stay. A very special treat indeed.
There's also a bijou gym stacked with state-of-the-art machines, including a Power Plate, steppers, treadmills, crosstrainers and weight stations which also looks out onto the garden. The changing rooms feature everything you need, including the latest Espa shampoo, conditioner, body wash and lotion. Treatment rooms are equally luxurious, comfortable and accommodating.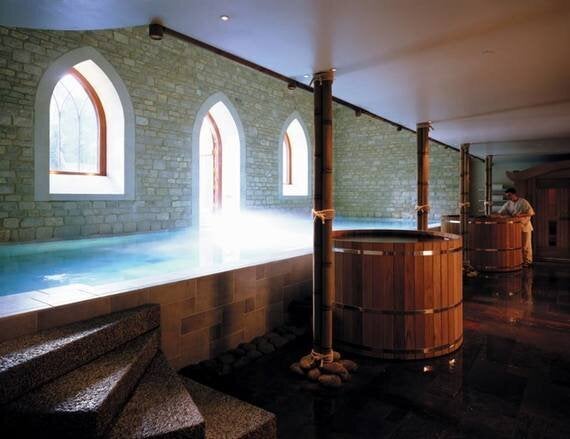 The stunning pool area in the spa (image © Royal Crescent Hotel and Spa)
The signature Royal Crescent Signature or 'Hero' treatment aims to deliver triple results for the back, face and scalp. Considering this was my first weekend away without my children since they were born (a good five years) I was expecting perfection. It wasn't far off. My therapist Deborah already knew my medical (and stress) history and plumped for the relaxation oil (all products in the spa are the wonderful Espa). After a foot massage, a cactus bristle body scrub (nicer than it sounds) and a deceptively mild massage, Debs soon piled in for some major muscle flattening with the aid of blissful hot stones. The facial side of it included a hydrating cleansing milk to start, bio active eye cleanser, then a skin polish, hydrating toner and a brightening skin serum, with a little tweak of mandarin lip balm. A skin radiance mask was then left on my skin to make all the difference while Debs did the most amazing head massage. It was not only a triple-threat relaxation bomb, but my skin looked incredible after, and remained so for days.
The restaurant in the hotel (the 3 AA rosette award winning Dower House Restaurant) does a phenomenal tasting menu. WARNING! Don't eat lunch before you go for dinner - for a tasting menu, the portions are HUGE. It's all so delicious, you will want to keep going, but we were beaten and didn't manage dessert. Champagne cocktails in the bar are also to be recommended beforehand. Highlights included an amuse-bouche of razor-thin crisp breads with rosemary goats curd and cured shallots, a slow-cooked duck egg with wild garlic and shavings of truffle and smoked-at-the-table trout with caviar surrounded with an oyster soup, when a cloche was removed next to your seat to let the smoke waft past you. That was a proper show-stopper and unbelievably delicious to boot.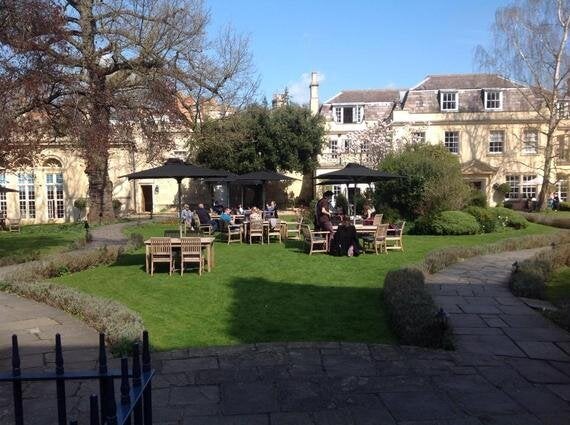 The beautiful gardens (image © Royal Crescent Hotel and Spa)
Just down the road from the Royal Crescent is The Circus restaurant, a fantastic place that has been raved about by The Times as a secret UK place that foodies rate. It's a warranted accolade - the food is incredible, the service charming. We had a wonderful dinner, including some amazing John Dory and rose veal, with scallops and crab to start, and a great bottle of picpoul.
It's a cliché, but the Roman baths are a must see. It's 14 pounds entry well spent for a good couple of hours marvelling at how our ancient ancestors lived - and took spa breaks - in much the same way as we do now. But with more togas. The Jane Austen Museum is also nearby if you can bear men in top hats tipping you a cheesy wink. The King William pub (36 Thomas Street; 01225 428096 kingwilliampub.com), also does a cracking Sunday lunch in a very gastro style.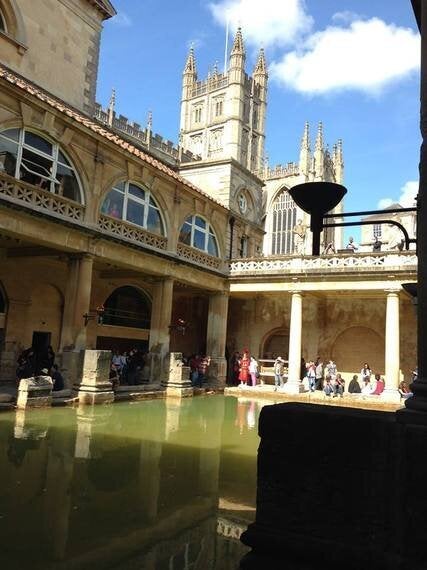 The Roman Baths, including centurion, and Bath Abbey behind
(image ©
)
Rates at the Royal Crescent Hotel and Spa in Bath start at £395 for a double room based on two sharing and includes bed and breakfast. The tasting menu (a vegetarian version is available) is £65. The Hero treatment is £99 (or £89 Mon-Thurs). For further information, go to www.royalcrescent.co.uk