Overlooking the Andaman Sea and with a horizon view of the majestic limestone karsts of Phang Nga Bay, Phuket welcomes the new-kid-on-the-island hotel scene with open arms.
Point Yamu by COMO offers 106 rooms and private villas, with a collection that are for sale if you understandably can't bear to leave. The resort also boasts an impressive 100m swimming pool with awesome views, albeit split into three sections, so no Olympic training in this pool, a COMO Shambhala Spa Retreat with eight treatment rooms, including a beauty treatment room and yoga studio offering, well, yep yoga and Pilates.
Just a 25 minute car ride from Phuket International Airport, this slice of opulence is located on the east coast of the popular Thai holiday island and rest assured, you're well away from the crowds yet close enough to Phuket Old Town for some sight seeing, wonderful bars and restaurants.
COMO's grand entrance bears testament that Phuket has still got what it takes as a hub for ultra luxe hotels and there's a lot more to come.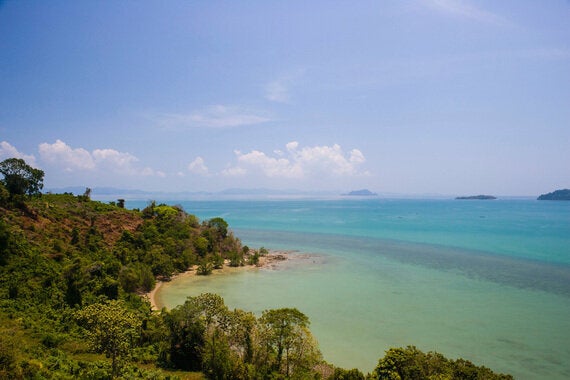 There's plenty on offer including pool villas, but for such a short stay with much to do we opted for the Verandah Suite. The room has a sea view; and with floor to ceiling glass doors and windows our view looking out to the sea was nothing short of fantastic. The bedding was donned in pure white 500 thread Egyptian cotton, which in the tropics is therapeutically cooling.
The interiors are all the grand designs of esteemed Paola Navone and she's really dressed up this rather large and industrial looking building in mostly earth tones with a signature fresh blue and startling white décor. There's nothing traditionally Thai style about the feel of the place, it's revitalizing and bright, a perfect accompaniment to the colours of the sea and sky that envelop you just about everywhere.
The bathroom is large and has a walk in rain shower as well as a deep stand-alone bathtub. The COMO Shambhala bathroom amenities are rich in quality and the energizing scents of geranium and peppermint are irresistible, we certainly recommend purchasing the larger bottles and essential perfume oils from the spa to take home.
Room facilities include a couple of flat screen TVs; a dining table, comfy sofas, a verandah with a small table and a couple of sun loungers, a guest powder room, free Wifi, a mini bar with the usual fare, and a Nespresso machine.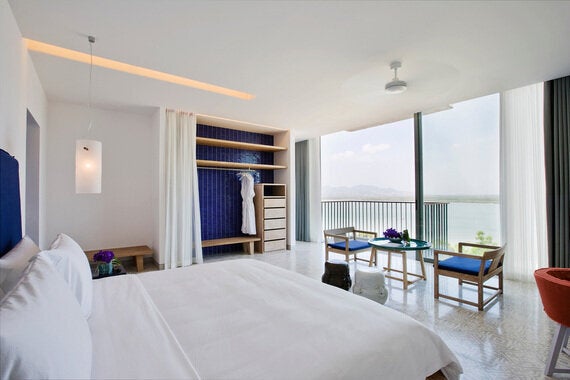 It's practically unheard of to come to the world's spa epicenter and not indulge in every treatment available and to be frank, the prices are reasonable for the quality of the treatments available. Offering eight treatment rooms and four Thai massage alcoves, all therapies draw from Asian traditional massage and medicine.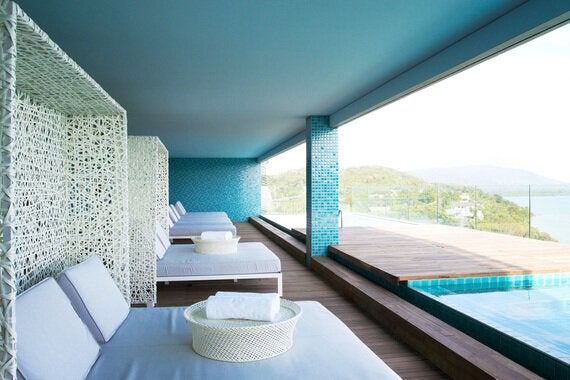 Stepping into the spa area didn't feel so different to the room ambience, decked out in blue tiles and white furniture, the spa feels slightly clinical, yet in a purifying and good way.
The 'Como Shambhala Massage' was the treatment of choice. Described as a nurturing massage and using their signature-blended oil to calm the mind and rejuvenate the body. The male masseur, Khun Mit was exceedingly expert. Using grape seed oil, his movements were all precise and not typically Thai massage like, he used long, purposeful extended movements from toe to neck and making use of his palms and arms rather than a finger pummeling massage, which I admit I have grown accustomed to in Thailand. The massage wasn't as strong as I usually opt for, but it certainly achieved what it promised and I felt very relaxed indeed after 75 minutes.
The second treatment I opted for was the 75 minutes 'Como Shambhala Purify Holistic Facial'. This signature facial is cleansing and nourishing. The beautician, Khun Sonya, used hot compresses throughout the treatment that I found to be extremely calming albeit in the humid climate of Phuket you'd assume otherwise. Sonya explained that the compresses help to cleanse and prepare the skin to be balanced through manual lymphatic stimulation. This, to me, translated to a fabulous arm and neck massage to help drain my lymphs and to detoxify the skin through acupressure channels. My slightly sun exposed face enjoyed a brushing, polishing, creaming and steaming and with the application of the several natural products I left feeling fabulous with glowing and hydrated skin.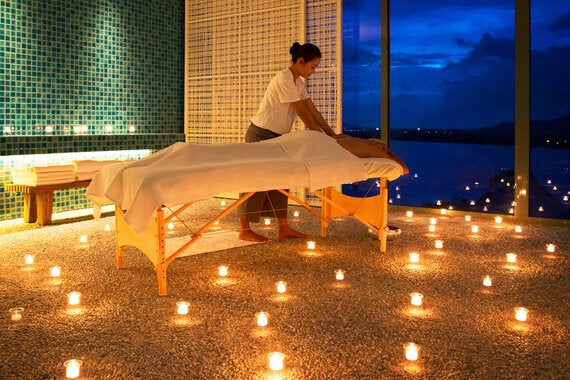 Deep tissue, reflexology massages, detoxifying baths, exfoliating and sun soothing treatments, traditional Thai massage, Thai abdominal chi massage, full body steam compress massage. Facials include; Guinot hydradermie treatments and facials specifically designed for men too. Manicure, pedicure, and waxing is also available.
COMO by Shambhala products
All COMO resorts offer the Shambhala wellness menu and I have to say, this menu is the main attraction. A menu brimming full of living breads, fresh fish, gorgeous salads, juices, raw food and a plethora of gluten free options, making this little celiac very happy.
Dinner was enjoyed at the Paranaken Thai restaurant, 'Nahmyaa'. The offerings are varied and there are some really interesting Thai twists. The highlights were the lamb massaman curry and the wagyu beef rib, which to be honest was a little on the small side for the price. Cocktails were a little hit and miss; they've still got a little way to go to refine them. Avoid the Fighting Duck unless you really, really like the taste of smoke, safer option is the Third Date, a pleasant blend of tamarind, vanilla, Grand Marnier and vodka. The server recommended the durian pancake and ice-cream to us, and it was as you would expect durian to be, she even confessed that when she eats the stinky fruit she gets a migraine, this was a cause for amusement and she gladly swapped our dessert for something a little less pungent.
'La Sirena' is the poolside Italian restaurant and is open for the epic breakfast, lunch and dinner. It offers great views of Phang Nga Bay and the lovely swimming pool in addition to a menu of yummy wood-fired pizzas and seafood, pasta, salads and antipasto dishes. Back to the breakfast... you'll not be disappointed. All juices are fresh, including young coconuts, beetroot, pineapple and much more. The buffet element is small, featuring freshly baked pastries and breads, antipasto, fruit, seeds, nuts, homemade jams and yoghurts and cereals. The al la Carte choices for the breakfast are delicious. I tried the gluten free bread, which was the best I have ever tasted with the buckwheat pancakes with candied papaya, orange and palm syrup, and cashew nut cream. Also on offer is quinoa porridge, egg white omelettes, and real toast, the latter being a raw food offering with an avocado spread, really tasty stuff for those who like their wellness and spa cuisine. For those who enjoy a more calorific breakfast, don't despair, there's a lot to choose from including sausage, eggs and bacon, as well as sweet waffles, coffee and eggs Benedict.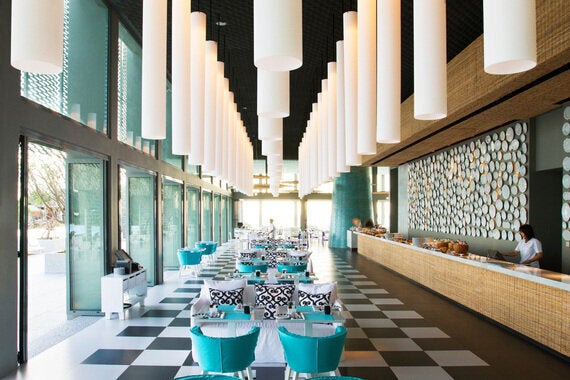 The complimentary trip over to the beach located on a nearby small island, Koh Rang Yai. The experience of being taken over by Thai traditional boat, a long tail with the small son of the driver really added to the whole 'Thai' adventure. The island itself is tiny with a small restaurant and bar with a few radiant peacocks walking around. Sun loungers are not permitted on the island, but the resort has padded out the deckchairs with comfy fluffy towels and the seawater is clear and perfect for a snorkel and swim.
Point Yamu by Como offers rooms, suites and villas from £164 to £384 per night*.
It's wise to check out their website for offers and promotions including a nights stay at the COMO Metropolitan in Bangkok if you're flying in to the Kingdom's capital.
Spa treatments are available from £50* and the Signature Treatment (75 mins) cost £75* and the facial cost £70* per guest.
(*Subject to exchange rate).
Phuket International Airport is served by flights arriving directly from Europe, the Middle East and Asia as well as plenty of domestic connections to Bangkok and other popular Thai destinations. The car journey from the airport to the hotel is about 25 minutes.
There are no direct non-stop flights from the United Kingdom to Phuket. However, up to seven flights per day carry passengers between London and Bangkok, or you can fly direct to Kuala Lumpar or Singapore and then Phuket is a short one-hour flight away.
Expect the flight time to take approximately 18 hours including changes.
Related