There is something about the traditional Thai salutation I find mesmerising. Upon crossing someones path, you smile and greet them with warm eye contact and gently bow your head with your hands pressed together as though in prayer. It acknowledges others respectfully and nudges you to abandon the million-and-one other thoughts coursing through your synapses. In many ways it's exactly like Chiva Som.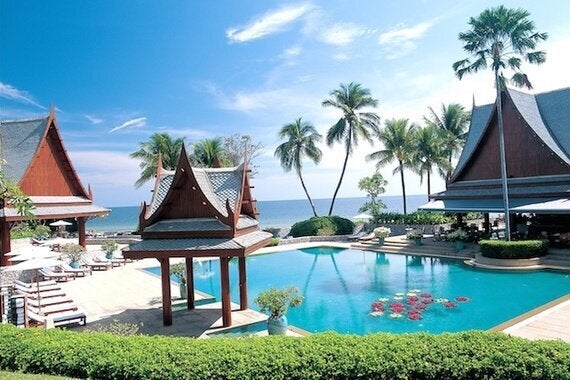 Situated on a long beach in Hua Hin district, this holiday resort-come-health spa makes you acknowledge your surroundings, live in the present, slow down and smell the lotus flowers. Be prepared to abandon your mobile, disown your laptop and shun your camera. Even tablets and kindles are kindly forbidden in communal areas, so I had been warned. At first, panic set in. What? No images to upload to Instagram? No timeline of my daily events to be posted on Facebook? No bikini selfies or in-depth description of the (seriously delicious.. we'll get to that) food to be tweeted? I felt my thumbs clambering for something to do. But within no time at all I was eternally grateful to the powers that be at Chiva Som for enforcing this gadget free space. upon me. It had been a long time since I hadn't concerned myself with emails, tweets, timelines or whether to use X-Pro II, Amaro or Low Fi on my instagram posts.
This gem of a hotel would have to be experienced in the NOW. With my very own eyes, not the eye of the lens. A taste of freedom from a selfie obsessed digital parallel universe we all seem to be engrossed in. Chiva Som is an escape in every sense of the word.
We stayed in one of the Thai Pavillions, where traditional Thai style buildings are set in beautifully manicured gardens that boasts ponds, waterfalls and an outdoor Sala sitting area. One of the options given to you before check in, is a Butler Service. This involves someone unpacking the contents of your (almost guaranteed ) overpacked suitcase, and hanging your floaty dresses and stowing your one too many espadrilles away, to allow you the time to nibble on the alternating fruit of the day or the ultra healthy snacks which adorn the mini bar, or to wash your hair with the shampoo which (pre-arrival) you have specifically chosen for your hair type, or even to peruse the pillow menu! Yes, an actual menu where you can choose which you prefer. Don't stress, if you're not sure you can just choose them all! No matter which one you decide on one thing is for sure, you are destined for a deep slumber and very sweet dreams here, especially after a day at the spa.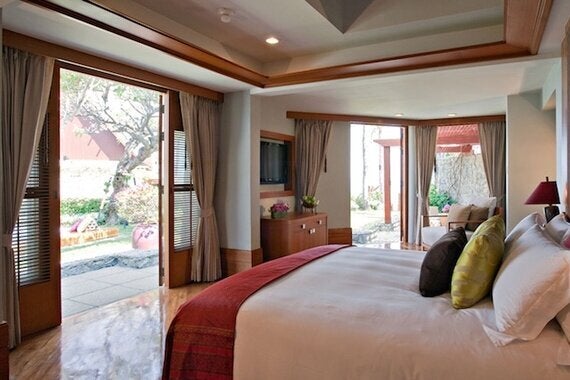 What do you get when you cross a 5 star spa and a 5 star hospital? You get Chiva Som's incredible spa facilities. In fact, Chiva Som IS a registered hospital, but cleverly disguised beneath a beautiful painted veil. Upon arrival, an invitation was extended to meet with a member of the spa team, ensuring I would be "getting the most" from my time at the resort. After relaxing on one of the heated waterbeds and sipping Chiva Som's signature drink of lemongrass tea, it was time to meet my consultant. The consultation seemed quite clinical, but it made sense once I discovered that here, they focus on your greater well-being, with programmes and treatments for everyone from weight management, detoxification, optimal fitness and stress reduction to skin rejuvenation and longevity. The packages are many, i wanted them all, so help in choosing which one is right for you, is appreciated A lengthy questionnaire revealed my short and long term needs, for me it was a 5 day "Inner Peace" program. With over 150 treatments and specialist practitioners that include doctors, nurses, US-trained dermatologists, plastic surgeons, naturopaths and therapists, its easy to get overwhelmed, but not for long. The softly spoken staff mesmerise you into a warm cocoon of serenity. No matter which program you choose.. there are 3 complimentary treatments. Generous! Try the Stress therapy release, the flotation tank, Signature massage (during which my therapist Pim rectified 41 years worth of aches and pains).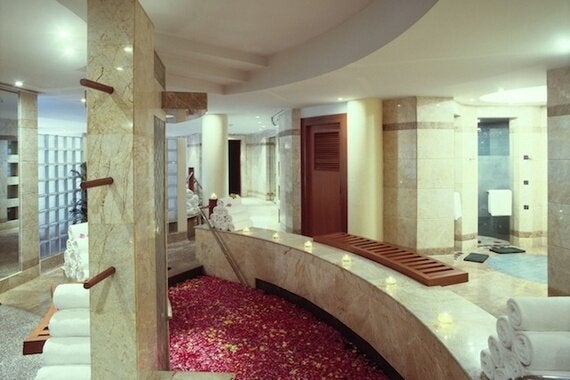 The food here is yet another reminder that your health and well-being are in good hands. Every dish is made with health in mind, and comes with a little notification about its calorific content as well as the protein, fat and carbohydrates contained in each spoonful allowing you to take as little or as much as you want. For those guests who chose a juice diet, I felt genuine empathy for, as the each dish was better than the last. The two restaurants: one Western and one Thai with menus are refreshed daily. For breakfast, try the quinoa and sweetcorn porridge made with pumpkin seed milk 83kcal. The Chiva Som Egg benedict 90 kcal. A highly commended also goes out to the sweet potato bread, which, once again debunked the myth that healthy food is bland. Lunch choices could be anything from pan fried Pomfret with bok choy and caper sauce a mere 105.9 kcal, to indian beef with almond sauce weighing in at a mere 50kcal per spoon. Dinner at Siam Thai is highly recommended for a taste of Thailand, try the steamed crab meat and prawn mousse in shell, at 84.1kcal or the yummy Tung Tohong steamed thai prawn dumplings at 139 kcal. With food as healthy and delicious as this, there has to be room to try the cacao/banana protein ice cream at a mere 110kcal! In fact, for those already converted to healthy eating, the food here at Chiva Som could be your Shangri La.
The Fitness team here at Chiva are amongst the most enthusiastic, experienced personal trainers I have come across, and I know quite a few! Given that exercise is one of the most effective ways to alleviate tension, theres no flopping about here. The gym is state of the art, featuring over 30 different training regimes, like a Hypoxic room (where the oxygen is lowered to ensure your heart works harder, GRAVITY 500 - a type of high intensity tabata style training, and EMS( electro-muscular stimulation) where you wear a body suit that is connected to electric current, and as you train your muscles are worked harder via the current. Be prepared to jump out of your skin, be walking like John Wayne for days and book in for endless more massages.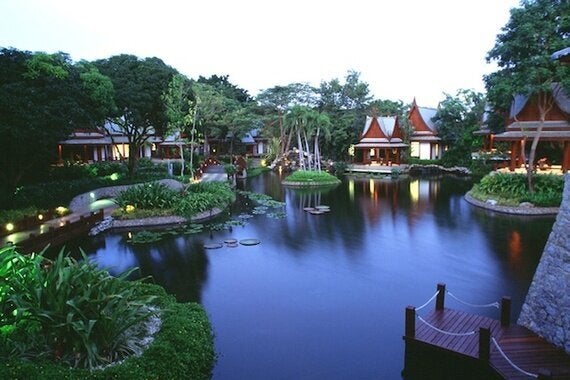 Part holiday destination, part spa and part hospital. My prescription? Large doses of mediation, seclusion, fitness, pampering, nutrition, endless amount of time on the massage table. Now if only they would offer a repeat prescription!