With its breathtaking volcanic landscapes and perennial warm climes, Lanzarote is a popular destination for year-round sun seekers. Just 30 minutes from Arrefice airport, Princesa Yaiza is a bustling family friendly resort. Over 400 rooms surround the hotel's hub of pools, restaurants and lounges. Kids take precedence here making it a popular choice for families, young and old. Kids' club Kikoland, spanning over 10,000 square metres, is a child's paradise and parent's dream - offering a hive of activities for children aged 1 - 16, from dawn til dusk. For parents in need of some 'me time' the resort, luckily, boasts a fabulous spa...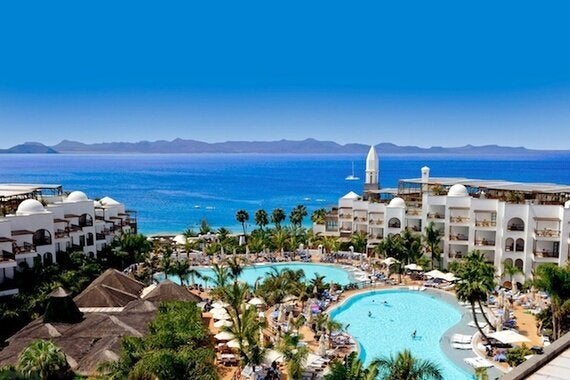 An 'all suite' resort, all room types are remarkably spacious. The larger 'apartment style' family suites all offer pool and sea views. There's a good size lounge with sofa beds, dining area with a handy kitchenette and separate bedroom. Bathrooms are huge - with walk in showers, tubs and a generous range of Rituals products. Decor is traditional and styled in neutral tones with a splash of colour.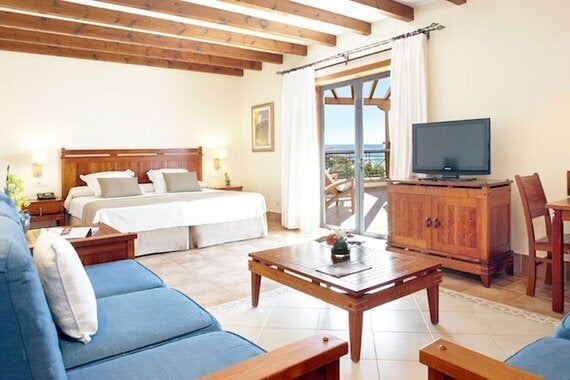 Situated away from the busy hub, overlooking pretty bourgainvillea clad gardens, The Thalasso Spa is a tranquil haven. An impressive romanesque thalassotherapy pool is the hub of the spa, boasting multi hydro massage jets that work with the therapeutic properties of the seawater. The vast spa houses over 50 rooms, some with individual hydro-baths and steam pods. Facilities include 2 traditional Hammams with hypnotic water features, his and her saunas, a relaxation area and a spa cafe serving herbal teas and fruit infused water. The wide range of treatment offerings are from luxury skin care brands Carita, Thalion and Aromatherapy Associates.
A number of wellness packages are on offer throughout the year at The Thalasso Spa including The Magnesium Cure. Magnesium deficiency is an increasingly common problem and can lead to anxiety, sleep problems and arthritis. The cure is designed to increase levels through a series of treatments, including:
Magnesium Massage: A relaxing aromatherapy massage with using warm oil infused with magnesium and essential oils.
Magnesium Balneotherapy: An individual massaging jet bath, magnesium is poured in the water while the jets work away at releasing tension across your body.
Vichy Shower Massage: The invigorating massage is performed using a combination of essential oils and magnesium whilst sea water is continuously poured over the body.
Sea Salt and Magnesium Scrub: One of my favourite treatments using natural sea salt combined with essential oils and magnesium to exfoliate and rejuvenate the skin.
Algae and Magnesium Body Wrap: A warm algae and magnesium lotion is applied, then the body is wrapped in cellophane. Heat is applied to allow the properties of the algae and magnesium to sink deep in to the pores of the skin. This treatment can be performed in an individual steam pod, or, for the claustrophobic amongst us, a heated treatment bed.
On the second day of my four day programme I stated to noticed a definite reduction in my stress levels and I slept better than I have done in a while. By the end of my stay I was nodding off naturally at 10pm and up at 6.30am raring to go! At the end of the programme the spa designs a follow up plan for you to continue at home - my therapist Vanessa suggested that I continued to use the magnesium infused algae scrub and body lotion and take daily magnesium supplements. I was also given information on foods rich in magnesium - green leafy vegetables, beans, nuts and grains, and advised to introduce more of these these in to my diet.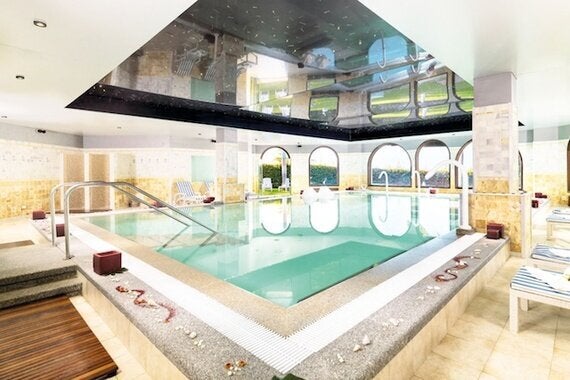 Other treatments include:
New Lift by Thalion, An intensive anti-ageing treatment designed to reduce wrinkles and lift the skin by using customized restructuring massage techniques in combination with marine based products.
Sleep Deeply by Aromatherapy Associates: The ritual includes a full body massage using vetiver, chamomile and sandalwood oils, known for their relaxing properties.
A whole range of activities are on offer for young and old including tennis, football, basketball and beach volleyball.
3 buffet restaurants, including a great Italian where pasta and fish are cooked to order. The resort also has 3 à la carte restaurants surrounding a pretty courtyard including a Japanese Tepenanki, Tapas Bar and the award winning avant garde gourmet restaurant, Isla De Lobos.
The Magnesium Cure programmes start at 310€ for 2 days or a 5 day programme 650€