Already being described by deliriously happy customers as one of the best resorts in the world - despite only opening last summer - the second you arrive at the Mandarin Oriental Bodrum you know you're in nirvana. Just stepping across the threshold tells you every 'i' has been dotted and 't' crossed - this place has one of the most sensational entrances, with acres of glass looking straight out over incredible sea views to die for, subtly accessorized with the most luxurious furniture and art. It sets the scene for an experience that is globally second to none.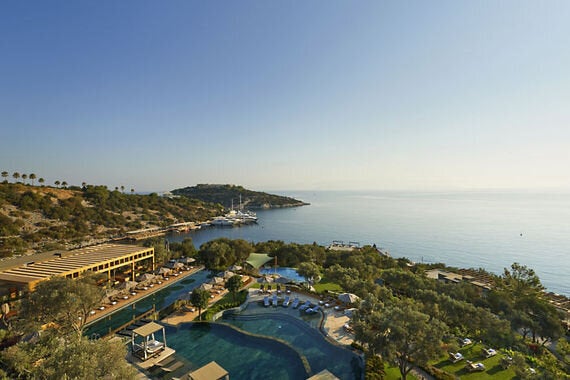 Mandarin Oriental Bodrum - image © Mandarin Oriental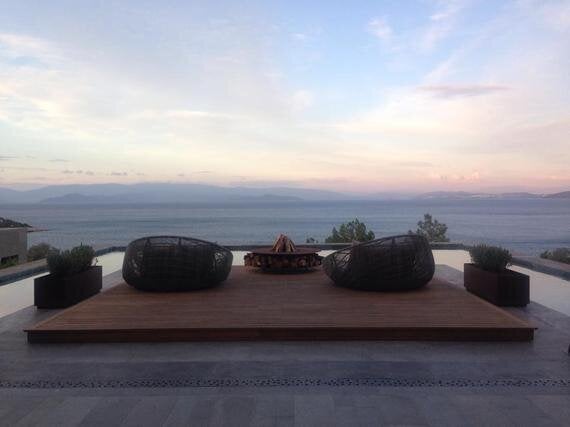 Outside reception at the Mandarin Oriental Bodrum - image ©
Dramatically realised on the cliffs and shores whilst dipping dainty toes into the Aegean Sea, the new Mandarin Oriental is part of a concerted push to get the astonishingly beautiful coast of the Bodrum Peninsula in Turkey rebranded as an alternative to the French Riviera - only cheaper and more exotic.
Interiors are a hymn to red wood and local stone with Turkish touches to create tastefully understated luxury majoring on stylish comfort. The expansive property is also cleverly planned architecturally so that none of the rooms, suites or villas overlook each other and all are surrounded by impeccable lush planting and landscaping with seaviews over sapphire waters.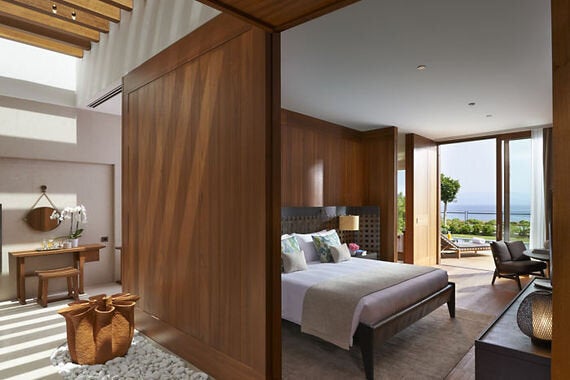 A seaview room at the Mandarin Oriental Bodrum - image © Mandarin Oriental
Many rooms benefit from their own private pools and gardens, but all have standard Bang & Olufsen TVs, free wifi and Aqua Di Parma toiletries in every room - and a mini bar trendily stocked with the likes of Jack Daniels.
All rooms enjoy the trademark Mandarin Oriental cubbyhole by the door, where you can secrete your laundry to be washed or shoes to be shone, press a bell, close the door, and staff will collect without you even having to look them in the eye.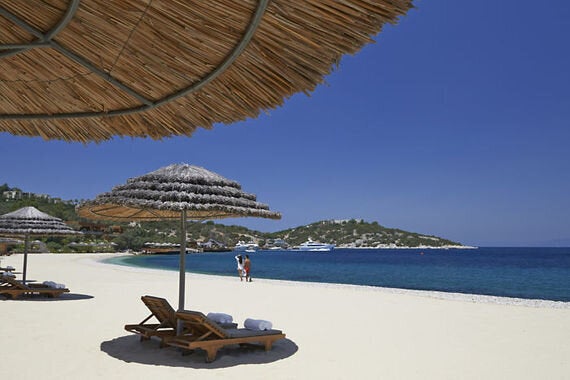 On the beach at the Mandarin Oriental Bodrum - image © Mandarin Oriental
They feature the kind of breathtaking design that means even the most basic room has a retractable bathroom roof so you can bathe under the stars (or sun), and you're right next to the posh clubs of Turkbuku (billed the St Tropez of Turkey) or 20 mins in a cab from chi chi yachtie haunt Yakilavak or similarly sailboat bonkers Bodrum. And that's before you even get down to the hotel's pristine private beaches and the myriad sunbeds, cabanas and secret relaxation spaces carved into the cliff to laze around on and take in the stunning views.
The labyrinthine Spa at Mandarin Oriental Bodrum is spread out over three floors and a whopping 2,700 sq m, featuring a vast state-of-the-art gym complete with massive swimming pool, where resident pilates instructors will put you through your paces on the very latest reformer machines. Or you can plump for a session with a personal trainer, or downward dog with the resident yoga instructor.
There are also steam and sauna rooms, a cold plunge pool, ice baths, as well as showers and changing rooms and rumour has it, a VIP area. It's simply divine.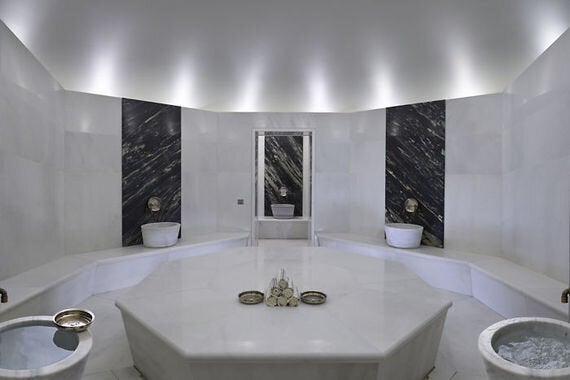 The hamam in the spa - image © Mandarin Oriental
The many-pronged Mediterranean Journey (should that be Aegean Journey?) is out of this world.
It starts in true Mandarin Oriental style, by combining the traditional delights of the Turkish hamam with the very latest techniques and products.
You lie on a heated marble slab under the hamam's gleaming dome, and relax before your therapist starts your epic treatment.
Using Aromatherapy Associates products, it starts with an olive oil scrub which excises the minutest dead skin cells from your body, whilst stimulating blood circulation and hopefully getting rid of pesky cellulite.
Your body is then covered in a local pine-flower honey mask clay to draw out impurities in the skin. While the mask does its job, you have a heavenly head massage with cold-pressed almond oil to eke out those pesky tight facial and scalp muscles that can cause headaches and wrinkles.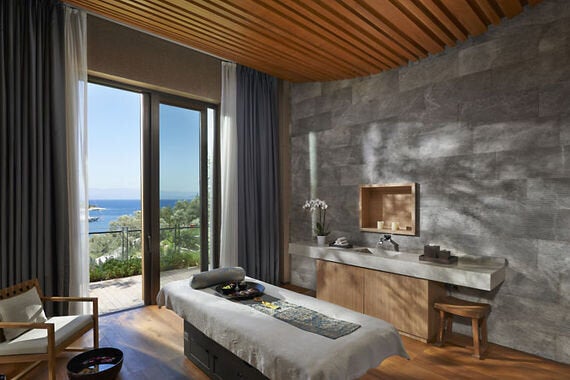 A treatment room at the Mandarin Oriental Bodrum - image © Mandarin Oriental
After the clay has soaked in for the required length of time, it's then time for the ludicrously fantastic soap ritual, where your therapist does wonders with what seems like a pillowcase filled with soap, which she whips against the marble slab and magics up the biggest amount of fragrant essential-oil filled froth, which is then liberally slathered over your supine body before a rather unexpected hair wash and a breathstopping shower of cold water.
You then move to a luxurious treatment room where there's then another massage incorporating light stretching exercises in a bit of a Thai way (but much more gentle). It's a top to toe journey of bliss.
You're sent on your way with a personalised gift set, which in my case, was a phial of Aromatherapy Associates Revive Morning bath and shower oil. Although it says to rub the entire contents over your body before showering or add the entire contents to your bath, I eked mine out so I had three mornings of showering bliss.
You're then left to relax after your journey with fresh fruit and a delicious tea while you slowly come back to the real world. The real world is overrated.
There are 10 places to eat in this wonderful hotel, and that's before you start on the marvellous bars. We had a suitably light lunch at Assaggio overlooking the aptly named Paradise Bay. It was alfresco Italian food that looked as beautiful as it was delicious.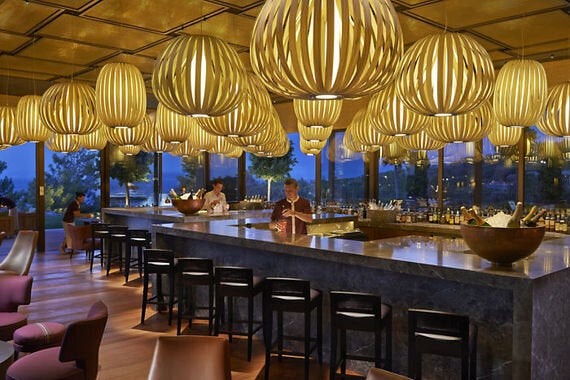 The Mandarin Bar - image © Mandarin Oriental
Rates at Mandarin Oriental, Bodrum start from £395 per night on a B&B basis.