LA based actress Marsha Thomason, known for her roles in Lost and White Collar, checks out some of Hollywoods' hottest retreats...
Steeped in history, the Sunset Marquis has been a renowned Rock n' Roller's destination since its doors opened off the Sunset Strip in 1961.
A stone's throw from many of Hollywood's top music venues - it's been a home from home for many a rock royalty - Elton John, Bruce Springsteen, Aerosmith, Foo Fighters, Kings of Leon and Green Day to name just a few.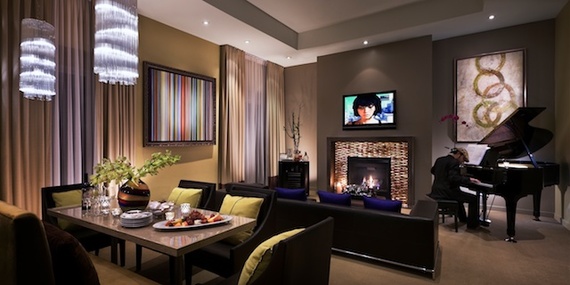 Over the last 50 years the Sunset Marquis has evolved into a full service hotel with 154 contemporary suites and villas, a modern spa, trendy bar and restaurant and well known 'rock inspired' art gallery.
Whether it's artists by the pool, actors lunching or a film crew at work, one gets a real 'feel of Hollywood' whilst wandering its grounds.
The Room
A choice of Suites in the main building overlooking the pool or Garden Villas. Suites come in a choice of Junior, One Bedroom and Two Bedroom. Villas in Junior, One Bedroom, Two Bedroom, Hospitality and Presidential. Contemporary with a homely feel, some have private balconies and terraces.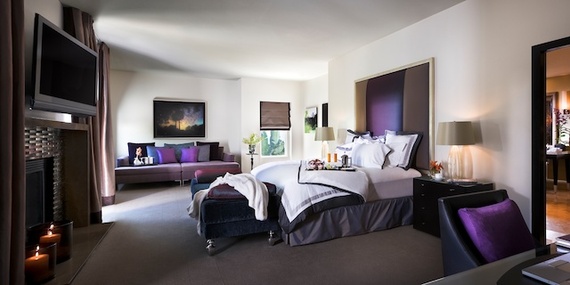 The Spa
Through the reception and past the Cavatina restaurant's gorgeous outdoor patio is SPA, an 1800 square foot sanctuary with two mani/pedi stations and four private treatment rooms. SPA guests also have the option of having a treatment in one of the poolside cabanas. Non residents are welcome at SPA too.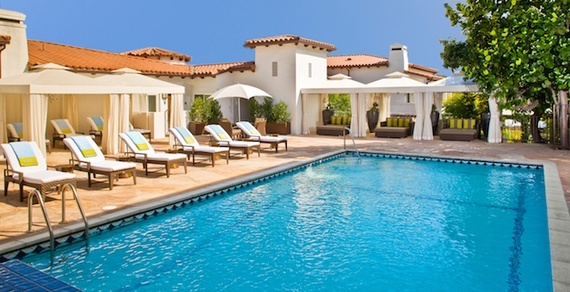 The Treatment
I had the 75 minute LA NATURA body scrub and loved every minute of it. The therapist was just the right amount of friendly. I felt comfortable, relaxed and able to drift away as I was treated.
Before the treatment began I was offered a shot glass of a vitamin relaxation elixir - delicious! I was then given the option of either the LA NATURA cocoa vanilla scrub or pomegranate scrub and went with the latter. The scrub was followed by a massage tailored to my specific needs.
A warm camomile and clove eye mask was applied throughout and was a real delight to the senses. The piped music was the perfect volume, further adding to the relaxing ambience.
Notable mention: The Shower, which was bigger than your average New York apartment. Pure luxury, I could've stayed in there for days.
Other Treatments Include
Guinot Hydrodermie and Liftosome Facials.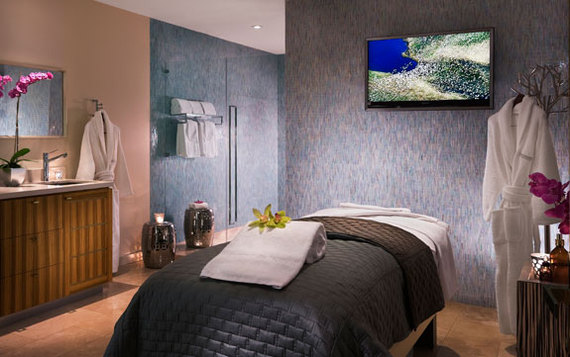 To Eat
Cavatina Restaurant's lunch menu is described as "totally Californian" and uses fresh local ingredients for simple, bold tastes - indoor and outdoor dining available. Or
SPA cuisine, for a selection of smoothies, entrees and desserts.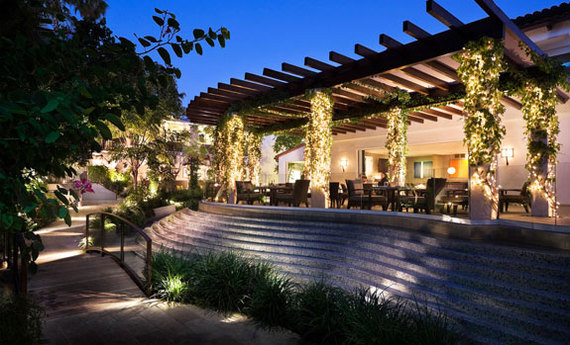 Don't Miss
The Morrison Hotel Gallery. Just off the hotel lobby and opposite Bar 1200, the gallery houses a world class collection of fine art music photography.