If you don't need a bit of a detox after a trip to Las Vegas then you aren't doing it right. But why not indulge in some TLC while you are still there? Aria is one of the newest five star hotels to land in the Nevada town and it is a tower of glamour, offering a huge menu of treatments in a vast luxury spa far, far away from the casino halls and neon lights.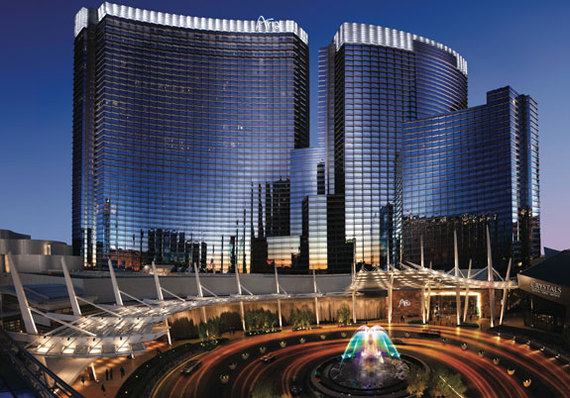 The Room
Aria boasts over 4,000 rooms and suites as well as a collection of over 20 restaurants, bars and nightclubs, and some serious designer shopping, but I defy you not to be impressed with the automated curtain systems. Arriving at our corner suite on the 18th floor the blinds pulled back as we entered, displaying wrap-around windows with a phenomenal view of the town's world-famous Strip. This was high-end, hi-tech living... everything I hoped for in Vegas. Other things that I now need in my life thanks to Aria include heated toilet seats, a pile of towels six-deep for every shower I take, a top shelf mini bar and a control panel for lights, music, movies, and - of course - curtains. The suites feature a separate lounge and kitchen, two bathrooms with his'n'hers sinks and showers. Decor is expensive and subtle - there's no point in trying to compete with what's happening outside - and the products (Aria's own, made with citrus and green tea) were better than anything I had packed.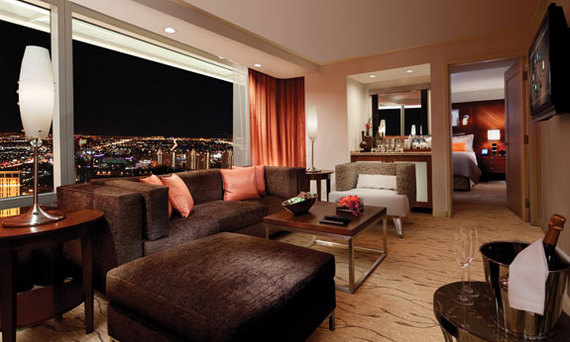 The Spa
Located next to the hotel's pretty pools the spa houses over 60 treatment rooms. Yes it is huge, but what it lacks in intimacy it makes up for in facilities (get there well in advance of your treatment, the walk-around takes over five minutes!). Communal areas include a Shio salt room complete with heated massage beds and sound therapy headphones, Japanese stone beds, a fireside lounge and an exclusive outdoor pool with loungers for post-pampering sunbaking. The changing rooms feature single sex pools, sauna and steam rooms. Clothing here is optional, which was a surprise for me as I opened the steam room door but great if you like that kind of thing.
The co-ed areas get busy at the weekends so go early.
It opens from 5.30am (great for jet-lagged Brits or East Coasters) and closes at 8pm and guests booking a treatment have access to all facilities (including a mammoth gym) all day.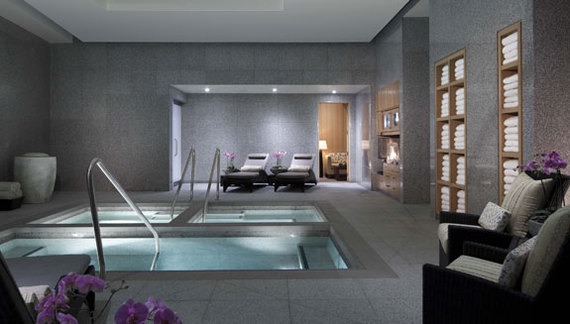 The Treatment
The Detoxifying Body Ritual (£106 / $175) is one of the spa's signature treatments, and it does what it says on the tin. The 'ritual' begins with a stimulating lemongrass exfoliation on a heated bed before a detox mask featuring shea butter, wasabi, sake, seaweed and red pepper is applied and you are left to bake underneath a heated wrap. A mini facial and massage while the mask did its work was an unexpected touch. Apparently the more toxins you have, the more you sweat so I was very happy when the time came to shower off all that warm wasabi, before I started smelling like lunch. The treatment is finished with a liberal application of mousturiser made from more shea butter and kaffir limes.
I left feeling soft, shiny and new and definitely had more energy on the following days, despite the Vegas hangovers.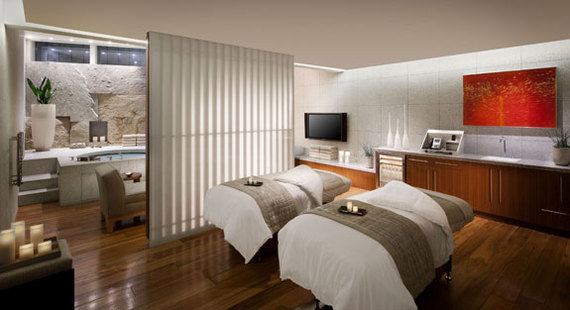 To Eat
Aria has 15 (!) restaurants to choose from, just minutes from the spa reception. If you feel like maintaining that spa smugness though the Aria Cafe offers a list of healthy options under 700 calories. If you feel like indulging after a hearty gym session then Shawn McClain's restaurant Sage offers a fabulous 'Dessert and Absinthe' menu, while his more casual pizza place Five50 serves the best slices on the strip (I'd recommend washing down with a 'flight' of beer, and getting there early for the 5.50 happy hour).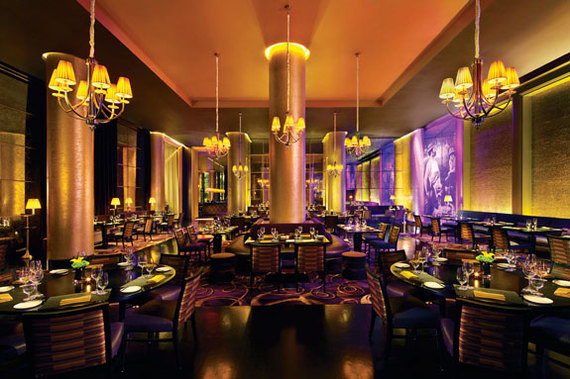 Don't Miss
The tequila tree at Aria's Spanish restaurant Javier's - and then hop next door to the Cosmpolitan Hotel to listen to some live jazz at the wonderfully girlie Chandelier Bar and gawp at the beautiful dancers showing off their ballet skills at roulette table barres. The next morning fix your head with a cold-pressed Hangover Remedy at The Palazzo's dedicated juice bar or - if a more serious rescue remedy is needed - an IV infusion from the Reviv spa claims to knock seven hours off hangover recovery time.
The Deal
Rooms at the Aria start at $149 [£90], suites are priced $425 [£255] to $7,500 [£4,500].
Signature Detoxifying Ritual from $150 [£90]
Words: Toni Jones