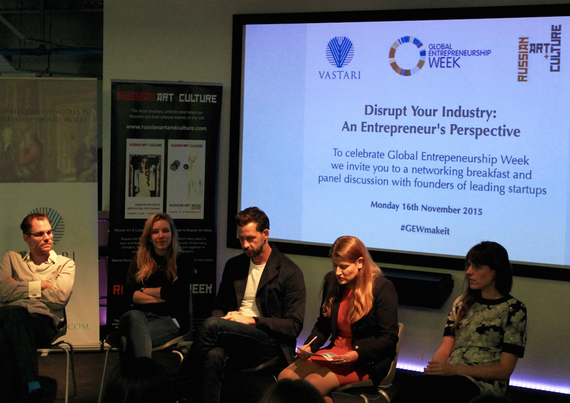 'Disrupt your Industry' with Chad Cribbins, Bernadine Bröcker, Dan Hubert, Theodora Clarke (Chair) and Anna Bance. Photograph © Russian Art and Culture Ltd
In the last fifteen years the world has been irreversibly changed by technology. People do jobs today that did not even exist when they were at school. You can now be a social media manager, a specialist on search engine optimisation or a sales executive for online advertising. It is hard to conceive how much life has changed since companies like Google, Twitter, Facebook and Amazon were created. Every entrepreneur's dream is to be the next 'unicorn', a startup whose valuation has exceeded $1billion, as they have been dubbed by venture capitalists.
Global Entrepreneurship Week (GEW) opened at Rise Manchester with Minister of State for Small Business, Industry and Enterprise, Anna Soubry MP, discussing how the Government can help small businesses to grow. Since Tech City UK was launched in Shoreditch in 2010, by the Prime Minister, the British Government has focused on ways to support digital technology businesses and to foster a climate that will create the next generation of entrepreneurs across the country.
GEW promotes these successes and innovative entrepreneurship. The event is the world's largest celebration of startups that have brought groundbreaking ideas to life. The week kicked off in London on 16 November 2015 with Disrupt Your Industry: An Entrepreneur's Perspective, a networking breakfast and panel discussion with CEOs of leading startups in the UK. I was delighted to organise this event with my company Russian Art and Company Ltd, in partnership with Vastari Ltd, and hosted by Central Working Whitechapel.
Our event welcomed established and new entrepreneurs to share their top tips but also the challenges they faced when setting up new businesses. The morning saw a lively discussion where the speakers shared personal insights on everything from on turning your idea into a minimum viable product, building a team, pitching your idea to VCs and alternative ways to find funding to accelerate growth.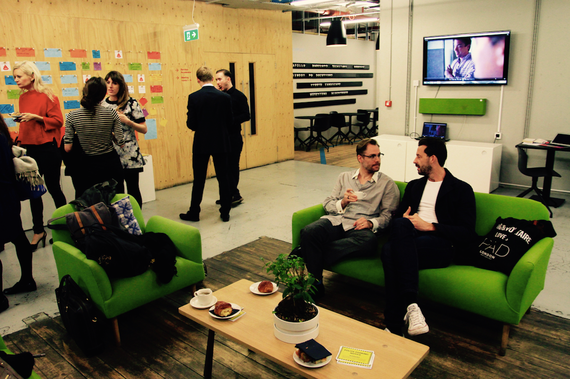 Photograph © Russian Art and Culture Ltd
Our panel comprised of representatives from different areas of business, including Anna Bance, co-founder of Girl Meets Dress, the leading multi-award winning online luxury rental service, Bernadine Bröcker, director of Vastari, a global online network for ‪exhibition loans and museum exhibition tours, publishing and events management company for Russian culture, Chad Cribbins, CEO of Firef.ly, a mobile app that distils the best of trip planning, travel guides, journaling and personalised mementos, and Dan Hubert, founder of AppyParking, the UK's youngest and most disruptive parking company.‬‬
What I found fascinating was not only their positive stories and the inspirations behind their businesses, but also the struggles and mistakes along the way that invariably any founders of innovative companies will encounter. Despite the fact that all of us on the panel work in very different industries with different goals, from fashion to transport, the discussion revealed the similarities that many entrepreneurs face in building a new business. I made the point in my presentation about the importance of self-belief in your idea. It is essential that we, as startups founders, believe in our own ideas as otherwise it is almost impossible to sell our product or services to future clients and investors. This was a theme picked up by the other speakers, who confirmed the importance of confidence in your idea before investing so much energy, time and money in any new business.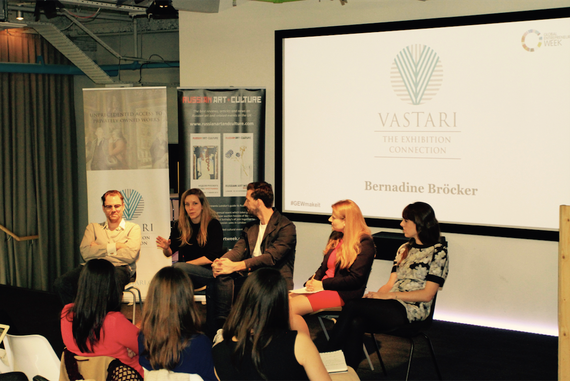 Photograph © Russian Art and Culture Ltd
After our discussion the audience was able to ask questions from the speakers. We had a number of enquiries related to funding, whether to apply to competitions or accelerator programmes, and how to find suitable support in the form of mentors. We all agreed that trust is most crucial for the latter. One of our speakers Dan noted that mentors and investors may change as you progress and grow as a company, but that they should always be somebody you respected and trusted. Chad and Anna also pointed out the importance of being open about your ideas, spreading the word and talking to different people to validate your concept and to understand the customer's point of view. All of the entrepreneurs confirmed the influential role of social media and networking events as a way to build the profile of their respective brands.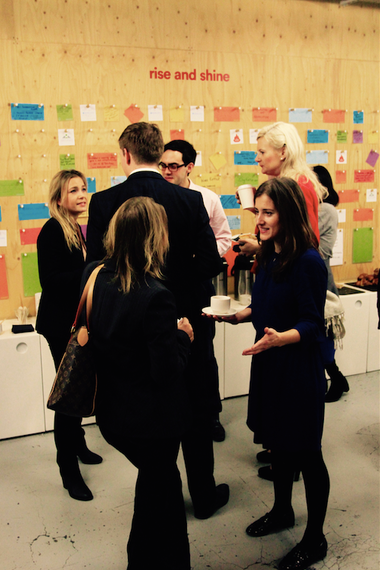 "How do you decide when to reward yourself?" was one of the last questions from the audience. Dan and Chad agreed that even a minimum salary should be set up from the beginning but also shared the financial challenges when starting out. We discovered that most of us had started out without an office, instead working from home with a significant pay cut, in order to get our projects off the ground. They also noted that when signing contracts or shareholder agreements with any co-founders you should always plan for a future exit of the business, when it might be worth a much larger sum, in order to prevent any issues later on. Bernardine added that non-remunerative rewards, such as having a digital detox or "not checking emails for a week", were also important to keep the balance between work and home life, which can be difficult to do when running a 24 hours digital business which can receive orders in multiple time zones.
After the Q&A session, the discussion continued afterwards in an informal environment at Central Working Whitechapel. Christopher Newman, one of the attendees, said after the event: "It was a fascinating blend of startup insights from five brilliant and well grounded entrepreneurs. The panel served us with the perfect punchy cocktail of inspiration, realism, wisdom and humour to launch London's Global Entrepreneurship Week. My top tip takeaways: 1. Before you start, be sure about why you want to do it. 2. Build the right team. 3. Never stop asking for advice. 4. Hustle and adapt, every small step of the way. 5. Most important, have fun with it!".
Disrupt Your Industry: An Entrepreneur's Perspective, was an official event in Global Entrepreneurship Week, November 16-22nd 2015.