Michelin Star restaurants are a luxury. Heston Blumenthal's costs up to £255 for a meal, Gordon Ramsay's £110, and Alain Ducasse's £140.
Some people will never afford to eat there.
But can you cook Michelin Star food at home, for less?
Armed with basic kitchen tools, Instagram photos of inside the restaurants, and basic supermarket ingredients, I took to the challenge to re-create three Michelin Star meals.
I used Instagram to see inside the restaurants. People take photos of the food and tag them to the location.
You discover that all Michelin Star Chefs use the element of surprise.
Surprise in how it looks, or surprise with a flavour you weren't expecting.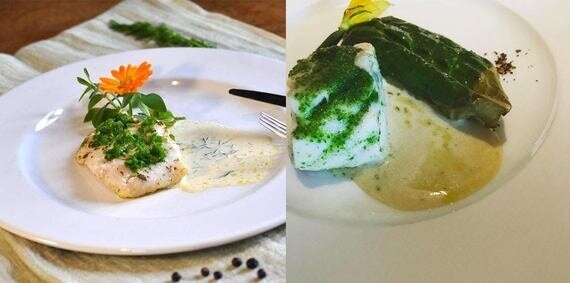 Photo: Tom's "Michelin Star Fakeaway" vs. Instagram photo of same dish at The Dorchester, credit: chefmarshall
This fish dish is inspired by Alain Ducasse. While his restaurant uses line-caught sea bass, a cheaper alternative is hake (two fillets cost £3.50 at Sainsbury's). Hake has a lovely firm texture.
Surprise is found in the use of juniper berries. The aroma reminds you of a gin and tonic, refreshing and light.
Simply pound a few juniper berries with a pestle and mortar to break them open and add to a shallow pan. Blend a chunk of cucumber and add as well as a few sprigs of dill.
Cook the hake on top with a very low heat for about 20 - 25 minutes.
For the dressing, heat some single cream in a small saucepan until it simmers, then whisk briefly. A dash of olive oil, grate some cucumber and simmer for a few minutes. Sieve it onto the plate when serving.
2. Braised, Confit and Roasted Lamb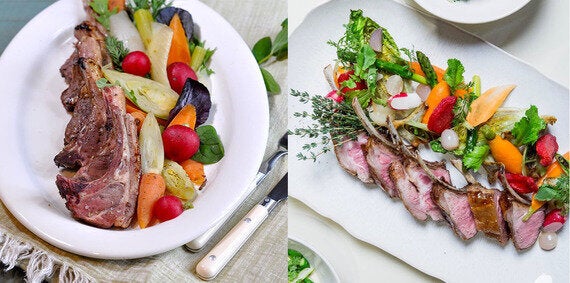 Photo: Tom's "Michelin Star Fakeaway" vs. Instagram photo, credit: Alain Ducasse
Alain Ducasse uses the technique of long, slow cooking ("braised" and "confit"). There's a bit of science behind it which, just by understanding a little of it, helps turn your cooking from average to great.
When cooking meat, connective tissues contain collagen. This is what makes it tough. But at about 60°C collagen breaks down. The meat fibres squeeze and the juices come out. It's why bacon shrinks when you fry it.
At a slightly higher temperature collagen liquifies and becomes gelatine. When you cook chicken, it's that golden "goop" that collects at the bottom of the roasting tray.
If you want your meat to have a soft silky texture and keep its great flavour, you need to break the tough collagen but not so much that all the liquids evaporate and dry the meat. Slow cooking is the perfect way to do this.
For this receipe, Iceland sells a pack of lamb chops for £3.50 which you can slow cook with mixed vegetables and crispy radishes.
Salt the lamb chops with a mixture of ground sea salt and rosemary. Heat 3 tablespoons of olive oil in a roasting tray lined with kitchen foil. Place the lamb in the tray and cook on a low heat, turning occasionally for 90 minutes - 120 minutes. When cooked, the lamb should be very tender and easily removed from the bone.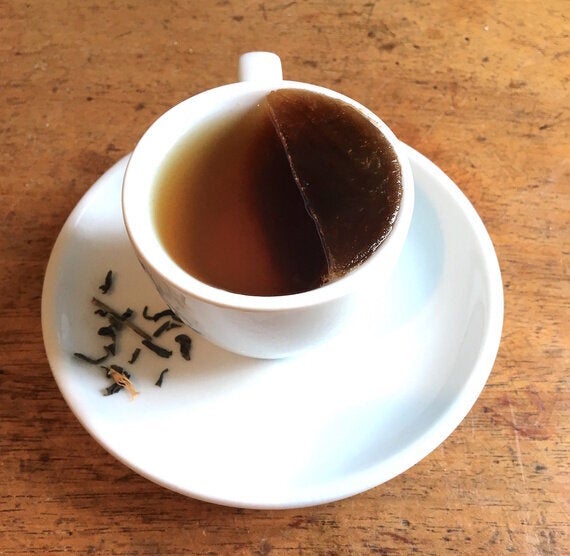 Photo: Tom makes half tea, half coffee, vertically separated.
This is half tea, half coffee, vertically separated. Inspired by the cooking wizardry of Heston Blumenthal, when you drink it you get tea on side of your mouth and coffee on the other. Again, it's that idea of surprise.
You mix boiling hot coffee with a little bit of a setting agent - a vegetarian alternative to gelatine such as agar agar (I used Dr Oetker's Vege-Gel from Sainsbury's, £1.49). Fill a cup half way and then wrap cling film tight over the top with an elastic band to fasten.
Then tilt the cup on its side and let the coffee set. You want to use just a little bit of setting agent, so that it turns almost jelly like but not quite.
Once the coffee is set and able to stand vertically in the cup without collapsing, fill the other half with hot tea (I used jasmine) and serve immediately. You'll need to be quick as it both sets and de-sets fast.
The hot tea will turn the coffee back into liquid, but for a moment the two will be vertically separated and yet both in a liquid-like state. This is a fantastic way to entertain guests and give that wow factor.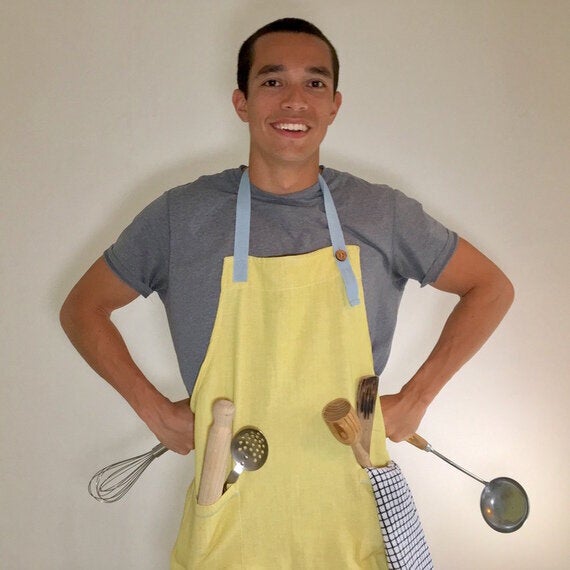 Michelin Star meals don't need to come with the hefty price tag. Use the ideas of surprise and slow cooking to upgrade your meals at home, while still enjoying low prices at supermarkets.