Having just completed the epic that was Masterpiece London 2013 which consisted of 8 days of control and order, coupled with excellence and elegance, there has to be a ying to the yang, the balance should be restored. And mine was the Latitude festival in Suffolk. Three days of music and much, much more. In fact you could go and simply skip the music completely and indulge in poetry, literature, comedy, film and theatre. They all have their own pavilions. And there are daily charming and sometimes even troubling pop up events (for example a scantily clad girl hula hooping with a knot of blonde hair on the top of her head, or discount tattoo parlours) All are drawn together in the sprawling, rolling grounds of Henham park by a myriad of small kiosks offering up a panoply of delights, from Ostrich and crocodile burgers to juggling lessons through vintage clothing and back to espresso and your basic plain vanilla fish'n'chips.
As behoves tradition we all gather on Thursday night. My friends and greater family have fashioned a corral out of tents and we link in obediently. Despite being amongst so-called 'like-minded people' we endeavour to carve out as much privacy as we can. Our friend Justin is particularly defence minded and he has two traditional ploys. One; he puts up a barrier of spurious police tape around our self-styled plot and two; he leaves objects and bits and pieces strategically around gaps between tents to put off walk through passers-by. I need to stress that none of this ever works and people walk through all the time and often engage in fun, charming and enlightening conversation.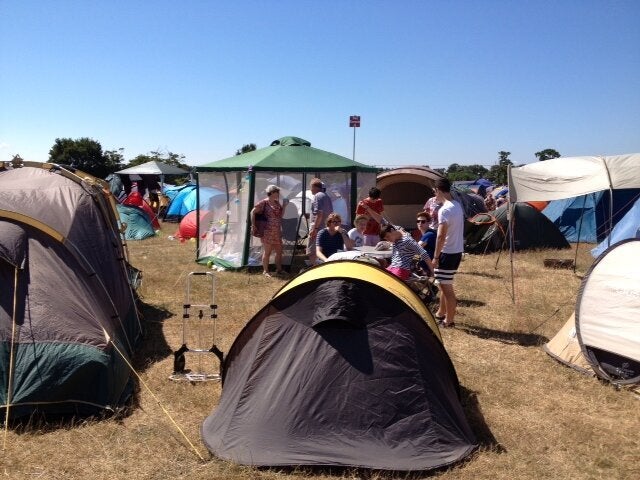 This is our only full team supper on this night as there is barely anything on in the arena and our crew arrive in dribs and drabs. From here on it is only breakfast that we have as a group. By 9 pm we have all arrived and our evening begins with Kir Royale, olives and that underrated snack from heaven the Twiglet. Barbecued marinated pork loin, potato salad garnished with fresh coriander, tomato salad and finally cheese and fruit. Coffee, of course, from freshly ground beans from the Algerian coffee house in Soho, courtesy of our pal Conrad. Justin has brought some exceptional rum from Cuba and we do our best to dent the bottle's contents. I am pleased to report success in that area. One of the oddities of our experience is that everything has to come in plastic. So all the lovely bottles and their labels are missing, instead everything is poured from recycled plastic mineral water bottles. It is not very appealing but once you get over the initial lack of glamour it becomes commonplace, normal even.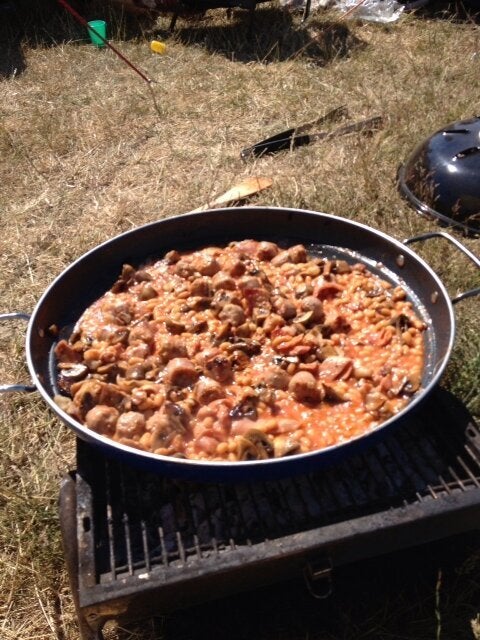 The first morning sets the pattern for the three days following. Rising early because of bright light, and the searing heat, nowhere inhabited is hotter than a sealed tent with no breeze on a bright sunny morning. In fact, one of the most unfortunate aspects of tent life is the transition at about 4 or 5 in the morning of the temperature. It is quite usual for it to mutate from freezing to boiling in a few snores. We sleep in the tent under a duvet with proper sheets and pillows, no sleeping bags for us! The accompanying truth is that one second you are snug as a bug and the next you feel like a boil in the bag meal, throwing off the covers to try to steal some more sleep despite being roasted at high temperature. Emerging into the day the debris is depressing, even on day 1; no matter how hard you try to keep the camp tidy the mess always prevails. So you meander around bleary eyed and tidy up, put on the kettle and await other risers. Breakfast happens with a massive fry up of sundry pork products garnished with mushrooms, tomatoes and baked beans. The masses crowd - we are about 20 people, and everyone greedily tucks in to the herculean platter. At this point, bellies satisfied, we open the Sea Breeze bottles. I have made two litres and frozen it. Thus, as a morning bracer it is in immaculate condition. We sit basking in morning sun with a vodka, cranberry and grapefruit juice glow warming our souls.
Off into the arena. I think I am the only one who looks at the tent and pavilion construction. I cannot help but compare and contrast internally wondering how our exhibitors would react to the blue and yellow circus tent that forms the cover to the number 2 stage. There are bright stripy swags that adorn the inside to cheer up the decor. During one set, despite there being no rain, a massive flush of water cascades down on a section of the crowd. It remains today a mystery where that water came from. There are three main stages of descending size as well as the same number of small ones. So, at any given moment between 12 and 11pm there are at least 6 bands playing. After 11pm there are small performances and DJ sets which wind up at about 3 am and then dancing until about 6 (I never made it that late to find out, a wimp I know) The sets performed are rarely longer than an hour and usually only 45 minutes, this means that each day you get to see and hear at least 10 things. You quickly get into a rhythm of flitting from one thing to another. You can become manic and end up almost missing everything by being too mobile. Some people just like to tick bands off their list, rather than actually listen to a whole set. This year I decided to only listen to whole sets, on the basis that each group applies some balance or structure to the shape of their set and only by listening to the whole lot would I be able to judge them fairly. We listen to many bands we know and love, but the best fun is getting the input from the rest of the crew. My children like the younger, new bands. My friend Tim likes listening to classic R & B, preferably headed up by the last survivor of some famous band from yesteryear. Others like electro dance, others prefer proper instruments. My niece loves comedy, literature and cabaret with the occasional foray into world music. Thankfully all tastes are catered for.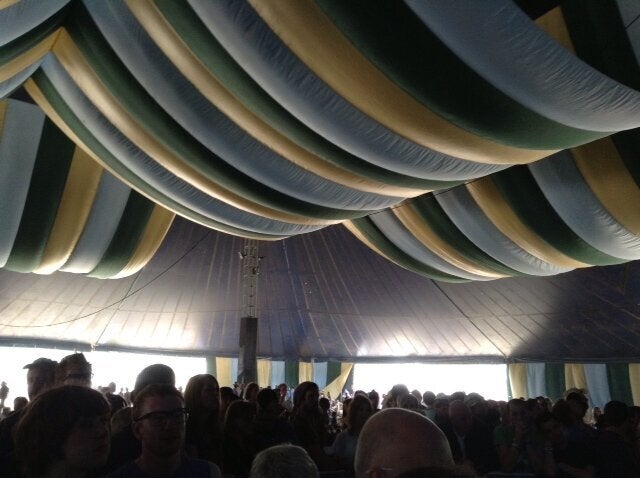 There is no way we can act as a herd, we are all a mixture of cat and control freak, by which I mean everyone is independent but also wants everyone else to like and love what they do. We spend our days criss-crossing the ground, meeting, eating, drinking discussing and parting again. We look like some experiment in random movement. We retire to the campsite after the last big bands finish at 11pm and regroup over bladders of red wine. Salami and goats cheese accompanied by oat cakes and the occasional chocolate refresh us. Then either to bed, back into the arena for further frivolity or extending verbal soul searching and more wine. Each night follows the same structure but with varied participants.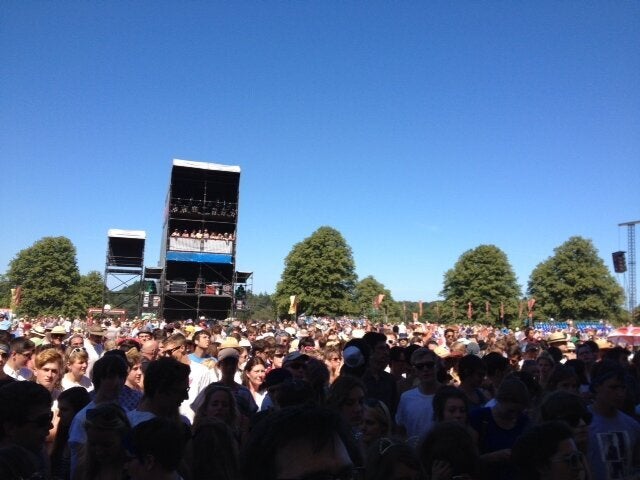 The weekend ends on Monday morning with slow, sad clearing up and parting of ways. Each one of us tired but already excited and in waiting for next year.