Another early start! 6 am and I am gathering my sons and chasing down to Folkestone. The traffic is light but I still manage to miss my slot at the Eurotunnel by 10 minutes. I had cunningly bought a discount return - £70 return for an overnight stay. Clearly aimed at serious shoppers/booze-cruisers. The logo-jacketed woman at the kiosk looked down and scolded me for my tardiness. She could, she said, squeeze me onto a shuttle leaving in 4 hours time. We had an agenda, I had dealers to meet and we had to be in Amsterdam by 5pm. I peered out of the window and thought for an instant. "What if I paid more money?" She made a face as if I was offering a bribe and then brightly came back with the 'flexi plus option'. £200 and ten minutes later we were loading ourselves into the train. The boys had grabbed sandwiches and I had snaffled two cups of espresso. Oddly, despite the fact that you pay for swift and painless access on to the train rather than the food - the snacks are a potential treat, but disappointingly they were measly and ghastly. My son is dairy intolerant and there simply was not an option for him. Everything had butter or cheese on it. Hopeless.
Within a trice we were driving through France towards Belgium. The boys had been at a party the night before and so they slept. In addition my musical taste is not theirs so whilst they dozed I was not allowed to listen to music, as my choices would have been too toxic.
My first call was at Paul de Grande in Jabbeke. He is twinkly, grey haired and wears thick-rimmed stylish glasses. Visually he is a cross between a trendy professor and an architect. He looks and is both clever and wily. We had a speedy look round his castle and sadly found nothing to buy. He and his girlfriend were heading off for a weekend in France or Germany. His first stop was a nearby auction. Depending on how he felt during the sale he would turn left to France or right into Germany. Such is the joy of living beside a big motorway in continental Europe. The boys slept on not waking even whilst I did my tour.
Then we raced on to Haaltert to visit Joost, who has a beautiful house in the shadow of the main church there. There is a funeral taking place and the mourners pour out and process slowly behind the unexpectedly cheerful bright green hearse, which bears in gaudy white script the name of the undertaker, his services and telephone number. Joost has three rooms of furniture and they are always carefully and elegantly chosen pieces. I spot two things that could work. Photos and measurements ensue. These days a straightforward purchase has become a rarity. One needs time to think and assess. But these are two fabulous pieces and I hope to be able to use them. The boys are still asleep in the car.
Our last stop before Amsterdam is Den Bosch or 's Hertogenbosch. This almost unpronounceable place is where the Masterpiece exhibitor Vanderven have their home base. But it is not them I am visiting it is Bill and Cornelia. They are the most wonderful welcoming couple. They have been in the business since Bill was a child and he is now pushing towards eighty. He buys and sells at a gentle pace now but his love and enthusiasm for the business is undimmed. We drink coffee and discuss the past and the problems of the present. I cannot stop myself buying a few trifles from him and it was with sadness that I dragged myself away and we packed the items into the car, thereby waking the sleeping beauties. Sadness because my calls today were all to the old guard. These are the last men standing. This road trip used to be so full of calls that you needed at least a couple of days to complete it. Now all it consists of is two men over 70 and one nearly 60. I had a great time chatting, reminiscing and buying. But the sense that it won't be around for much longer coloured the buoyant mood.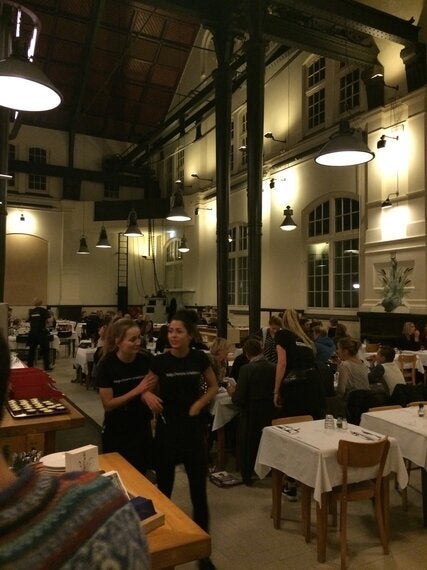 These melancholy thoughts put me in the right mood for the visit to Amsterdam. Simon, the brother of my ex wife had been in a relationship and subsequently a marriage with David for a shade over 30 years. David had died the week before aged 94. He had been a powerful, strong, tall and upright man all his life and his last years had not diminished him at all. In many ways his elegant and dignified bearing had been a lesson and a guide to me and I felt strongly that I wanted to attend his memorial service. Arriving in the city on time and installing ourselves in the hotel we immediately left to dine with Simon and old friends at Cafe Amsterdam, a vast restaurant based in an old pumping station. We had eaten here all together on several occasions. The turbines glossily restored acting as a vivid backdrop to the oysters, brown shrimps and confit of red deer. We toasted David and remembered how many key moments of our lives he had been the witness to - or the marker for. The supper was not sad but it was full of thought and reminiscence.
The next day at the Catholic Church the local bishop officiated. David was not Catholic but objected to the guitars in the Anglican Church nearby. He shied away from the details of the mass and even most of the other parishioners; instead he would take communion and then attend to the garden, pruning and planting where necessary. Thus he had passed most Sundays for over 20 years. The bishop looked at David's life and found it near exemplary. He had lived through a time when his sexuality could have landed him in jail. But with discretion but not deceit he had led a full and open life. Being the warden of a Reading university hall of residence for 30 years, having already had a career as a navy pilot; he then had a third life in retirement living with Simon in Amsterdam. Being gay was important and he abhorred any prejudice, but he was not militant. He just wanted and carved out for himself a full and unlimited life. We could all aspire to achieve as much.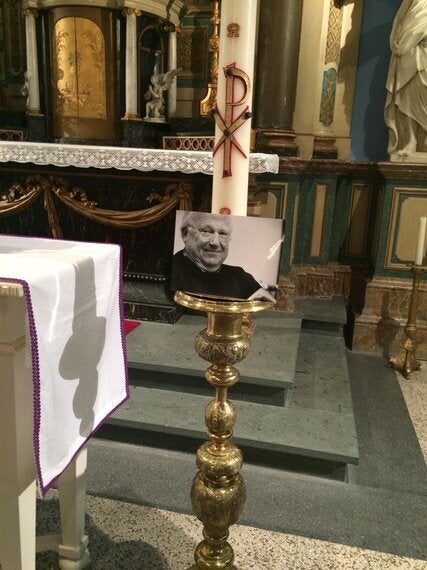 In torrential rain we rushed over to their flat to join together in an extended memory of David. Before long though the time came for us to head back to London; we turned our car towards Calais. Inigo had worn a collarless shirt in homage to David who often stated his hatred of restrictive collars. Vladimir sang melancholy songs and we spend the hours returning chewing over the day. I had wept for David and though the car was a bit full with boys and antiques, it seemed respectful to the years we had known each other.
Popular in the Community