The joy of doing a fair is the unexpected learning. This time at LAPADA in Berkeley Square I learnt that if someone crouches down they are not going to buy. You might almost say that the lower the crouch the less money they have to spend on art and antiques. I also learnt that people who flop confidently down on chairs can always afford to buy them - with the exception of the elderly and the overweight. Another lesson gathered is that when salesmen crouch they think there is a chance of a sale. My friend Tony Fell from Norfolk goes down on one knee, when you see him in action you know he is closing in for the kill. It is curious too the use and function of touching visitors. A little touch or a nudge during a conversation creates a sort of fairy bond that can convey trust and thereby engender business. I have done hundreds of fairs and yet these are lessons learnt from the fair just past. You would suppose that a fair is pure commerce but it is really a pop-up village with all the concomitant oddities and characters.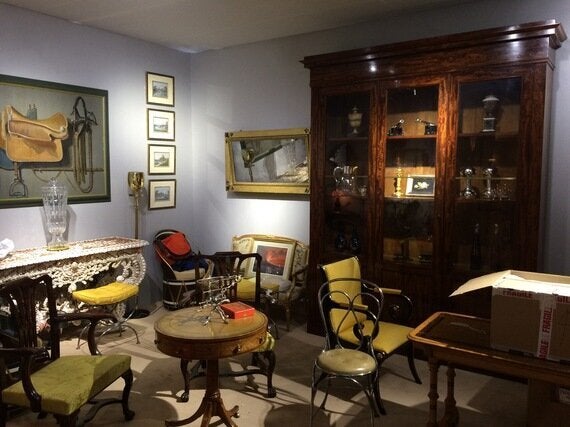 My corner of the LAPADA village, (Image writer's own)
At LAPADA I was tucked away in a corner and rashly took the option of having very bright lights so that visitors would be drawn towards me wherever they were. It sort of worked, but by the end of the first day my lights were so bright that I felt like donning sunglasses. On the third day of the 7 I dimmed and toned a few of the spotlights and though visitors and sales petered away - I felt better. My corner was also adorned by my latest acquisition - a drinks fridge. Helen Linfield ( Wakelin and Linfield ) always has one and at the Summer Olympia I was very jealous of her perfectly chilled white wine in the early evening. At this fair I was ready. In my corner I also had the delightful irregular drone and rumble of an air-conditioning unit, rather like the noise of a kitchen extractor fan you only really notice it when it came on or went off. Unfortunately this happened all day and added a strange torture to being voluntarily trapped in the same few square metres for a week.
My corner was graced by Julian Simon and Jeroen Markies. The former is a 30 year old gallery run by the charming but miniature twins Michael and Julian. They were fabulous company chatting and full of enthusiastically recalled anecdotes. Though from South Africa originally and still retaining a slight accent they strongly favoured New Zealand white and we hosted in our fridge. As the days wore on Julian introduced me to the computer game Candy Crush - made legendary by a British MP being filmed playing it during a debate in the House of Commons! Julian is on level 280 and is clearly a great expert. Down the aisle Geoffrey Stead and Craig Carrington ( Gloucestershire ) were great advocates of Spider Solitaire. So, the battle of the computer games raged. In front of our stands stood Jeroen. He is a tall, handsome half Dutch dealer from outside London, he specialises in selling British Art Deco period furniture. He hardly ate and certainly did not drink or play games! He focussed and succeeded in selling great swathes of his stock. He occasionally looked worried as he sat on his stand riffling through the credit card receipts. When asked he replied that he was worried he would not have enough stock for his next fair - poor darling! The LAPADA fair is followed back to back by the super charming, dog friendly Battersea Decorative Fair and quite a number of the dealers pack up LAPADA and move straight into Battersea -a brutal endurance task.
From my stand I did manage to sell a few trivial items but the best deal was doing a few swaps. we all have to earn a living and therefore sales for money are the best, however making a sale only really facilitates the next purchase and therefore cutting out the cash element completely can be very entertaining. I did one swap at the end of the fair that greatly pleased my carrier as I swapped a huge bookcase for a small card table. He thought I had done very well.
The fair - like any of them - follows a formulaic trajectory; first there is the frenetic unpacking and setting up, then vetting, then opening day followed by long quieter days, then a flurry to finish and finally all that remains is more hurried packing and off you go. Ebb and flow, optimism to begin with followed by partial disappointment followed in turn by a rationalisation. Even though I did ( or didn't do ) this or that - it was all worth it. We always justify ourselves. Poor profits or poor sales are excused away because we are all hooked to the dealing equivalent of Candy Crush. We put ourselves out on show at significant cost and hope that the gamble will pay off, but we need it. We are addicts to the game, and mostly it is great fun.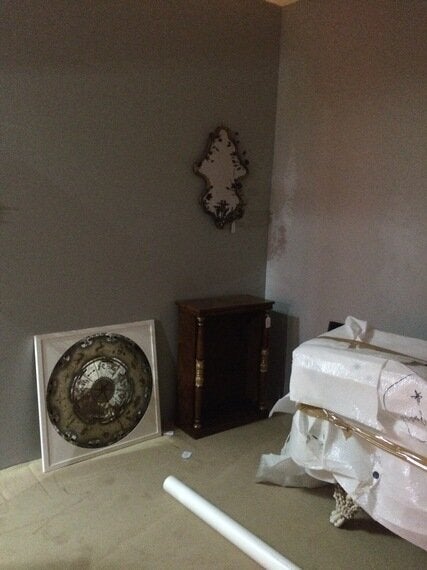 The party is over, (image writer's own)
Popular in the Community