Love is great, especially to look at or watch. Being involved yourself can be a bit stressful, but to observe, it is awesome. I am having lunch with an art dealer I have known since we were at university. Medium height, fair hair and a slightly nervous demeanour, he exudes love. I won't say his name because he is a very private person, always has been. When I talk about stuff, I tend to be focussed on the opportunity, or to be more blunt the money. He is different, with the artists he manages and the art he trades, he is connected, in a way I can simply only aspire to. We are lunching at Little House, a restaurant in Mayfair, talking about a possible project for Masterpiece, his business partner is at the table too. The last time we met was by chance over breakfast during Art Basel. Whilst we ate muesli a dead cow floated upside down past the window. A memorable breakfast. His partner is one of those women who are so beautiful that it is impossible to maintain eye contact. I become like a wax model in a furnace, I disappear! It becomes a sort of challenge to see how long I can look for. I think I managed at most 2 or 3 seconds. She is rapier sharp too; when an idea is mooted you can almost hear a crackle of energy as she thinks it through. They are very exciting pair to be around. He has found a new artist to work on and develop, but it is not the financial maths of the equation that appeals to him. He has a quasi spiritual connection, this is the love thing. He has to care and care a lot for him to engage. Many people talk to me about the quality and number of the visitors to Masterpiece. They want an analysis of the demographic, how much money they have and where they come from. Not him, he wants to know if we get the kind of people who will come prepared for the emotional adventure of encountering his artist. I don't mean that ironically, it is really true. For him it is like introducing your new lover to your friends and family, they have to like them too. We talk and eat. They order chicken. It is called flatiron chicken. A sort of squished grilled chicken breast. They are both skinny and beautiful, so they don't eat carb's. I order fish and chips. The way people both eat and remain skinny can take two paths at the table. One path is to eat some and leave some. The other is to murder the food, make a terrible mess of what is on your plate to give the impression of activity. My two diners take a path each. Obviously no wine, no pudding, starter, bread or coffee. It is the cheapest lunch I have had in ages. As I sip my coffee following their departure and flip through the book of the artist we were discussing I cannot help but feel inspired. The energy and passion these two have for what they do is amazing. If anyone says the contemporary art world is cold blooded commerce then they should spend time talking to this team.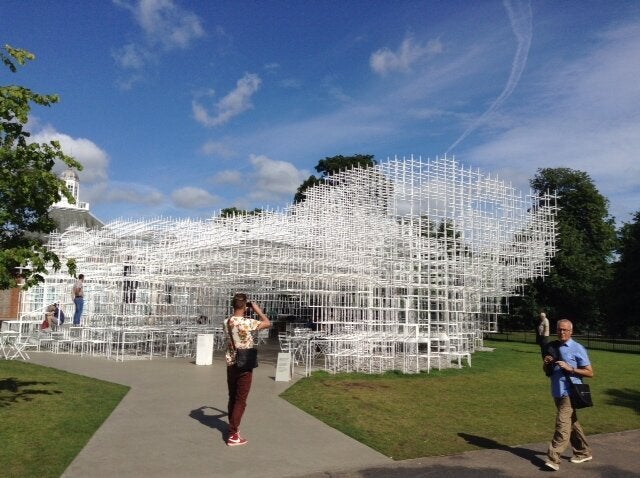 I went to see the Sou Fujimoto pavilion at the serpentine gallery. Fortnum's have taken over the café and we sat beneath the white lattice structure eating colourful macaroons. How this sweet almond biscuit sandwich has taken over the world is a total wonder and mystery, they seem to be ubiquitous It all seemed strangely symbolic. The grass was green and the sky was an extraordinary blue. The coffee was pale brown with a thick and aromatic crema. The pavilion has been up for a while and comes down in October. Whenever I wear anything white I can guarantee to get a stain on it almost before I leave the house, probably tomato, or something with an equally strong colour. This is sadly true as well for the pavilion. The clear plastic disks that punctuate the space have become a dirty brown and scuffs and stains render the structure more reminiscent of an aged children's climbing frame rather than an exploration of space. Maybe it is meant to?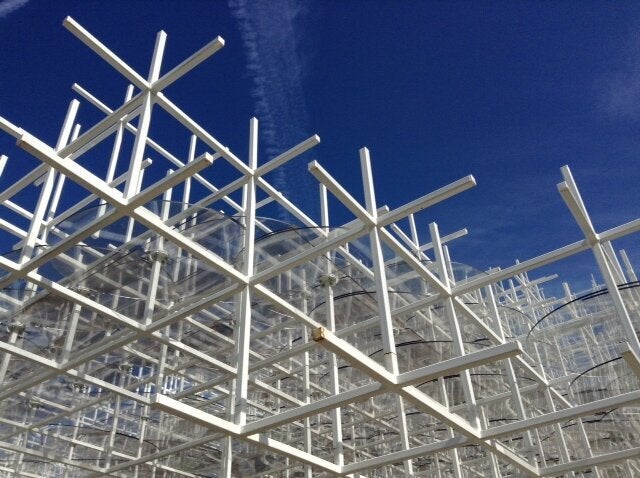 There are lots of other permanent sculptures around and the massive Henry Moore arch looks amazing standing like a colossus amid scrub, looking up from the river to the gallery. The patchy grass and weeds enhance rather than diminish its stature. I then went over to remind myself of the Norwegian boulder. A massive block of Cambrian granite, it was shipped over and installed in 1978. It is a thank you to the British for their support during the Second World War.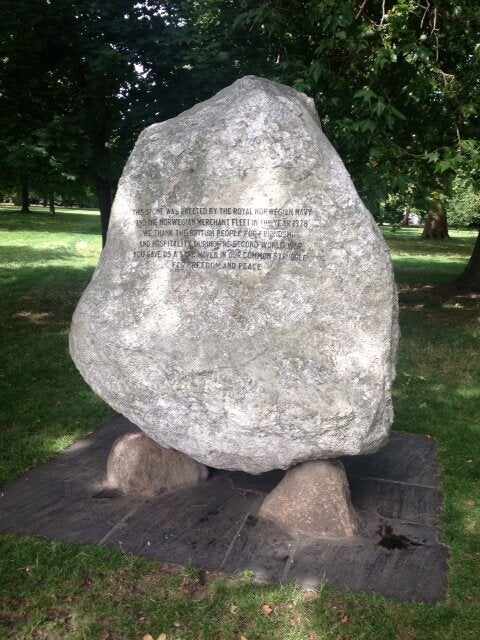 It is both magnificent and slightly comic as I imagine the ceremony and grandeur of the rock installation and simultaneously recall that the 70's were the decade of the 'pet rock'. This memorial thereby anthropomorphises in my mind and speaks with an ancient Norwegian accent. I wonder how many visit this stone? It is definitely worth the detour next time you visit the Serpentine. We walk back past the soon to open Zaha Hadid designed Sackler Serpentine extension in and beside the old "Magazine". It is a typical fluid organic structure and a fascinating juxtaposition to the severe symmetry and classicism of The Magazine which was built in 1805, in the style of a Palladian villa, as a gunpowder depot for the army in the event of (and I quote) "foreign invasion or popular uprising" . This was the time of Napoleon and he was planning the first Channel tunnel. Albert Mathieu, a French railway engineer drew and presented plans in 1802. This munitions store was still in use, apparently, up to the 1950's. The work looks almost completed; I can't wait to look round inside.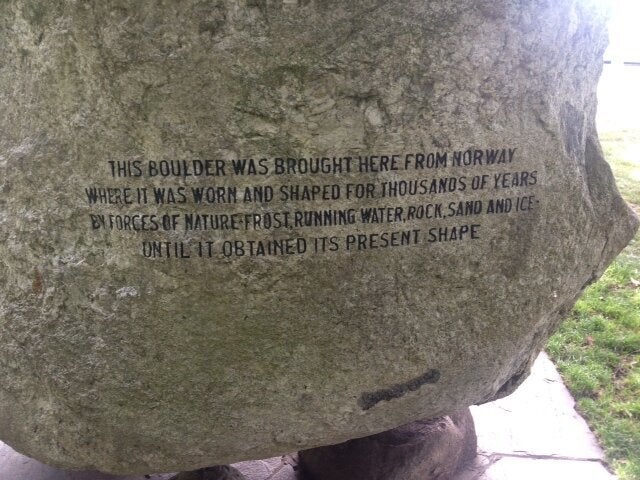 Back to Love, we ended the week at a friends' civil partnership ceremony. We gathered on the newly constructed portico outside the long room at the Oval cricket ground. We have been friends for an astonishing twenty years and we have seen his relationships wax and wane. But a couple of years ago he found old fashioned proper romance and love. He is a lovely guy, simple, hardworking and fond of a quiet pint in the pub with his mates. Somehow here in this room, which in a small way represents the acme of traditional England, our friend in a small, unassuming way became a pioneer- a beacon of the new modern age. Two men declaring their affection and commitment forever, not hidden away but under the lights and eyes of cricketing ancestors in their whites. I felt we were in a better world. He said himself with tears in his eyes and his partner holding his hand; "I never thought that when I was at school I would be able to declare my love in public with you all today." we all cheered and toasted their union. A great end to the week.